We're looking for a full-time reporter to cover North Lawndale, Austin and Garfield Park. Applications are due by Sept. 10.
Block Club Chicago, a nonprofit news organization focused on Chicago's diverse neighborhoods, is looking for a full-time reporter to cover the city's West Side.
This is a beat reporting position, and the beat is a group of West Side neighborhoods including North Lawndale, Austin and Garfield Park.
You'll be expected to cover everything from local school council meetings and community policing efforts to restaurant openings and real estate developments. Night meetings are common. This is not a 9–5 job (though it is typically Monday-Friday).
Block Club reporters are expected to build sources and contacts in the communities they cover. Plan on getting texts and emails from neighbors and becoming a well-known fixture in your neighborhood. This is a remote position (we want you to be embedded in the community), but we'll have staff meetings in our Loop office and you'll check in with your editor several times a day.
This is not a job for someone who wants to write one story a week. You'll be expected to have one or two fresh stories daily. There will be opportunities to work on longer-form investigative pieces, but the majority of the job is keeping your readers up to date on daily news from the neighborhood.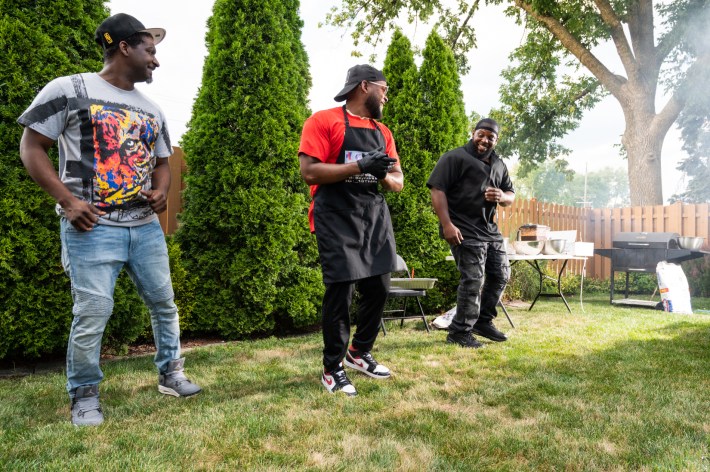 The Perks
Full benefits (medical, dental, vision), 401K
3 weeks paid vacation
Ability to pitch your own stories every day and explore things that interest you
Supportive, scrappy, tight-knit editorial team
Requirements
Familiarity with Austin, North Lawndale and Garfield Park (residents or former residents of the West Side a plus)
At least two years of reporting experience — please include news clips and not marketing or copywriting samples
Ability to shoot your own photos in the field
Experience promoting your stories on social media
Ability to generate story ideas and willingness to hear from neighbors and readers
Experience covering community meetings or a neighborhood beat a plus
How To Apply
Send us an email telling us why you'd be a good fit for the job along with your resume and 3 or 4 of your best stories to newsroom (at) blockclubchi (dot) org along with two references. Put "West Side Reporter Position" in the subject line, please!
The deadline for applications is Sept. 10, 2022.
About Us
Block Club Chicago is a nonprofit, reader-funded newsroom dedicated to delivering reliable, nonpartisan and essential coverage of Chicago's diverse neighborhoods.
Our newsroom was founded in 2018 by former DNAinfo Chicago editors and reporters after the award-winning site abruptly shuttered. We decided to call ourselves Block Club because we felt it reflected our mission: to build community through truly ground-level reporting of the city's neighborhoods.
In just four years, Block Club has transformed from scrappy startup to one of the most read news organizations in Chicago by being responsive to the city's neighborhoods, publishing more than a dozen stories daily from every corner of the city and informing Chicagoans through our free newsletter, "It's All Good" podcast, "On The Block" TV show and COVID-19 hotline.
In the last year alone, Block Club has been named Editor & Publisher's Best News Site, LION's Publisher of the Year, INN's Community Champion of the Year and we are proudly home to Chicago's Journalist of the Year. 
Block Club Chicago is committed to providing an environment of mutual respect where equal employment opportunities are available to everyone regardless of race, sex, religion, sexual orientation, gender identity, pregnancy, national origin, age, physical and mental disability and any other characteristic protected by applicable law. Block Club Chicago believes that diversity and inclusion among our staff makes us a better newsroom more able to accurately report on the neighborhoods of Chicago.