CHICAGO — Alderpeople and an influential restaurant industry group have reached a compromise on a plan to eliminate the "subminimum wage" for tipped workers.
Chicago's minimum wage for most workers is $15.80 an hour as of July 1. But tipped workers like restaurant servers can be paid a "subminimum wage," a base pay that ranges from $9 an hour for employees at smaller companies to $9.48 for those at larger ones, which are bolstered by on-the-job tips. 
Employers must make up the difference for tipped workers whose hourly wages and tips do not reach the full minimum wage.
But the "One Fair Wage" ordinance introduced to City Council this summer aims to do away with that system by guaranteeing workers citywide get the same hourly rate of $15.80, with any tips paid out on top. 
The legislation sponsored by Alds. Jessie Fuentes (26th) and Carlos Ramirez-Rosa (35th) originally called for Chicago to implement it by July 2025. Restaurant groups said at the time the measure could lead to lost jobs and reduced tips from customers.
Now, City Council supporters of the ordinance and the Illinois Restaurant Association have reached a deal to push the legislation forward, Fuentes and association president Sam Toia confirmed.
If passed by City Council, the plan would phase out the tipped wage system over the next five years. Starting July 1, 2024, wages for tipped workers would rise 8 percent. They would then rise 8 percent each year until meeting the city's full minimum wage in 2028.
The agreement was first reported by the Sun-Times' Fran Spielman. If it's approved, Chicago would become the largest city to independently phase out subminimum wages for tipped workers, according to the Tribune. California does not allow subminimum wages statewide.
"This compromise allows us to ensure that we are doing right by our workers and our employees. And we're also considering the scale of our employers, making sure that there's a scale that makes sense for them financially, and which they do not have to take large hits each fiscal year," Fuentes said Tuesday. "So this, I believe, is a compromise that takes both parties into account and allows us to do the right thing."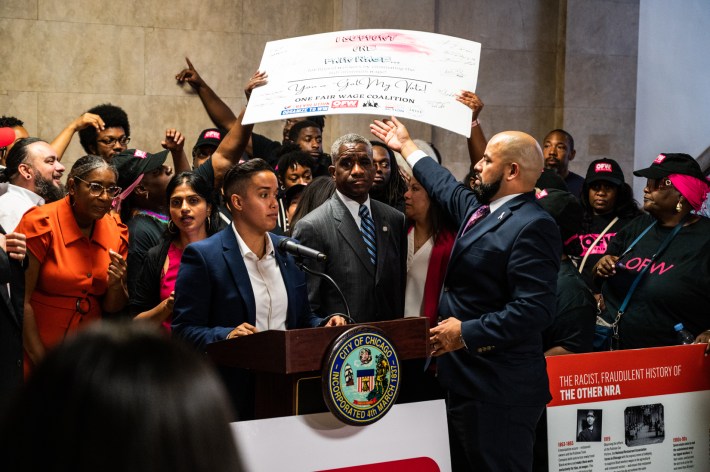 Toia told the Sun-Times on Monday that "the train was leaving the station," and the compromise was the best agreement he could wrangle.
Toia's group proposed their own version of the ordinance last week, which would have required servers to earn at least $20.54 an hour in wages and tips at restaurants that make over $3 million in annual revenue. Wages for workers at smaller restaurants would have remained unchanged.
But Toia said he was told last week that proposal was "dead on arrival," so he began pushing for the five year phase-in.
"I just felt that was the best we're gonna get out of this," he said. "So with the five years, [restaurant owners] can at least ease into it instead of doing it all overnight."
Toia said he still believes the ordinance could have a negative impact on restaurant employment, although commended Mayor Brandon Johnson for being open to a compromise when "there's no question that the mayor and his team had the votes."
"What we're going to see, probably, as we move forward here is you might see some restaurants that had six wait people working on a given night go to five. Two busboys go to one. Because they've got to control their labor costs, and you will see prices going up," he said.
The revised ordinance will be discussed and voted on Wednesday morning during a Committee on Workforce Development meeting.
If the legislation passes out of committee, it will go in front of the full City Council next month for final approval.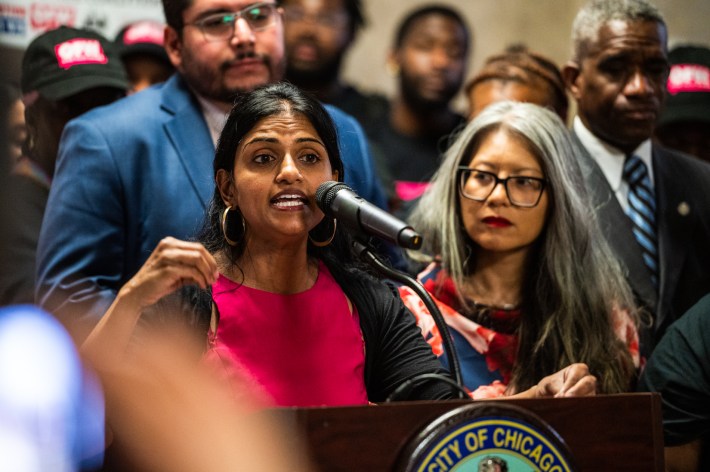 In a statement, a spokesperson for Johnson said the mayor brought "both sides to the table" to reach the compromise, and called it a "huge step forward in delivering a fair wage for workers."
"We look forward to continued work with all stakeholders in ensuring that workers and businesses continue to thrive and work collaboratively to strengthen the food and restaurant industry," the statement reads.
Johnson's administration also recently brokered a compromise for the Bring Chicago Home initiative, which was formally introduced to City Council last week.
That measure aims to raise the city's real estate transfer tax on higher end property sales to fund permanent affordable housing and wraparound services for unhoused Chicagoans.
Activists originally called for an increase to the one-time tax on all property sales over $1 million. The proposal was eventually replaced with a tiered, marginal system which reduces the tax for properties under $1 million and raises them at different levels for properties sold for more than that.
Bring Chicago Home still faces a series of hurdles in order for it to be implemented, including a possible ballot referendum next year.
But unlike with the "One Fair Wage" measure, real estate industry groups have not backed any compromise related to Bring Chicago Home and continue to speak out against its passage.
Watch our "On The Block" TV show on The U, CW26 and MeTV.
Listen to "It's All Good: A Block Club Chicago Podcast":