GARFIELD PARK — To combat gun violence trauma, a West Side church has opened a resource center to help residents holistically heal and move forward.
As part of additional funding given to anti-violence initiative Live Free Illinois, New Landmark Missionary Baptist Church opened its trauma center inside the church at 2700 W. Wilcox St. Services are currently available via phone, while in-person services will be available starting Sunday.
The church celebrated the launch of the resource center Thursday at Horan Park, 3035 W. Van Buren St., with counselors and coordinators in attendance.
In-person services will be available every day from 9 a.m. to noon, and phone services will be available from 9 a.m. until 5 p.m. The church will coordinate with police officers, schools and hospitals to pass out flyers and spread the word of the program in the community.
The Garfield Park center will offer programs for all ages free of charge, with programs ranging from music and art therapy to yoga and meditation. There will also be traditional mental health resources such as social work and psychotherapy, according to Walker and Garfield Park coordinator Mayzell Sykes.
Sykes lost her son to gun violence last year, when he was at the home of a friend. She hopes the community spreads the word of the effectiveness of the program, saying the service will be holistic treatment and also provide resources for funeral costs to those affected by gun violence as well. 
"We cannot take the pain away from you, but we can make your burdens lighter," she said.
Sykes said she didn't eat for days and became severely sick as a diabetic after losing her son, and her grandson had nervous breakdowns after his father's death.
"To lose someone is devastating, but to lose someone by gun violence with no resources to bury them is even worse. I am really happy Live Free Illinois had a vision to help us and others who are affected," she said.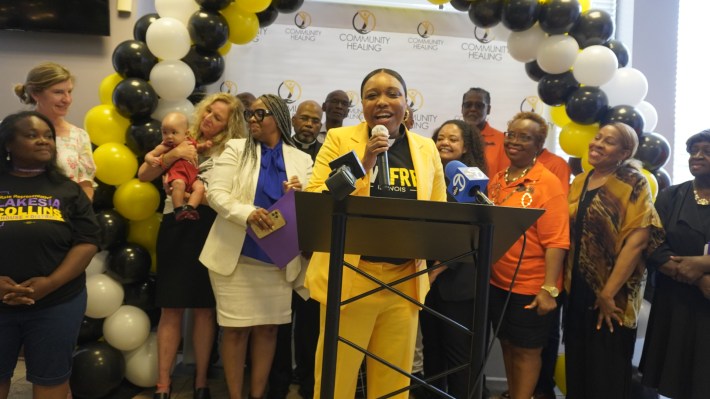 The new trauma resource center is thanks in part to Live Free Illinois.
Live Free Illinois is a state chapter of Live Free USA, a nonprofit that mobilizes Black churches and faith leaders to "build a new system of public safety," according to its website. It is helping to launch the trauma resource like the one at Landmark Missionary Baptist Church.
Located within churches and community centers, the centers are funded by a $1.5 million grant from the Illinois Criminal Justice Information Authority.
Live Free Illinois' executive director, Rev. Ciera Bates-Chamberlain, previously said the centers provide faith-based violence intervention programs, services and resources such as therapy, medical support and case management. 
Live Free plans to launch the initiative at churches in Englewood, South Shore, Morgan Park, Garfield Park, North Lawndale, Austin and Humboldt Park. The communities were chosen by the organization as they had the highest rates of gun violence in the city, program director Rodney Walker said.
Gun violence intervention groups have significant improvements in the lives of West Siders, with groups such as Chicago CRED saying the number of shootings dropped by a third in Garfield Park last year compared to 2021. During peak years in 2020 and 2021, the amount of gun deaths in the West Garfield Park ZIP code was comparable to Iraq and Afghanistan during 2001 to 2009.
Providing mental health care to Black communities is crucial, Sykes and Bates-Chamberlain said.
Black people are far less likely to receive mental health-care treatment despite feeling more emotional distress, such as sadness and hopelessness, than white people, according to a study conducted at McLean Hospital, the psychiatric teaching hospital at Harvard Medical School.
Watch our "On The Block" TV show on The U, CW26 and MeTV.
Listen to "It's All Good: A Block Club Chicago Podcast":