BEVERLY — Forty seven performers and a 10-piece live orchestra brought the stage at the Baffes Theater at the Beverly Arts Center to brilliant life this summer in a gorgeously designed production of "Hello, Dolly!" 
It was one of several live theater productions in the past year at the community arts center that seemed to indicate a promising future for the center, 2407 W. 111th St., as a leading theater producer on the South Side. 
Then, last Friday, approximately one month after "Hello, Dolly!" closed, the center's board announced it cut the live theater budget, eliminated the position of artistic director Kevin Pease, who joined Beverly Arts Center in October 2021, and did not renew the one-year contract for technical director Rick Keeley. 
The announcement cited economic challenges much like theaters across the country are facing due to the ongoing effects of the pandemic, as well as challenges keeping up with the costs of their recent higher-end theater productions. 
"In addition to the brilliant acting and directing of our recent live theater productions, the impressive stage design has dazzled our community. Unfortunately, we are unable to sustain the financial demands of these events," a press release read. "Budgeting for the 23-24 season has been challenging in unprecedented ways. Therefore, the Board was forced to reduce the expenses for Live Theater."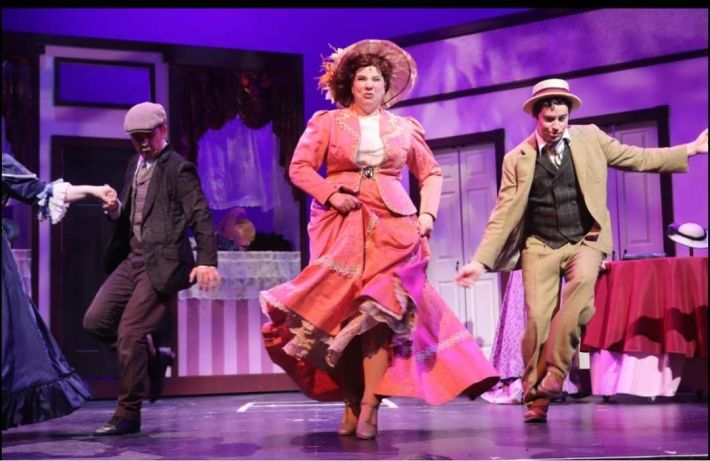 In fiscal year 2022 the Beverly Arts Center had a positive net revenue of approximately $79,000, and $60,000 in 2021 due to COVID relief funds. Every year prior dating back to 2011, except 2014 when the Beverly Arts Center received a bank loan, the center saw a net negative revenue of approximately $200,000 on average, according to the organization's public tax records. 
Treasurer Sonja Brisard said the nonprofit theater's 2023 fiscal year will show a net negative consistent with prior years. Recht joined the board in 2017 and is the second longest-serving member of the current board.
Patrons and several cast members who recently worked with Pease and Keeley were shocked by the news and expressed concerns about the Beverly Arts Center's financial future and dismay at what they believe will be a decline in the quality and quantity of the center's live theater productions. 
But Beverly Arts Center will not be getting rid of live theater, Board President Stacey Recht clarified last week. The budget for live theater will be reduced in an effort to ensure that all of the arts taught and created at the multidisciplinary community center are funded. 
"All of the aesthetics of the arts and the genres of the arts deserve their moment in this building to shine," said Interim Director Dr. Carla Carter, who joined the center in July 2022 as managing director. 
In fact, all of the youth shows, and at least four of the scheduled five mainstage shows planned for the 2023-2024 season will still be produced, including the winter showcase "Christmas Schooner" and the summer showcase, though perhaps less lavishly than the most recent shows. 
At least one of the plays will be moved to a different date to potentially make room for a presentation or show "that allows us to intentionally look at voices that need to be elevated that normally haven't been," Carter said.
Still, some Beverly Arts Center community members, particularly cast members from the recent productions, are dejected by what they feel is a lost opportunity for live theater at the center. 
One person, a former board member, pushed past staff members into locked office space at Beverly Arts Center and confronted Carter, yelling and demanding answers, Carter and Recht said.
"In this day and age, the reality is that people's passion, no matter how well intended, can have a serious impact on others," said Carter, who was rattled by the incident but not intimidated.
The board is considering hiring security for the building and examining how to fit that into the budget. 
"It is our mandate to be doors wide open to the community. We want to spend our money on the arts, not on security. So it is very very sad to me that we have to consider that expenditure," Recht said. "We need people to rally for us. We need community support." 
Most patrons and theater cast members have conveyed their concerns over emails to the board and online, primarily calling for more transparency about the center's financial status and plans. 
At the heart of the tumult is a tug-of-war over what the community wants Beverly Art Center to be — the multidisciplinary arts education and community center of the theater's mission statement or a jewel of high quality live theater on the South Side.
As arts organizations nationwide brace for the eventual end of COVID relief funds even as audiences have yet to return in full force, the theater's board is hopeful that with careful budgeting it can be both.
"We've been really fortunate to make it through COVID, thanks to a couple of really important investments from the state and the federal government in the city," Recht said. "But those relief funds are not going to be there forever. Those were once in a lifetime grants. So we had to budget as though we could not expect those things to come again. We knew that was going to be a challenge, and we knew that it meant we had to tread very carefully."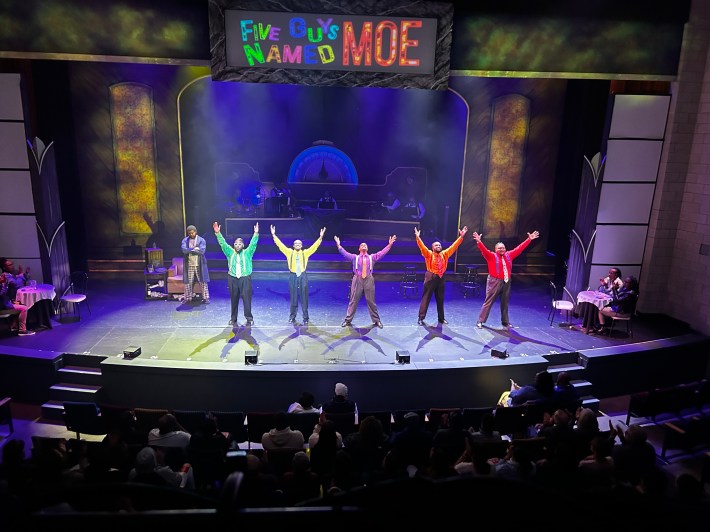 Quality Live Theater On The South Side
When Rick Keeley was offered the job as technical director at Beverly Arts Center last year, he was immediately enamored by the idea of helping to turn center into a hub for high quality theater in his own stomping grounds. 
"I thought it could be an awesome experience, what [Kevin Pease] wanted to do with that place – turn it into a real professional theater on the South Side, because we don't have anything here," Keeley said. "We have nothing here that offers quality performance." 
Pease declined to comment for this story. However, in a Beverly Review story about his role, he said he wanted to offer a "very high-end quality arts experience" to the community.
Keeley worked hard to help him do just that.
He sometimes put in more than 50-hour weeks, he said, working to make the performances look and feel like the kind of shows you could see Downtown. Keeley worked on all of the mainstage shows for the 2022-23 season with Pease and was proud of the results. 
"That's what hurts so much because I saw what [Beverly Arts Center] could be and I saw how easily it was obtainable," Keeley said. "That's why we would be so upset with the board not supporting us … it was so easily attainable to make that place as great as it could be."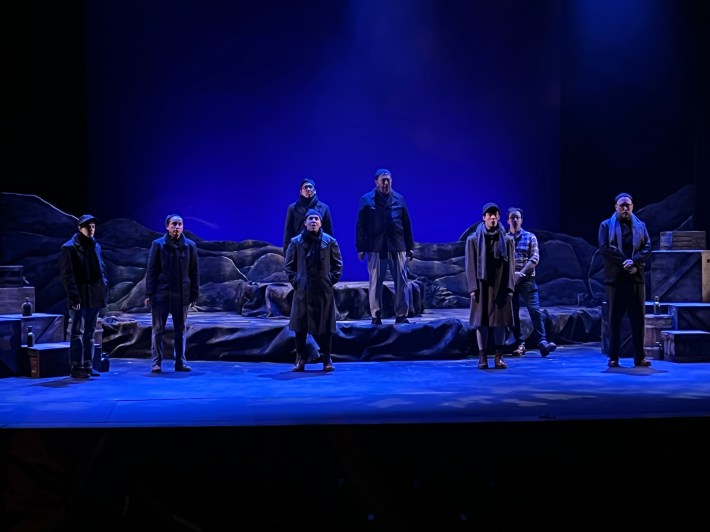 While audiences were indeed "dazzled," as the board said in their press release, the budget books were less charming.
Pease and Keeley planned and completed designs for most of the 2023-24 season and submitted the proposed budget to the board, but the budget was declined. 
Keeley said he knew of conversations about cutting a chunk of money from the proposed theater budget, but he was unaware of the details because he was not a part of the meetings. Recht said the board's finance committee, including Pease and Carter, held 10 meetings to negotiate the budget over several months. 
On Aug. 30, after the "Hello, Dolly!" summer stage production wrapped, the board informed Keeley that his contract would not be renewed. 
Some "Hello, Dolly!" cast members were troubled by the news.
Actress Kelli Mason expressed "shock and concern over the sudden dismissals" in a post published on Patch.com, and wrote that her experience working on "Hello, Dolly!" "really showed me what 'professional' community theater can be."
Mason wrote that she understood cuts may need to occur, but lamented what she said was a lack of communication by the Beverly Arts Center board and calling for greater transparency about these decisions. 
While board president Recht said she cannot comment on personnel matters, she has personally responded to neighbors who posted their concerns online in response to Mason's Patch post. 
"'Hello, Dolly!' was a large cast and a beautiful, lively production. I'm really proud of the work that they did, and the cast became very tight knit," Recht said. "So it was surprising to them that we made the changes that we made."
Recht said the board is planning community listening sessions once "temperatures have cooled" and after the budget is finalized.
Back To The Mission
When Recht began considering moving to Chicago's Beverly neighborhood with her husband, she knew what she was looking for: a yard with enough space for them to garden and a diverse, integrated, walkable community. She found that when she walked into the Beverly Arts Center for the first time. 
"It was the best kind of chaos. Kids running everywhere in tutus. There were parents, there was a youth West African dance class taught by Muntu … people of all different races, just kids and people of all different ages," she said. 
"We were just really impressed that a small community in Chicago could support such a phenomenal organization. So I said, I really want to join that board. I really want to contribute where I can and be part of this."
But it wasn't always that way.
When she was nine years old, Interim Director Carter used to ride with her parents from her home in the Roseland area to the Beverly Arts Center, then housed at Morgan Park Academy, to attend dance classes.  
Then one day, for reasons she didn't understand at the time, her parents pulled her out of the classes. 
"It was always talked about within the community of this space called Beverly that was inviting but not always welcoming … to certain demographics," she said. 
Several decades later, after living in other parts of the U.S., Carter returned to Chicago and set her sights on working at an arts organization that checked all her boxes: inclusive, on the South Side and encompassing of all of the arts. 
She was happily surprised to find what she was looking for at the very place her parents had felt unwelcome so many years ago. Now, she was met with an experience much like the one Recht described: bustling and diverse and reaching beyond the 19th Ward to neighborhoods all across the South Side. 
"This building to me brings community together," she said. "That's what drew me to it in a way that was so much different than years before when I was younger."
In 2022, she joined the Beverly Arts Center as the managing director. Now, Beverly Arts Center is combining the artistic and managing director positions into a single leadership position. Carter is stepping in as interim director of the organization and plans to throw her hat in the ring for the permanent position.
Whoever the executive director is will make decisions about programming and hiring with consideration for the budget. 
"My goal while sitting here is to create a template and a model so that whoever is sitting in the director's chair understands that there is a responsibility to the communities that we serve," she said.  "To continue to be multifaceted, to continue to provide quality programming, and to continue to provide diverse programming."
Watch our "On The Block" TV show on The U, CW26 and MeTV.
Listen to "It's All Good: A Block Club Chicago Podcast":