EDGEBROOK — Ald. Jim Gardiner (45th) dropped out of the race for 45th Ward committeeperson for the Cook County Democratic Party, leaving two Edgebrook residents eyeing the unpaid role.
Gardiner, who did not return a request for comment, confirmed the news to Politico's Playbook and Nadig Newspapers, saying he chose not to seek reelection so he can "give my undivided attention toward serving our community as alderman of the 45th Ward."
Democratic committee representatives are responsible for increasing voter registration and turnout, hosting community forums, sharing election materials, vetting Democratic candidates and voting for replacements for vacated political posts such as the United States Representative and state legislators.
In many wards, the alderperson — or their close ally — serves as the committeeperson to consolidate power and operations.
Gardiner, who joined City Council in 2019 and was reelected this year, was an independent but joined the Democratic Party before running for alderman.
Gardiner became the 45th Ward Democratic committeeperson in 2020. He was stripped of all of his committee posts and formally reprimanded by the party in 2021 after he used misogynistic and sexist language in leaked text messages and faced misconduct allegations.
Gardiner's first aldermanic term was rife with controversy, with the city's watchdog finding he directed city employees to issue "unfounded citations" to one of his critics in 2019. Those issues followed him into his second term. The FBI is investigating Gardiner over bribery and pay-to-play allegations, and three lawsuits have been filed against him. He's also been accused of retaliating against other critics.
Meet The 45th Ward Committeeperson Candidates
With Gardiner out, Edgebrook residents Joe Cook and Michael Rabbitt are the two candidates running for 45th Ward Democratic committeeperson.
Cook, who was born and raised in the Edgebrook area, is a Major in the United States Air Force JAG Corps and currently works as a principal attorney at the Metropolitan Water Reclamation District. He previously served as a Cook County prosecutor, according to his website.
Cook, who served as the 41st Ward Democratic committeeperson for the last four years, announced his candidacy the same day Gardiner told Nadig Newspapers he was bowing out of the race.
Because of the recent ward remap, Cook is no longer eligible to run for the 41st Ward representation but hopes to continue serving the Democratic Party with the momentum built in the last four years in the 45th Ward, he said.
Cook's team collected 9,701 signatures on behalf of 37 different candidates in last year's election cycle, he said.
"We built an organization consisting of hundreds of volunteers that knocked on doors, collected signatures for candidates and helped pass literature including at polling stations on election days," Cook said. "Our organization has been open to all Democrats within the ward, and we would continue that in the 45th Ward. We believe that having a diversity of opinions and perspectives make the organization stronger."
Although Cook initially said he wasn't going to run for the position, he reconsidered after family, friends and neighbors urged him to join the race. He submitted his candidacy after speaking to Gardiner and Rabbitt.
Gardiner has said he plans to endorse Cook. Cook said the alderman has not yet endorsed him, but he's received backing from four Northwest Side elected officials and labor unions that represent working women and men in the area, he said.
"One of the core responsibilities of the committeeperson position is getting information to the voters regarding elections, and regarding the candidates who will be on the ballot," he said. "We look forward to continuing to connect voters to candidates and elected officials through our many candidate forums where voters can hear directly from candidates on their positions and ideas."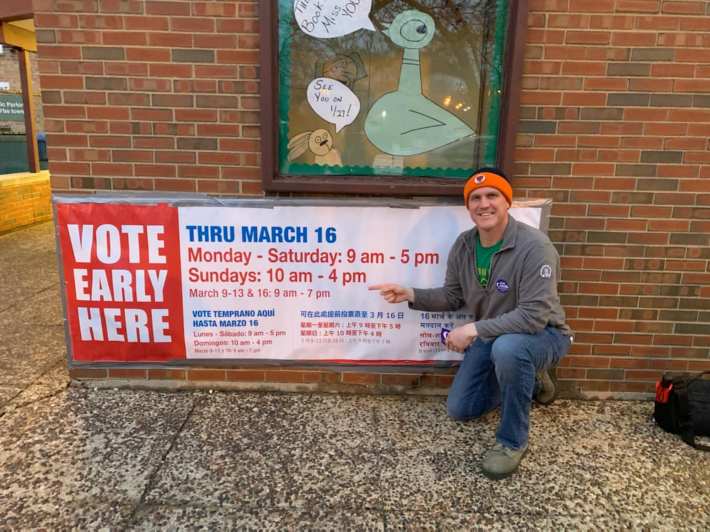 Rabbitt, who lost a narrow race for the Illinois House last year against Rep. Mike Kelly after getting endorsements from over 12 progressive organizations and elected officials, was first to announce his run for 45th Ward Democratic committeeperson in August.
"I'm running to provide a voice to Democrats in the 45th Ward, since they've been without it since the current committee person, Jim Gardiner, was elected," Rabbitt said. "He's been banned or kicked off all the committees, so we have no representation in the ward and no representation in the Cook County Democratic Party."
Rabbit has lived in Edgebrook for 23 years and calls himself a "coalition builder," having been involved in numerous Northwest Side community organizations that support affordable housing, climate justice and racial justice reforms, he said.
He is the business transformation leader at Argonne National Laboratory, where he works to advance Argonne's mission to develop clean energy and life-changing medical advancements.
His campaign focuses on building a diverse, inclusive and accessible organization to better bring people together, educate residents on how the political system works and increase the Democratic representation on the Northwest Side, he said.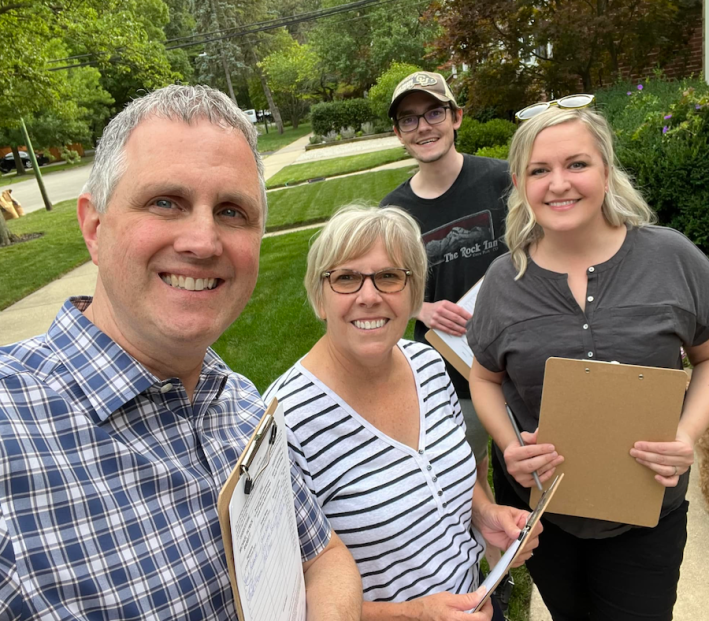 Rabbitt said it's important for Democrats who may be unfamiliar with a committeeperson's duties to understand how the role "upholds a strong democracy" in the ward and is meant to increase the party's presence, engagement and election turnout.
"But beyond that, one of the things that it's incredibly important for people to understand is the role in appointing a replacement for a state legislator or Cook County commissioner that resigns before their term ends," he said. "When you're voting to elect a committeeperson, you're voting for a representative when those replacement decisions are being made."
Candidates for the committeepersons have 90 days to gather signatures to appear on the March 19 Democratic primary ballot.
Watch our "On The Block" TV show on The U, CW26 and MeTV.
Listen to "It's All Good: A Block Club Chicago Podcast":