CHICAGO — A long-awaited environmental and health study names large portions of the South and West sides as "environmental justice neighborhoods," and officials say they'll prioritize reducing pollution in those communities while securing community benefits around major developments.
The city's cumulative impact assessment, released this week, identifies numerous South and West side neighborhoods as areas most impacted by industry and pollution.
Nearly 30 percent of all census tracts citywide are designated environmental justice neighborhoods, while nearly half of all Chicago community areas are home to at least one environmental justice neighborhood, officials said.
The findings will be used to draft a cumulative impact ordinance and inform a city "action plan" around short- and long-term land use, zoning, transportation, permitting, environmental enforcement and public health policies.
Environmental justice neighborhoods will receive "special consideration" as the city moves forward with its ordinance proposal and action plan, officials said.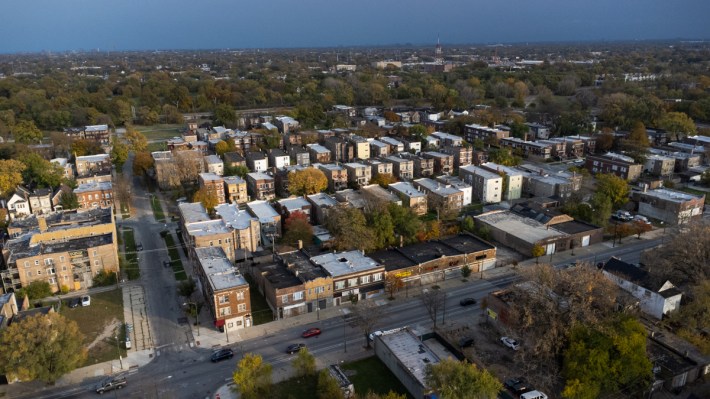 Mayor Brandon Johnson joined city officials and environmental activists in unveiling the study at a press conference Monday.
"In the greatest city in the world, no neighborhood should have to suffer the burden of pollution more so than any other neighborhood," Johnson said. "The time to act on environmental justice is now. This comprehensive study of the distribution of environmental burdens in our city is the first step of becoming a leader in environmental justice and protecting all of our communities."
The findings echo the city's 2020 Air Quality and Health Report, as both reports determined communities that face the highest pollution burdens are often bisected by major highways and host many industrial facilities.
But the new study is more detailed than the 2020 report, said Megan Cunningham, managing deputy commissioner of the Chicago Department of Public Health. The earlier report is limited only to air pollution and quantitative data, she said.
In 2020, "we did not incorporate important lived experience to understand the ground truth in our neighborhoods," Cunningham said. 
"With the cumulative impact assessment, we have taken a more fully comprehensive approach, and it started with building relationships with community partners who live these issues every day," she said.
Among the impacted neighborhoods named in the study:
Austin
Back of the Yards and Canaryville
East Garfield Park
Englewood
Humboldt Park
Little Village
McKinley Park
North Lawndale
Pilsen
Roseland
South Deering
West Englewood
West Garfield Park
For more information on the cumulative impact assessment, click here.
Advocates and local leaders say a cumulative impact ordinance can help improve residents' health in communities overburdened by pollution.
The report recommends such an ordinance include, among other points:
A requirement for a new cumulative impact assessment every three years.
The creation of a fund, potentially paid for by fines and new fees, to pay for community benefits projects in environmental justice neighborhoods.
The creation of an environmental justice advisory body to help develop future cumulative impact studies, give input on proposed facilities in environmental justice neighborhoods and guide decisions on community benefits projects.
City Council is "very open" to passing a cumulative impact ordinance once it's introduced, Ald. Maria Hadden (49th), chair of the council's environmental protection committee, told Block Club.
That ordinance will be just the start, as many aspects of an environmental action plan that was also unveiled this week can be spun off into their own ordinance proposals, Hadden said.
"What I think is more important — and I think more of my colleagues are going to be interested in — is not just this initial ordinance, but all of the potential legislation to come," she said. "I'm hoping people see in these recommendations an opportunity for us as a legislative body to also take action."
The environmental action plan outlines how various city departments will reform their policies and practices to protect environmental justice neighborhoods.
Health department officials committed to a laundry list of projects under the action plan, including:
Increasing regulations on polluting businesses, such as a policy allowing officials to consider a business' compliance history when making permit decisions.
An expansion of community air monitoring efforts, with support from the city's planning and information departments.
Development of affordable housing near public transit and the creation of a region-wide program to incentivize bicycle and transit trips while reducing solo car trips, with support from the transportation and housing departments.
Spending Industrial Corridor System funds to benefit environmental justice neighborhoods.
Funding local environmental justice, housing, climate change and transit equity groups.
Researchers and activists have said an expanded community air monitoring network can fill in gaps between federal pollution monitors, of which there are only a few in the region.
The city has set aside Chicago Recovery Plan funds to build "a sustainable, long-term, locally governed air monitoring network in Chicago," Cunningham told Block Club. Planning for the expansion will continue through this year, with a rollout set for 2024, she said.
"We will use data from the cumulative impact assessment to think about which neighborhoods need to have a super-saturation of sensors, so we have more real-time data to guide … policy, decision-making and enforcement activities," Cunningham said.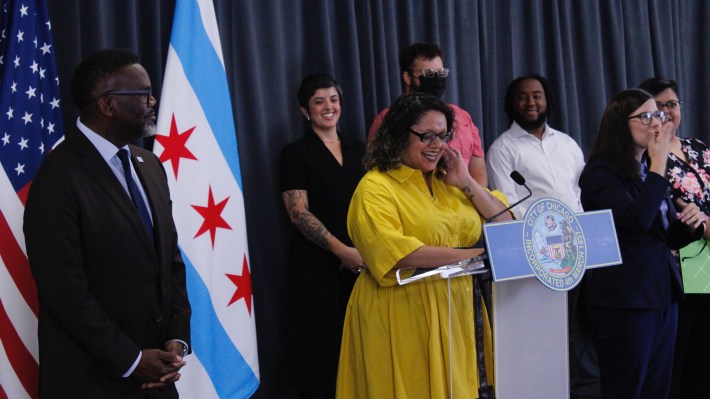 The cumulative impact assessment was required under the city's settlement with federal housing officials and Southeast Side environmental activists in May.
The city agreed to complete the cumulative impact assessment and environmental action plan after activists filed a civil rights complaint and the feds found the city's systematic placement of polluters in Black and Brown neighborhoods was racist.
Former Mayor Lori Lightfoot's administration at first called the feds' findings "absurd" and dared housing officials to punish the city before backing off and beginning settlement talks last year.
Black and Brown Chicagoans have for decades laid the groundwork for policies like those called for in the cumulative impact assessment, said Kim Wasserman, executive director of the Little Village Environmental Justice Organization.
"In that fight, we have become scientists and planners to prove environmental racism is happening and how it's impacting us," Wasserman said.
Wasserman joined two activists behind the civil rights complaint — Olga Bautista, of the Southeast Environmental Task Force, and Cheryl Johnson, of People for Community Recovery — in hailing the assessment as a step forward for environmental justice in Chicago Tuesday.
Any policies that come out of the study must be "responsive to the expertise and experience of community residents," she said.
Watch our "On The Block" TV show on The U, CW26 and MeTV.
Listen to "It's All Good: A Block Club Chicago Podcast":