PULLMAN — Food Network's "BBQ Brawl" has a new winner this season, and she is breaking boundaries in the restaurant industry.
Dominique Leach, owner of Lexington Betty Smokehouse, 756 E. 111th St., was recently crowned the winner of season four of "BBQ Brawl," hosted by captains Bobby Flay, Anne Burell and Sunny Anderson. The season had 16 million viewers across its various platforms.
Labor Day saw Leach's restaurant packed with fans and diners coming together for a watch party of the final two episodes of "BBQ Brawl." Customers got to see Leach take home the bragging rights, while also putting her restaurant — and Chicago barbecue — on a national level.
"I'm not asking for an applause from anyone. I just want the respect that I deserve out of this industry. It's not handed to us as Black women," Leach said. "I've had to take $12 an hour, despite knowing my worth. It's the sacrifices that I've made in this industry that got me to where I am today."
Leach won the last four challenges on the show leading to her victory. She pulled out all the stops in her title run, including her signature jerk shrimp dish that can be found on the Lexington menu, as well as her Chicago-style skirt steak with mild sauce and seasoned fries.
In case you couldn't tell, Chicago has a strong influence on her dishes.
"When I made my barbecue sauce for the restaurant [Lexington Betty Smokehouse Spicy Betty BBQ Sauce] … I wanted it to clearly be a barbecue sauce, but I wanted to have that Chicago, cultural kind of swag we come with in our food," she said. "I take the influence that I've gained here in this city, and I applied it in the competition."
Lexington Betty Smokehouse is a Black-woman-queer owned establishment, with items that can be found in grocery stores as well, like wagyu beef franks at local Mariano's stores.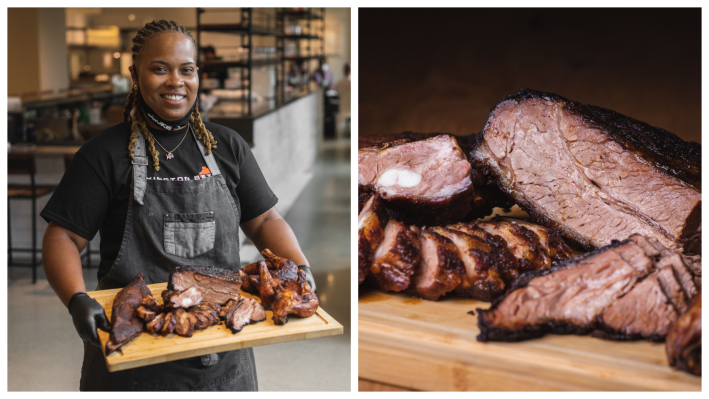 When it comes to her accomplishments within the industry, Leach reiterates that she just wants respect, for both her and Lexington Betty Smokehouse.
"I want to be remembered as someone who brought some of the best barbecue to Chicago, who put Chicago on the map by winning a barbecue competition. Lexington Betty, the name, me, the chef, the entire narrative deserves respect. And that's all I want," she said.
Lexington Betty Smokehouse, 756 E. 111th St., is open Tuesday-Saturday from 11 a.m.-9 p.m., and Sundays from 12-6 p.m. Select food items from the restaurant can be purchased online and at select Marianos, Piggly Wiggly and Stack & Van Til grocery stores.
Watch our "On The Block" TV show on The U, CW26 and MeTV.
Listen to "It's All Good: A Block Club Chicago Podcast":