CHICAGO — Chicago police are working with the state and county to address skyrocketing numbers of armed robberies, Mayor Brandon Johnson said Thursday, although he divulged few specifics about their overall plan.
The comments come as robberies have risen sharply this year across the city.
As of Sept. 10, robberies are up 24 percent citywide compared to the same point in 2022, and 45 percent compared to the same period in 2021, according to police data.
Communities across the West and Northwest sides, particularly the larger West Town and Logan Square neighborhoods, have been hit hard by armed robbery crews this summer.
The Shakespeare (14th) Police District, which includes Wicker Park, Bucktown and parts of Logan Square, has reported at least 351 robberies as of Aug. 31, up 62 percent from the same point last year, according to the city's data portal. That's more than double the 152 reported during that period in 2020.
The 12th Police District, which includes parts of Ukrainian Village and West Town and stretches down through the West Loop to Pilsen, is dealing with a similar trend.
As of Aug. 31, the 12th district had reported at least 531 robberies, 200 more than at the same point last year and almost 300 more than in 2020.
Those two districts, along with the Grand Central (25th) Police District, which stretches from the western part of Logan Square to Belmont Cragin and Montclare, had the most robberies of any districts in the city in August.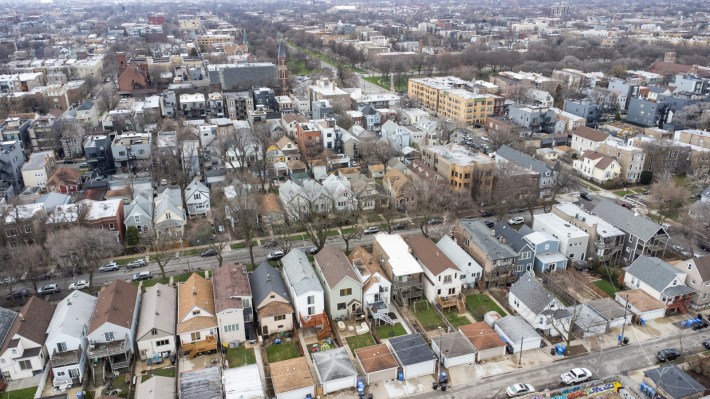 Neighbors in recent months have told Block Club the rash of robberies has left them feeling scared and exasperated, and wondering what officials are doing in response.
Johnson empathized with those worries following Thursday's City Council meeting.
"Look, I understand the concern, I do. It's not lost on anyone that the rise in robberies has left a great deal of trepidation and anxiety," he said. "Our police department is deploying a strategy to respond and to address this growing dynamic. And I'm grateful that there is a strategic plan that is also coordinating efforts with the state as well as the county."
Johnson did not offer additional details on what that plan entails. In a statement sent to Block Club last week, a police spokesperson said the department's patrol and detectives bureaus "are enhancing internal coordination and collaboration to solve motor vehicle theft and robbery cases" and are holding weekly meetings to "focus on strategic deployments to address and prevent these crimes"
In response to the surge in robberies, Alds. Daniel La Spata (1st) and Jessie Fuentes (26th) are holding a public safety town hall later this month in partnership with numerous other Northwest Side elected officials.
It will be 5:30 p.m. Sept. 25 at the New Life Community Church, 1651 N. Kedzie Ave., in Humboldt Park.
"We hope we can have an honest conversation about the hurt and anxiety these crimes cause; the need for an urgent and effective response; and the mandate to create lasting investments in the peace and health of our communities to reduce the potential for these crimes in the future," La Spata wrote in his weekly ward newsletter earlier this month.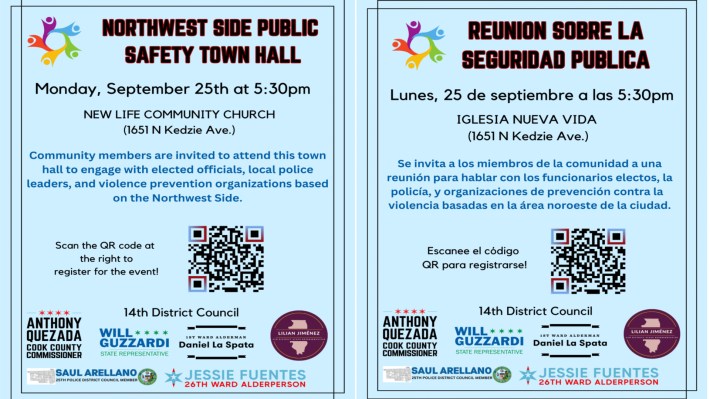 Many of the robberies in the 14th and 12th districts have been carried out by small crews that are attacking multiple victims in one outing, a police source told Block Club, a pattern Johnson acknowledged Thursday.
"This is a tough dynamic, right, because these attackers are moving with a pace that is quite severe," he said. "Again, the partnership that we have maintained with the state police as well as the county government is one that we're going to have to continue to lean on….I appreciate the work that our police department is doing, and of course, no one is going to say that we shouldn't do more."
Police have made some arrests in recent weeks.
Two teenagers, ages 15 and 16, are facing felony charges for armed robberies on Aug. 28 in the 1600 block of North Rockwell Street and 2000 block of North Mozart Street, police said.
Three teenagers, 18, 16 and 14, were recently charged in an Aug. 23 armed robbery in the 4200 block of West Dickens Avenue, police said. The 14-year-old was also charged for another robbery that same day in the 3700 block of West Potomac Avenue, police said.
And three teenage boys were also charged on Sept. 2 for multiple armed robberies that ranged from Englewood to West Town.
But armed robberies continue to be reported across the Logan Square and West Town community areas.
Over the weekend, West Town tavern Chipp Inn was hit by armed robbers, along with nearby Ola's Liquor Store and Division Street Liquors, police said.
And on Monday night, a Bucktown taqueria and a Wicker Park liquor store were robbed, according to police and an ABC 7 report.
Watch our "On The Block" TV show on The U, CW26 and MeTV.
Listen to "It's All Good: A Block Club Chicago Podcast":