WEST TOWN — A West Town elementary school has opened a new playground and turf sports field that teachers and faculty say will better serve students of all abilities.
Chicago Public Schools and local officials unveiled the playground equipment at James Otis World Language Academy, 525 N. Armour St., during a Wednesday ribbon cutting.
Otis has just over 340 students, principal Rachel Mann said. Forty percent of students are diverse learners with a range of learning abilities, and the school has a program for visually-impaired students, Mann said.
The new playground, which includes a running track, means students will be able to more fully participate in recess and other activities, like the school's Special Olympics program, Mann said.
"All students, regardless of their unique needs, will feel included and know that they belong here. Because this new playground has been designed with them in mind," Mann said. "There's a lot of opportunity for not only typical gross motor development, but also fine motor development. There's different sensory items. So you'll see the spinners, the music station. … We have the wheelchair accessible merry-go-round."
Ald. Daniel La Spata (1st), who helped secure funds for the playground, said the rehab to the playground and field was long overdue.
The upgrades were paid for through Kinzie Industrial Corridor TIF funds, La Spata said.
"We had a field that you could not use, that was so unstable, that was so full of the turf version of potholes, you couldn't play on this field if you wanted to," he said. "And that was not safe for all of our students."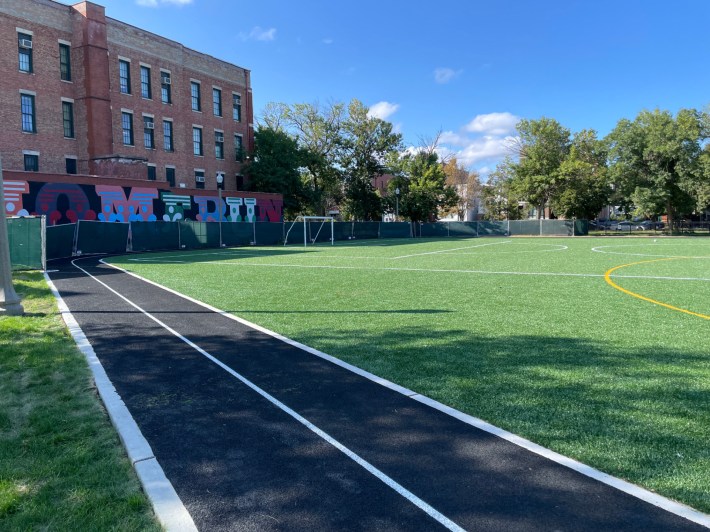 The Otis playground rehab follows last year's renovation of the play space and field at Talcott Elementary, 1840 W. Ohio St.
La Spata said other schools in Wicker Park and Logan Square will soon be in line for new playground equipment and other upgrades.
"We've been at Talcott in the last couple years. We're here at Otis today. In the next two years, [we'll] be at De Diego, Pritzker and Goethe, because every school deserves high standards," La Spata said.
The Otis playground and field will be open to neighbors during non-school hours, Mann said. The facilities are closed to the public 7 a.m.-4 p.m. during the school week.
Otis has been in continuous operation since 1878 when it opened as Armour Street School, according to CPS.
Watch our "On The Block" TV show on The U, CW26 and MeTV.
Listen to "It's All Good: A Block Club Chicago Podcast":