ROGERS PARK — When Brennen Bariso was a kid, he developed his voice as a writer while taking free classes at the non-profit writing center, 826CHI. 
Now, Bariso is an English teacher at Chicago Math and Science Academy, 7212 N. Clark St., and 826CHI is honoring him with the Missy Hughes Teacher Award. The award is given to an educator who has shown they're dedicated to nurturing their students' love for writing, said Robin Reid Drake, an instructor at 826CHI. 
"When I was a kid, the classes really encouraged me to be a writer and really opened my eyes to the beauty of creative writing," said Bariso, who's been a teacher for four years. "It's a really cool, full-circle moment to go there as a kid and then win an award from them as an adult." 
The organization 826CHI provides free writing programs for young people in the city so that they can grow up to contribute to Chicago's vast literary arts community, Drake said. Bariso has seen first-hand how the programs impacts students positively.
"It's very clear that lots of young people today think writing is so boring," Bariso said. "Anytime you ask kids to write something, they get upset and it's like they'd rather do anything else. I appreciate that 826CHI has so many different programs that show writing can be something artistic and fulfilling and creative." 
"I love that they can help change kids' perspective on writing and that it's free and accessible for all kids to be able to come and have a cool experience," Bariso said. 
Bariso will receive his award at the annual Eat Your Words Gala, where local educators, writers and philanthropists convene to celebrate the impact of 826CHI's free writing classes and raise money for future programming.
The event will be hosted Sept. 28 at Zhou B Art Center, 1029 W 35th St. in Bridgeport, and tickets can be purchased online.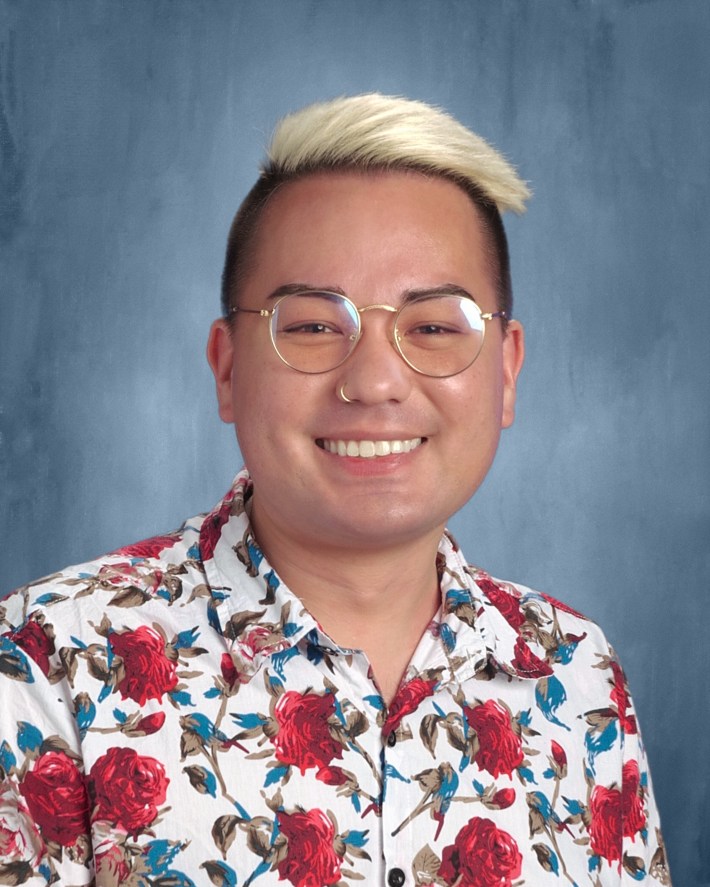 Bariso recognized how important it is for kids to learn how to express themselves through writing during his first year of teaching, when his class was entirely online due to the pandemic. 
He realized writing could be a way to connect with his students in a virtual setting, Bariso said. 
"I wanted the kids to have a voice because so much of virtual learning is passive. You're taking in the information, but not necessarily putting yourself into it," Bariso said. "Now that we're back in person, I've kept that mindset." 
"I want my kids to feel like they're constantly producing things about themselves, expressing themselves and able to tell people about who they are," Bariso said. 
To further expose his students to creative writing, Bariso partnered with 826CHI to bring teaching artists into his classroom. Drake worked with Bariso and his students to create a collection of poetry called, "Tomorrow's Titans: Poetry to Grow a New Future." 
Drake said Bariso's "unwavering support, compassion and belief in his students' vision" created a "trusting environment for creative exploration." Bariso didn't apply for the award, but was told he was "the first teacher who came to mind" this year, he said. 
In addition to providing excellent academic instruction to help kids learn to write, Bariso created an accepting environment where kids felt comfortable writing about difficult topics, Drake said.
"Brennen knew firsthand the power of being heard as a young writer and having your words celebrated and published," Drake said. "He made sure that his students could fully embrace the opportunity by showing them that no question was too big, no story or idea too outlandish to be worthy of his time and attention." 
Bariso said he's been surprised to see how eager kids are to express their political beliefs and reflect on their situation in the world through creative writing. 
"You don't have to force kids to want to talk about activism and politics, you might not think they're actively participating in these conversations but they are," Bariso said. "Writing is so personal and in a lot of ways, our identities feel much more political now. Even if I give a prompt asking who they are as a person, their writing will skew toward how they feel about their community and their place in the world." 
Growing up, creative writing provided Bariso a way to process his feelings and become more in tune with himself, he said. He hopes to share this experience with his students as he continues teaching. 
"I really want to show my kids that, when you write something down and talk about how you're feeling, you're learning something about yourself and you can go back to it and think about how things have changed," Bariso said. 
Watch our "On The Block" TV show on The U, CW26 and MeTV.
Listen to "It's All Good: A Block Club Chicago Podcast":