SOUTH SHORE — South Side organizers who won key affordable housing protections in Woodlawn near the Obama Presidential Center returned to City Hall Thursday to bring similar safeguards to South Shore.
Members of the Obama CBA Coalition joined South Side Alds. Desmon Yancy (5th) and Jeanette Taylor (20th) in a press conference to announce the South Shore Housing Preservation Ordinance.
The ordinance, introduced into City Council Thursday, details a suite of new protections for South Shore renters and homeowners as well as regulations to compel future developments to focus on expanding affordable housing.
Some of the components of the ordinance include:
Reserving all city-owned vacant lots in South Shore for affordable housing.
Creating a pilot affordable housing program for South Shore that requires 60 percent of new housing developments to be reserved for households earning 30 percent of the average median income.
Bans on move-in fees, and caps on rental application fees and security deposits.
Fair notice protections that give neighbors more time to move.
Millions invested in programs benefitting South Shore residents, including redeveloping vacant homes and multi-unit buildings as affordable housing, home improvement grants and down payment assistance.
Setting aside most of a city-owned vacant lot at 63rd Street and Blackstone Avenue for affordable housing.
"As a freshman alderman, it's an honor to be able to present this ordinance as my first ordinance at City Council," Yancy said Thursday. "South Shore … has more evictions than any other ZIP code in the city. We have to do something about this."
Kiara Hardin, a former South Shore resident who was recently displaced from the neighborhood, said the wide range of protections in the ordinance would help re-establish South Shore's economic diversity, keeping the neighborhood "mixed-class and mixed-everything."
"It's such a vibrant society, such a vibrant neighborhood," Hardin said. "In order for it to stay that way, we need people who can be diverse."
You can read the 54-page ordinance here.
A one-page brief on the ordinance is available here.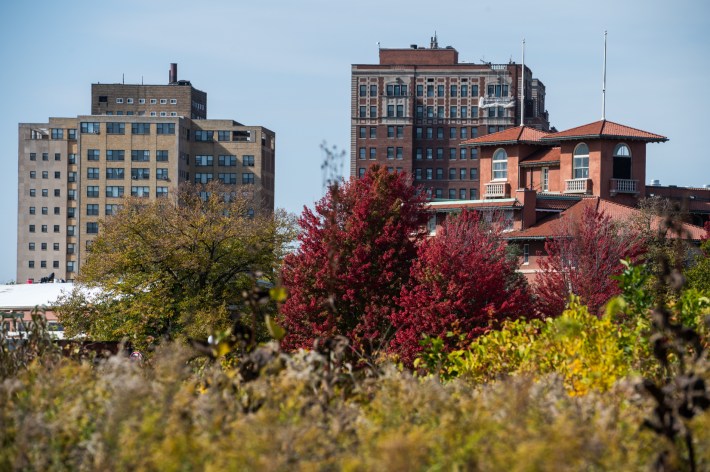 The ordinance is the product of years of organizing to prevent Black neighbors from being displaced as the Obama Center sets up in Jackson Park.
The coalition of community groups began organizing in 2015. Their work culminated in a community benefits agreement ordinance proposal and the passage of a scaled-back Woodlawn housing preservation ordinance in September 2020.
But South Shore was left out of that ordinance, and organizers renewed their work to create anti-displacement policies for South Shore.
Voters overwhelmingly supported an advisory referendum in March calling for a South Shore community benefits agreement and preserving most of Woodlawn's largest city-owned lot for affordable housing.
Constant community engagement informed the ordinance's final form.
"South Shore residents deserve to be able to stay in their neighborhood to benefit from the Obama Center and future development, not to be pushed out and replaced," organizer Dixon Romeo said in a statement. "The South Shore Housing Preservation Ordinance ensures that we can have development without displacement by protecting renters, homeowners, and condo-owners alike."
Under the ordinance, 166 city-owned lots in South Shore — 95 percent of the neighborhood's city-owned property — would be committed to "truly affordable" housing, with 75 percent of all new housing units promised to households making no more than 30 percent of the area's average median income.
Any South Shore housing development would need to commit 60 percent of units to households earning 30 percent of the average median income, according. tothe ordinance.
The ordinance also promises $13 million to promote the construction of affordable developments and the refurbishment of vacant homes and buildings.
A right of return policy would give displaced South Shore residents priority access to any affordable housing units built in the neighborhood. Applicants for affordable housing who can demonstrate tenancy or ownership of a primary residence in South Shore since 2015 would receive "preference" in their applications.
Hardin said that right of return policy would allow her to return to the neighborhood.
"I'm so happy that I have the opportunity to come back," Hardin said.
Seventy-five percent of city-owned vacant lot at 63rd Street and South Blackstone Avenue would also be devoted to affordable units under the ordinance. Affordable housing on the sizable city-owned lot has long been the target of community activists.
"Affordable housing is going to keep [it] affordable to stay in Woodlawn and South Shore, and allow them to return after being pushed out," Woodlawn activist Margaret Brewer said Thursday.
Brewer has lived in Woodlawn since 1955 and has only been able to stay with the assistance of subsidized housing, she said.
Former residents "should be the first ones to come back to new development," Brewer said.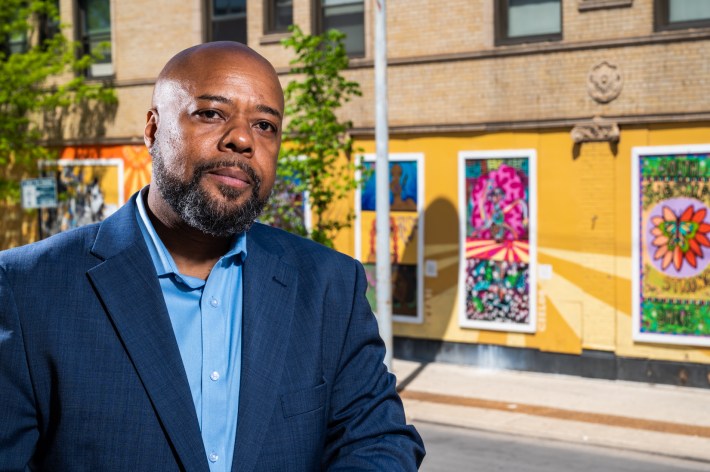 Current South Shore tenants and homeowners — not just neighbors who have been displaced — would receive aid if the ordinance passes.
Nearly $35 million in grant funding would go to support South Shore home improvement, down payment assistance for new homeowners and the payment of back taxes on properties that have seen their taxes skyrocket in recent years, as property values in the neighborhood has risen.
Tenant support would include a ban on move-in fees and an extension of move-in windows.
New city offices would include an Office of the Tenant Advocate, providing legal assistance to renters, and a South Shore "rental registry" pilot program that makes public a list of all neighborhood rental properties, their monthly rates and owners' names.
The bill also introduces a citywide "right of first refusal" for tenant associations. That means if a landlord moves to sell a rental property, the building's tenant association would be given the chance to purchase the property before it lands on the open market.
Asked about the ordinance, Mayor Brandon Johnson did not directly say whether he supports specific provisions.
"What I support is having a benefits agreement that doesn't push families out of the very community in which they've been raised in or they've raised a family in," Johnson said at a post-Council press conference.
"We're going to go through each piece of legislation, just like we've done with Bring Chicago Home, to come to an agreement that is in the spirit in which the ordinance and the idea was actually introduced. … And what we're clear about, though, is that a benefits agreement that speaks to the needs of the people who live there, should have a right to remain there. And that's what I'm committed to doing in my role, not just with this benefits agreement, but every piece of legislation that speaks to our values."
The CBA coalition's initial proposal for Woodlawn stalled in legislative committee for more than a year before the city proposed a watered-down version, citing concerns about legal challenges. The enacted ordinance was a compromise between organizers and then-Mayor Lori Lightfoot's administration.
Block Club Chicago's Quinn Myers contributed.
Watch our "On The Block" TV show on The U, CW26 and MeTV.
Listen to "It's All Good: A Block Club Chicago Podcast":