CHICAGO — Plan for closed streets and additional traffic throughout the city as Chicago's Mexican communities celebrate Mexican Independence Day this weekend.
September 16 commemorates Mexico's independence from Spain following an 11-year war that ended in 1821.
Here's more on local celebrations.
Little Village Parade
The annual parade organized by the Little Village Chamber of Commerce kicks off noon Saturday at 26th Street and Kedzie Avenue and heads west. Thousands of people are expected to pack the parade route.
This is the first year the parade will take place on the day of the holiday.
On Saturday, 26th Street will be closed and no parking will be allowed from California Avenue to Kostner Avenue, chamber officials said. Towing begins at 5 a.m. Saturday.
The parade theme is "Tu Mexico, Tu Chicago," to emphasize identity and culture within each state in Mexico, chamber officials said.
"Parade participants and floats will represent the different states in Mexico, showcasing the many Mexican traditions and culture that reside not just in Little Village but all over the city of Chicago and beyond," chamber leaders said in a previous news release.
The parade was suspended in 2020 and 2021 because of the pandemic, but it returned last year.
Telemundo Chicago will broadcast the parade this year.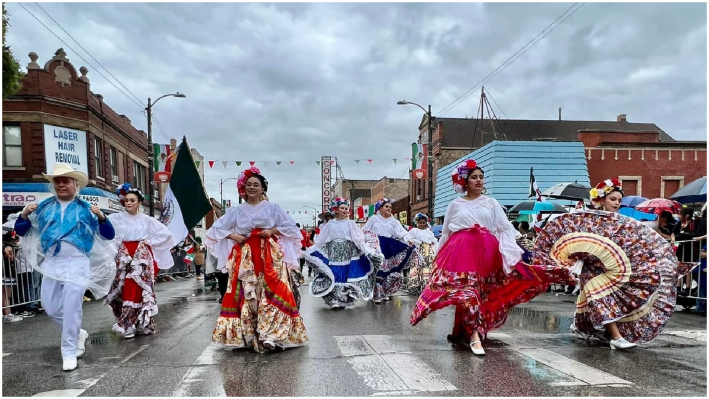 26th Street 5K
Before the parade, there will be the New Life Centers' El Grito 5k Family Run/Walk Saturday along 26th Street. All race proceeds go to the Little Village-based New Life Centers.
The race kicks off 10 a.m. at Manuél Perez Jr. Memorial Plaza, 4345 W. 26th St. Participants will run east to the Little Village Arches and back for an awards ceremony.
To register for the race, go here.
Pilsen's Grito De Independencia
On Friday evening, the Mexican Cultural Committee of Chicago is hosting a celebration of the traditional Grito de Independencia — the battle cry that launched Mexico's war for independence.
The celebration will take place 5-10 p.m. Friday at the Mexican Heroes Plaza at Benito Juarez Community Academy, 1450 W. Cermak Road. The Grito ceremony is at 9 p.m.
There will be live music, food and traditional folklorico dancing.
South Chicago Mexican Patriotic Parade
The Mexican Patriot Club in South Chicago is hosting its annual parade Sunday.
At 1 p.m., the parade kicks off at 87th Street and Commercial Avenue. The parade route will head south along Commercial Avenue from 87th to 99th streets, according to the club.
Downtown Traffic
In past years, dozens of car caravans have gathered Downtown and on DuSable Lake Shore Drive to celebrate Mexican Independence Day.
Police shut down access to part of The Loop last year in an attempt to control traffic, but neighbors said this caused confusion, chaos and hours of gridlock traffic for some people trying to get home.
The city's Office of Emergency Management and Communications said Wednesday there aren't any street closures planned for this weekend, but "traffic may be diverted to control traffic flow if needed."
"We remind those participating in events to be respectful of their neighbors and communities, as well as workers at critical facilities such as hospitals," city officials said in a statement. "They should also be mindful of first responders and emergency vehicles that are required to pass through areas where celebrations are occurring citywide."
"Car caravans that create a threat to public safety will not be tolerated. We also remind everyone that drag racing and drifting are not only illegal, but dangerous. Anyone in violation of the ordinance will be held accountable."
RELATED: Mexican Independence Day Revelers In Chicago Slapped With Tickets For Waving Mexican Flags: 'You Should Be Able To Celebrate Your Culture'
Police cracked down on traffic violations last year, belatedly ticketing people for waving Mexican flags out of their cars or having passengers hanging out of their cars.
In both cases, police said they were obstructing or interfering with traffic and in violation of city ordinances: "driving with view obstructed" and "driving or moving vehicle in unsafe condition."
Watch our "On The Block" TV show on The U, CW26 and MeTV.
Listen to "It's All Good: A Block Club Chicago Podcast":