BELMONT HARBOR — Chicago has a sailing pig.
Gilligan, an adventurous and at times prissy pot-bellied pig, has become the most famous first mate at Belmont Harbor's docks.
The 160-pound oinker is most at peace on the water, where he likes to chill in his private suite under the hull of "The Penalty Box," a 41-foot houseboat owned by Mt. Greenwood couple Tom and Michele Serbin.
Gilligan celebrated his 9th birthday in late August surrounded by sailors, deckhands and adoring fans. He marked the day by shoving his snout into a mound of blueberries, his favorite food.
"He'd knock you down for a blueberry," said Tom Serbin, a firefighter and the boat's skipper. "But I'd say he's asleep for the other 23 hours of the day. It's the perfect life.
"He's my sea hog."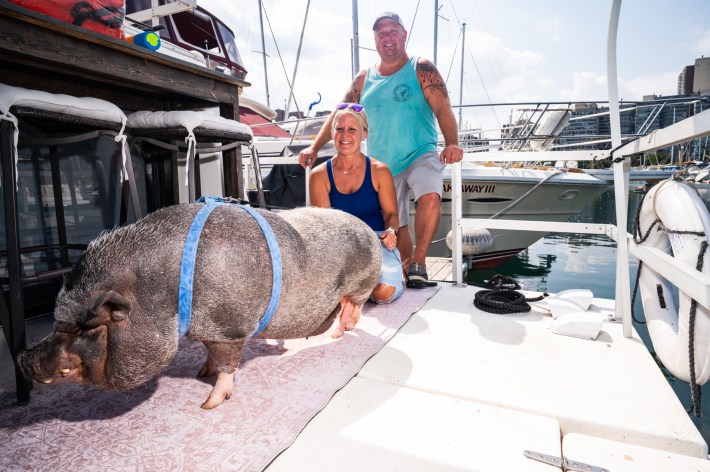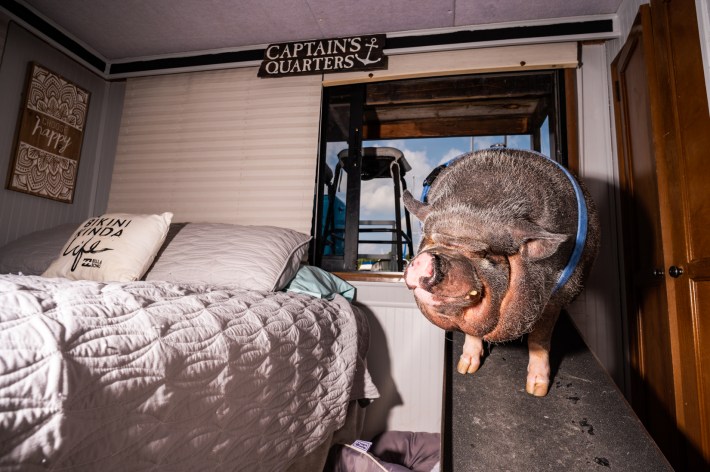 Gilligan likes to soak up attention as much as he does sun, as evidenced in a viral clip of him coming ashore at Belmont Harbor.
"I saw a pig in the grass, and how can you not go say hi to a pig in the grass?" said Mike Nelsen, who was getting off a friend's boat docked at the harbor. "He's chill."
But firefighter and boater Joe White, a longtime friend of the Serbins, warned that Gilligan once took "a bite out my rib cage" after White had stolen Gilligan's favorite spot on the couch.
Still, White dove into the harbor without hesitation to save Gilligan the one time the pig plunged into the lake.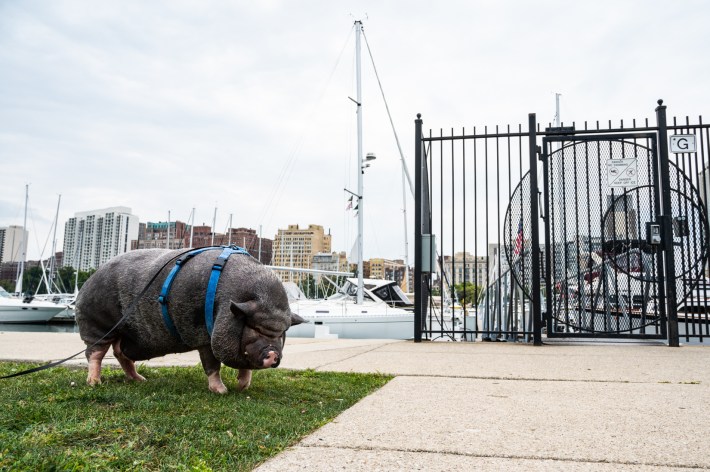 The Serbins said they're "Chicago people with a Key West vibe." They met playing dodgeball. Little did Tom know that Michele would eventually "stick me with a pig," he said.
Michele Serbin said she had dreams of getting a pet pig since the early '90s, when she was gushing over "ER" star George Clooney, whose own pet pot-bellied pig became an endearing character in tabloid stories about the actor's wandering romantic life.
Michele Serbin's great grandmother had a pet pig that she'd walk up and down South Kedzie Avenue with buckets of beer.
Chicagoans are allowed to keep pigs as pets, unlike other major cities. Michele agreed to let Tom buy The Penalty Box if she could get the pig to put in it.
"Next thing you know, click, buy, order — we got a pig flying into O'Hare," Tom Serbin said.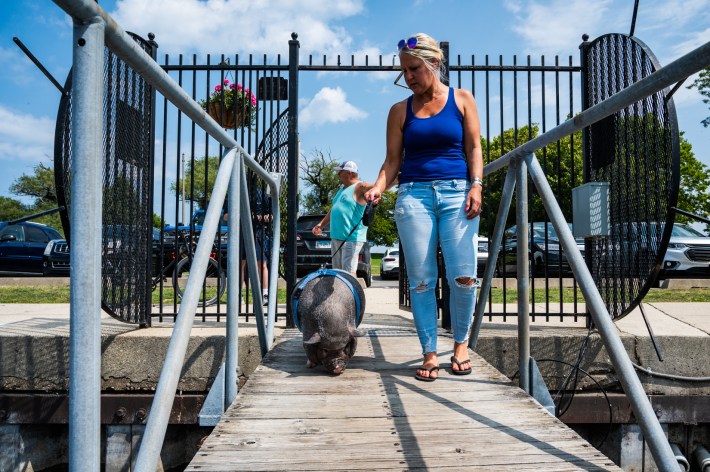 The portly swine is named after the lead character in the 1960s sitcom "Gilligan's Island." He spends plenty of time on The Penalty Box while Tom Serbin gets people out on the water with his charter boat company, S.S. Charters Chicago, 2 W. Belmont Harbor Dr. Michele Serbin is a graphic designer who has made merch featuring their pet.
Giligan's bed is behind the boat's wheel, where he watches cartoon reruns and listens to tunes — country music and "a little bit of Chicago house music, too," Michele Serbin said. "His tail goes with the beat."
Gilligan once broke into a 12-pack of Truly hard seltzers and "slurped the floor dry" until he was tipsy, Tom Serbin said.
"He was hooves up, tongue hanging out, rolling across the deck," Tom Serbin said.
The snowbird couple brings Gilligan cross-country camping every winter to the Florida Keys. A graphic on the back of their trailer reads "No swine left behind."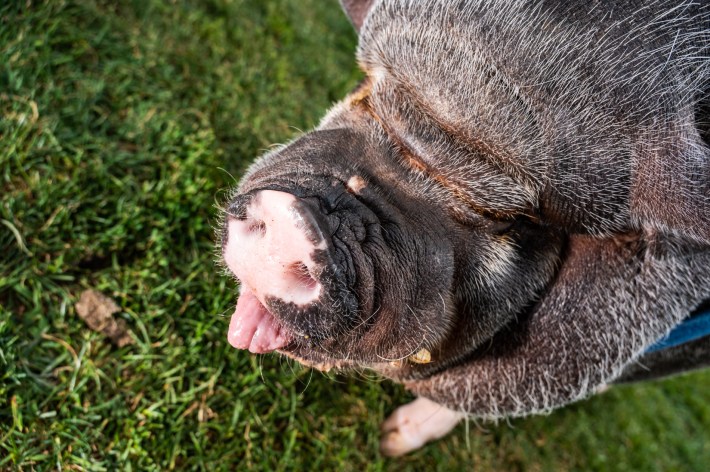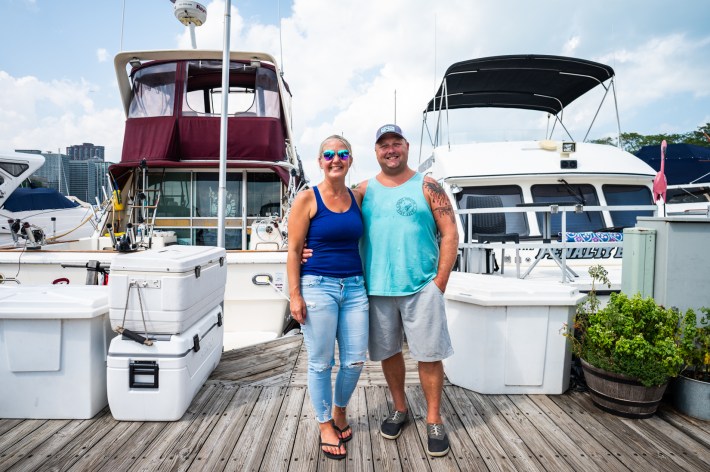 Gilligan is also a hit in his home neighborhood of Mt. Greenwood, where he navigates the family's home on "lots of ramps," the Serbins said.
The pig makes cameos at block parties and children's birthdays, and has dressed up as a bat, a shark and even a pig for Halloween. He's supported local schools in fundraisers where principals are challenged to "kiss a pig," his owners said.
Gilligan sometimes squeals and throws fits. But he's usually unbothered — as long as he's not hungry, Michele Serbin said.
"He's spoiled, and I'm obsessed with him. He loves us," said Michele Serbin. "He's like a toddler that will never grow up. Pigs are intelligent. A dog would grab a bag and rip it, but I've seen Gilligan open every zipper."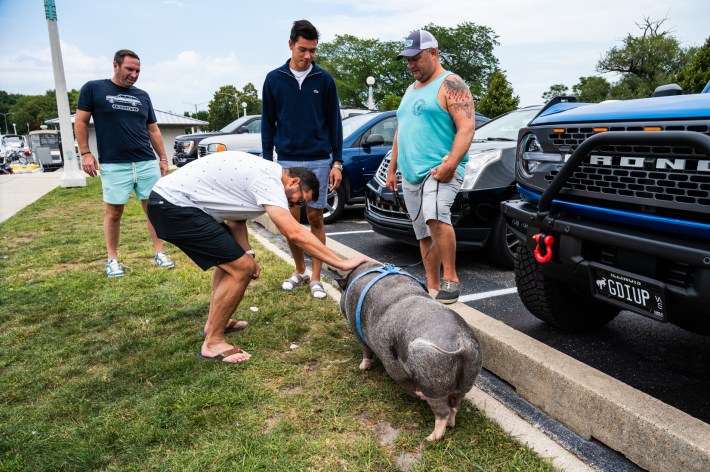 Gilligan's celebrity status can make walking around Belmont Harbor take at least an hour-and-a-half, the Serbins said. But that's OK — they're "people's people" who enjoy talking about pigs (but not pork) and "saving others from getting one," Michele Serbin said.
When the couple first brought Gilligan home as a baby, he slept on Tom Serbin's neck in his reclining chair, which promptly turned the "grumpy fireman" into a "big sucker."
Gilligan has since grown to twice the size the couple thought he'd be.
"We got married later in life, so these day we just travel, the three of us in our little camper, and the harbor is our home away from home," Tom Serbin said. "We're just always hanging out."
As Block Club's interview stretched past the hour, Gilligan waddled over to his suite in the boat without saying a word.
"I think he's already done for the day," Tom Serbin said.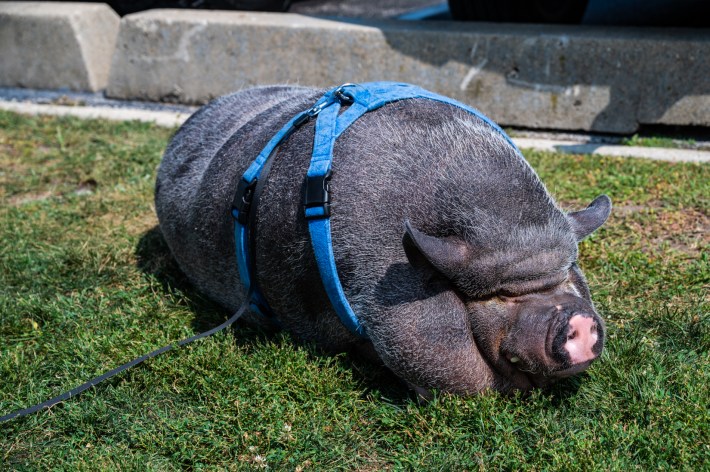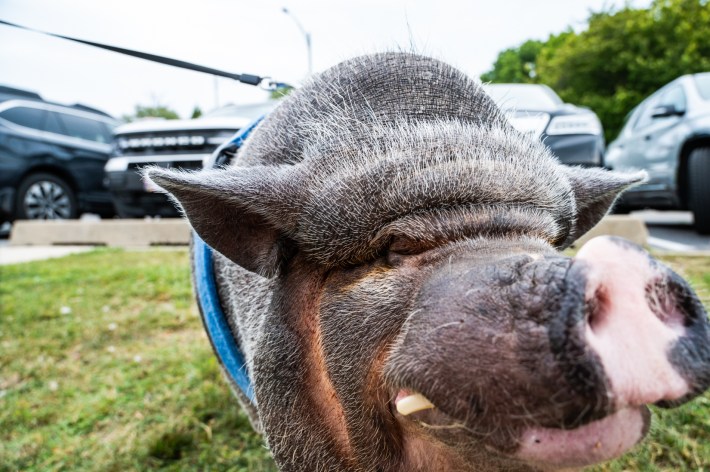 Watch our "On The Block" TV show on The U, CW26 and MeTV.
Listen to "It's All Good: A Block Club Chicago Podcast":