SOUTH SHORE — South Shore's free, annual neighborhood festival returns this weekend with art and activities for all ages.
The 6th annual Connect South Shore Festival is 10 a.m.-7 p.m. Saturday-Sunday in the former Shore Bank parking lot, 7001-7037 S. Jeffery Blvd.
The festival features live music, local vendors and artists, a rollerskating rink, morning yoga sessions and a sensory-friendly kids' zone.
Musicians set to perform include:
For a full schedule of performances, click here.
Emcee and artist Jeff Koonz will host Think and Paint sessions Saturday and Sunday, where artists of all skill levels will discuss "intimate life topics" before creating visual art together.
Children can visit an "inclusive sensory adventure" play zone all weekend, where bubbles, textured balls, hula hoops and other activities will encourage kids of all sensory needs to play.
Michael Saa Sekhem will lead Saturday's yoga session, while Julia Perkins of South Shore's Studio Yogi will lead Sunday yoga. Both sessions start at 10 a.m.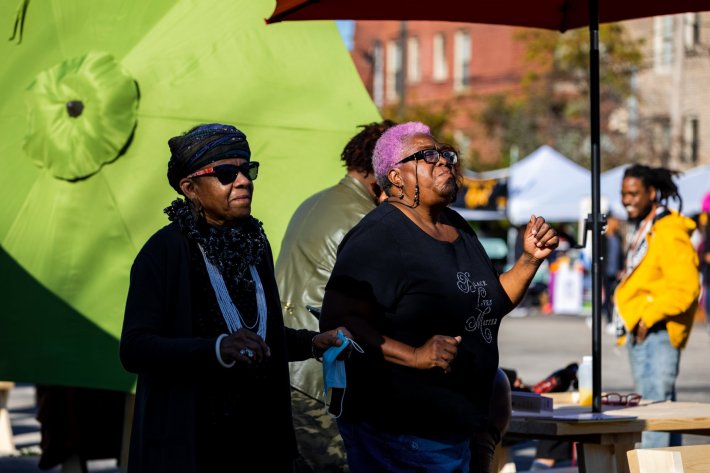 The festival is organized by Eric Williams — founder of the Silver Room Block Party, which ended after this summer's edition — the South Shore Chamber and Special Service Area No. 42.
"As conscious-minded individuals, it is imperative for us to exercise our right to expression by participating in a different form of mass demonstration," Wiliams said in a statement. "It is time for us to demonstrate the cultural and artistic talents we have to empower and transform our surroundings and create strong economic pathways."
Williams started the event in Hyde Park in 2017 as Hyde Park Connect, a project to fill empty storefronts in the neighborhood with local vendors and artists.
After moving a couple miles south and becoming Connect South Shore in 2018, the first three festivals were similarly held in vacant shops, Williams said.
Connect South Shore was not held in 2020. It has been held in the Jeffery Boulevard lot in since 2021 to allow more space amid the pandemic.
The festival can help its vendors build a customer base large enough to sustain a physical shop — in turn helping fill vacancies along South Shore's main streets, LaShawn Brown, Special Service Area No. 42 program manager, said last year.
Watch our "On The Block" TV show on The U, CW26 and MeTV.
Listen to "It's All Good: A Block Club Chicago Podcast":