WEST ENGLEWOOD  — Plans to repurpose a long-vacant South Side school into affordable apartments are moving forward after getting City Council approval Thursday.
Developer Gorman & Company will breathe new life into Charles Warrington Earle School a decade after former Mayor Rahm Emanuel closed it along with 49 other schools.
The plan for the Earle School Family Residences calls for 50 affordable apartments — 30 one-bedroom apartments and 20 two-bedroom units — to be built at the former Earle building, 6121 S. Hermitage Ave., developers shared at an August plan commission meeting. 
All 50 apartments would qualify for neighbors earning between 15-60 percent of the average median income. The median income in Englewood is $22,127, according to a presentation shared by developers.  
The development will have a computer lab, fitness center, community room, laundry room, bike storage, a social services office and 50 parking spaces.
The development is an adaptive historic reuse project, a development strategy used by the city that preserves buildings often left vacant in South and West side communities due to historic blight and disinvestment. Earle School was added to the National Register of Historic Places in 2021.
An attorney for Gorman & Company previously said that one auxiliary building constructed in 1974 would be demolished as part of the development. 
The reuse of the former school building is the first step of the project, said Patrick Brutus with the city's planning department. The second part would entail building up to 25 townhomes on a vacant lot next to the school. Previous estimates to build the housing were around $22.5 million. 
Discussions to transform the vacant school building first started in 2017 with Ald. Raymond Lopez (15th), whose ward includes the school, according to developers. Gorman & Company bought the building in 2017 for $200,000.
Local officials and the project's outreach team have continued to meet with the community to discuss the project over the last six years.
The Earle School outreach team consists of developers Gorman & Community and local community organizations like Teamwork Englewood, Resident Association of Greater Englewood and E.G. Woode.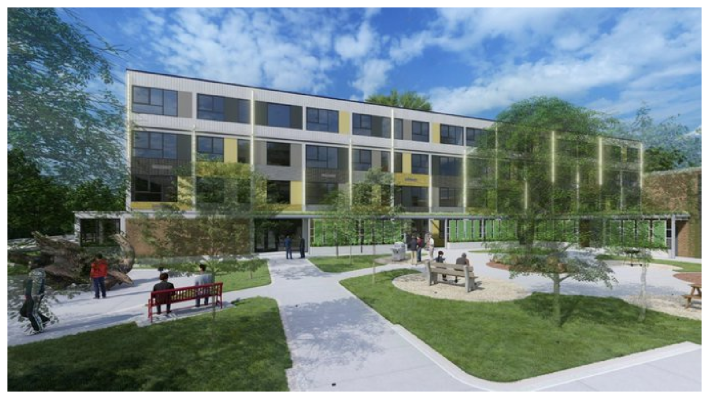 The Earle School Family Residences is the second project in Englewood being steered by community organizations and Gorman & Company, a real estate agency that leads developments like affordable housing projects. 
The Regenerator, a $26.6 million development, received City Council approval in June. The four-story housing project will repurpose the former Woods Elementary building at 6206 S. Racine Ave. The Englewood school was also closed by Emanuel in 2013. 
The Regenerator will have 48 affordable one- to two-bedroom units, a 22,000-square-foot health center and a community center. 
The Go Green On Racine team — a group formed by community organizers at Teamwork Englewood, Inner-City Muslim Action Network, E.G. Woode and the Resident Association of Greater Englewood — are leading that project. 
The work to bring the project to fruition and revitalize the Racine corridor began a decade ago, Rami Nashashibi, executive director at the Inner-City Muslim Action Network, previously said. 
The Earle School Family Residences joins a list of projects revitalizing Englewood. 
Go Green On Racine opened the $5 million Go Community Fresh Market at 1207 W. 63rd St. in 2022. Organizers are also fighting to reopen the Racine Green Line, which closed nearly 30 years ago. 
E.G. Woode opened a commercial hub at 1122 W. 63rd St. in August 2022, and the collective of architects, designers and entrepreneurs will soon open a $5.3 million restaurant hub at 1022 W. 63rd St. 
The Resident Association of Greater Englewood is working to replace the vacant Leon's Bar-B-Q with The Re-Up 1158 Project, a dining destination with three sit-down restaurants, retail or office space, and headquarters for the community organization. 
Community organization Grow Greater Englewood is leading the charge to break ground on the $72 million Nature Trail along an abandoned railway line. 
The Englewood Breakroom, a $500,000 pop-up plaza, opened on once-vacant land at 1539 W. 63rd St. in July.
Sikia, Englewood's only sit-down restaurant inside Kennedy-King College, 740 W. 63rd St., will reopen "refreshed" in 2024 after closing to the community in 2020.  
Watch our "On The Block" TV show on The U, CW26 and MeTV.
Listen to "It's All Good: A Block Club Chicago Podcast":