CITY HALL — City Council voted Thursday to accept federal money to help newly arrived asylum seekers in Chicago.
The ordinance passed in a 45-4 vote. Alds. Desmon Yancy (5th), Anthony Beale (9th) Raymond Lopez (15th) and Jim Gardiner (45th) voted against it. Ald. Derrick Curtis (18th) was absent.
The $33 million comes from federal grants through the Department of Homeland Security and federal pass-through grants from the Illinois Department of Human Services, according to the ordinance.
The money will cover previous and future expenses connected to helping asylum seekers, The Daily Line reported. Of the $33 million, $19.8 million is earmarked for the cost of food and $13.2 for the cost of shelter spaces, according to The Daily Line.
The ordinance also included other federal and state funds for the Chicago Department of Public Health and the Police Department.
Thursday's vote was quicker and less contentious than previous City Council votes on allocating funds for asylum seekers.
The additional funding comes as city has spent nearly $133 million from August 2022 through July 2023 on the ongoing migrant crisis, according to a recent city presentation. The Mayor's Office said it expects the crisis to cost the city another $123 million through the rest of the year.
The total cost of Chicago's migrant crisis by the end of 2023 is estimated to hit $255 million.
Since last August, more than 13,500 people, most from Central and South America, have arrived to Chicago. Buses are still coming daily. Many asylum seekers are from Venezuela, which has been struggling with an economic crisis that has caused severe food and medicine shortages, hyperinflation, widespread unemployment and violent crime.
There are nearly 2,000 migrants being housed in police stations and at O'Hare Airport, and 6,800 in 18 shelters across Chicago.
Lopez, who has routinely opposed allocating money to this humanitarian crisis, said Thursday he would vote against it again because he can't support funding something when he doesn't know how the money is being spent.
Before the vote, Lopez unsuccessfully tried to pass a motion that would have separated the migrant funding into its own ordinance, saying it was meant to "give us time and to discuss more thoroughly and more correctly what exactly we are doing to address the humanitarian crisis."
"This body has the fiduciary responsibility to safeguard the taxpayer dollar and use it accordingly. And none of us can explain where it's going. None of us know where it will go. We should be able to answer those questions in no uncertain terms. We have to account for every dollar," Lopez said.
The Southwest Side alderman also said the city should be focused on issues facing Chicago residents, like those impacted by flood damage this summer on the Northwest and West sides.
"It's hard to look those folks in the eye and say, 'We're concerned about you, too,' when we are not proactively spending and rearranging the cosmos to help them … but we're willing to do that for the individuals who have been shipped here by the truckload, every week," he said.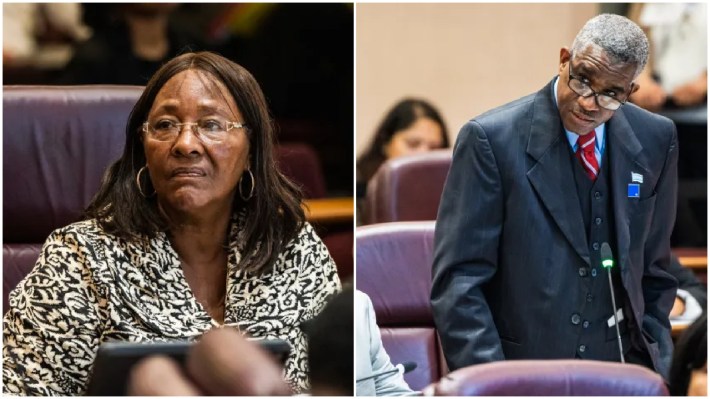 Other alderpeople — who have previously voted against using city funds for migrant care — said they would vote in favor of accepting this money because it was coming from the federal government, which many of them have been asking for.
Ald. David Moore (17th) voted against using $51 million in city surplus funds for migrant care a few months ago, but voted in favor of the federal funding Thursday.
"I cannot turn money away that I went and I told you to go get," Moore said Thursday. "That helps us here in the city. We have to make sure we get this money so we can lessen the burden on the city of Chicago taxpayers."
Ald. Emma Mitts (37th), another City Council member who voted against the $51 million in city money earlier this year, also supported accepting the federal funds.
But the West Side alderwoman warned her colleagues that she has constituents still living with flood damage, and they deserve the city's attention, too.
"They are constantly reminding me of all the dollars being spent now for the migrants, and if can walk and chew gum at the same time — doggone it, now is the time," Mitts said. "Right now, all I want to do is to try and make my community somewhat back whole again, and to look forward to fixing the problem in the future."
Watch our "On The Block" TV show on The U, CW26 and MeTV.
Listen to "It's All Good: A Block Club Chicago Podcast":