CHICAGO — A measure that would raise the city's real estate transfer tax on higher end property sales to fund homelessness services was introduced to City Council Thursday, the latest step on a long road to its possible implementation next year.
The Bring Chicago Home campaign has for years called for the city to increase the tax rate buyers pay on property sales over $1 million, with the additional funds raised dedicated to providing permanent affordable housing and wraparound services for unhoused Chicagoans.
Property buyers currently pay a one-time tax of 0.75 percent on all sales, regardless of final price.
The measure stalled under former Mayor Lori Lightfoot's administration, but has since won the approval of Mayor Brandon Johnson, who supported the intiative while running for office this year.
Last month, the Johnson administration briefed alderpeople on a compromise version of Bring Chicago Home, which would feature a tiered, marginal structure instead of a flat tax hike.
Under that revised plan, people buying properties under $1 million would see reduced taxes. Real estate sales over $1 million would see higher rates only on the portion of the sale above $1 million.
The rate proposal:
Property sales under $1 million would be taxed at .60 percent, down from .75 percent
Property sales between $1-1.5 million would be taxed at 2 percent
Property sales above $1.5 million be taxed at 3 percent
The resolution was formally introduced to City Council on Thursday by Johnson and alds. Carlos Ramirez-Rosa (35th), Maria Hadden (49th) and Matt Martin (47th).
If alderpeople pass the resolution this fall, it will then go to a public referendum during the March 2024 primaries.
If the measure passes that referendum, alderpeople would then craft an ordinance to actually raise the tax structure, which requires another City Council vote.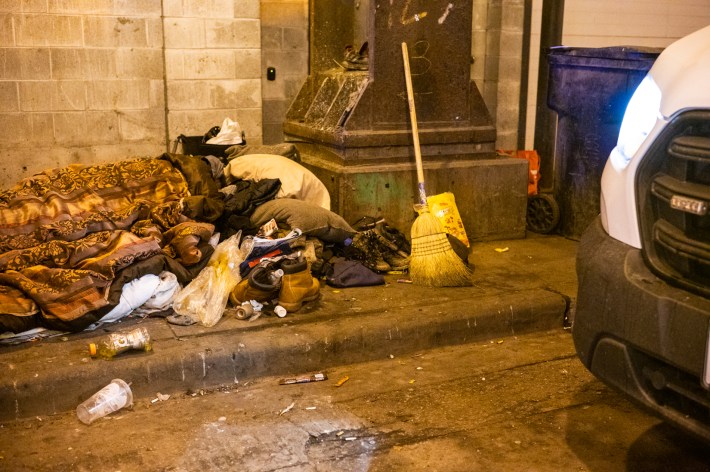 Bring Chicago Home has attracted both fierce support and opposition from activists, alderpeople and the real estate industry.
In January, 6,139 people in Chicago were living on the street or in shelters, according to the city's annual "Point-In-Time" homelessness count. Asylum seekers accounted for 42 percent of that count, according to city documents.
A broader count puts the number of people experiencing homelessness in the city around 65,000. That includes Chicagoans who are "doubled-up," meaning they live with family or friends and do not have "their own space due to economic hardship or housing loss," according to a presentation on Bring Chicago Home this summer.
Proponents have argued the tax hike is direly needed to help get people off the streets and into permanent housing. Critics say the change would hurt landlords and commercial property owners, especially Downtown.
"Your average home buyer will see a reduction in the amount that they have to spend in the real estate transfer tax as a result of this change," Ramirez-Rosa told Block Club last month. "But we're also then asking the very top of the market, some of the largest corporations in the world, that as they purchase property in the city of Chicago, that they pay a little more."
Materials shared by the Johnson administration this summer said the new, tiered proposal would lower the real estate transfer tax rate for almost 96 percent of all property sales in the city.
But Miguel Chacon, a realtor, landlord and member of the Neighborhood Building Owners Alliance, said last month that the plan would ultimately result in landlords jacking up rents across Chicago.
"Everyone is going to start raising their rents. And $1.5 million dollars is a very low threshold to get across," he said. "There's a lot of different avenues that the city can take to raise additional revenue, but to impact just one industry, as if the real estate market is entirely responsible for homelessness, is just not the right direction."
Downtown Ald. Brendan Reilly (42nd) on Thursday sent the Bring Chicago Home resolution to the Committee on Committees and Rules, where legislation is often diverted to delay or kill it entirely.
But Ramirez-Rosa said the measure was meant to be sent to the rules committee in the first place, so there is "no conflict." He expects it to advance to the full Council in October.
Asked at a post-Council press conference how confident he was the measure would appear on the ballot in March, Johnson said "very confident."
Watch our "On The Block" TV show on The U, CW26 and MeTV.
Listen to "It's All Good: A Block Club Chicago Podcast":