NEAR WEST SIDE — The Chicago Blackhawks received the green light from City Council Thursday to expand its Fifth Third Arena training facility.
The pro hockey team is buying vacant land at 303 S. Damen Ave. — next door to Fifth Third Arena — for the 135,000-square-foot expansion. The arena currently serve as a community ice rink that also doubles as the team's practice facility.
Under the approved plans, the team will add two hockey rinks for the Blackhawks and club teams, 180 parking spaces, a park for neighbors and a Divvy station at the arena.
Project leaders said pedestrian improvements accompanying the project include a raised crosswalk on Jackson Boulevard, curb extensions at Jackson Boulevard and Wood Street and a pedestrian countdown timers at Jackson Boulevard and Damen Avenue.
The Blackhawks are buying the land from Rush University Medical Center for $23.5 million, a deal that was approved by the City Council in April. As part of the deal, the hospital will put $6.3 million from the sale toward development of the Sankofa Wellness Village.
The Sankofa Wellness Village is a sprawling development project in West Garfield Park aimed at creating new amenities — including a health center, business incubator and more — that will increase the quality of life and life expectancy of neighbors.
Alderpeople praised the expansion at a committee hearing Tuesday, where the project was approved and advanced to the full City Council vote.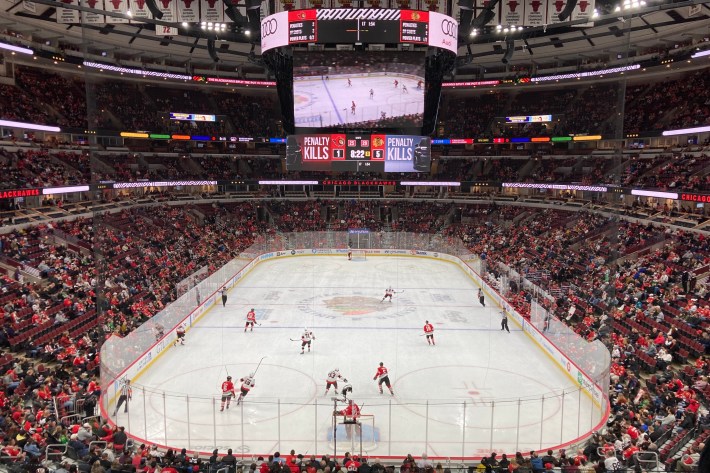 The continued investment in the neighborhood on the West Side is really, really impressive," said Ald. Bennett Lawson (44th), whose ward includes Wrigley Field.
"When we talk about sports teams — I know a little about one, right? — we have to look at what they're doing in the community, what's their impact in their immediate neighborhood? What's their impact citywide? Because it's not all equal, at all. And I think the Blackhawks are a real leader there," he said.
Ald. Walter Burnett (27th) previously said the expansion will bring much-needed jobs and resources to the community, with Jamie Faulkner, president of business operations with the Blackhawks, saying it would create 260 jobs overall for the community.
Faulkner previously said this has been a project long in the making and one that the team believes will enhance the area's job base, public infrastructure and recreational speaces.
"As Chicago's hometown hockey team, we truly believe our purpose is to make Chicago proud," she said in August. "We want to serve as the home of Midwest hockey to provide opportunities for all youths and adults who want to participate in a sport we absolutely love."
Watch our "On The Block" TV show on The U, CW26 and MeTV.
Listen to "It's All Good: A Block Club Chicago Podcast":