WEST ROSELAND — Neighbors can learn more this week about the city's decision to build "winterized base camps" to house migrants on the Far South Side.
Ald. Ronnie Mosley (21st) will host a community meeting 6 p.m. Wednesday at the Sheldon Heights Church of Christ, 11325 S. Halsted St., to discuss a temporary shelter for migrants in his ward, he announced via social media channels Tuesday. 
The meeting comes days after Mayor Brandon Johnson disclosed to the Sun-Times that the city aims to move about 1,600 migrants out of Chicago police stations and into huge tent camps modeled after New York City shelters.
But details have been scant about where the camps would be. The former Halsted Indoor Mall parking lot at 115th and Halsted Street in Mosley's ward was proposed as one potential location for the camps, sources told CBS Chicago on Friday.
The parking lot was to be redeveloped by the Far South Community Development Corporation into affordable housing and up to 20,000 square feet of ground retail space, according to The Real Deal. It is currently vacant.
"Despite reports, no decision has been made" about the Far South Side lot, Mosley said in an online announcement. 
Wednesday's meeting will "open dialogue in the community" concerning the temporary shelters, Mosley said.
"As Chicago works to meet the challenges of being a Sanctuary City, it's my responsibility, as alderman, to put the needs of the 21st Ward first," Mosley said in the Tuesday statement. "This meeting is the first step of making sure that we are informed and prepared for any upcoming decisions that are made about temporary asylum seekers shelters that impact the 21st Ward."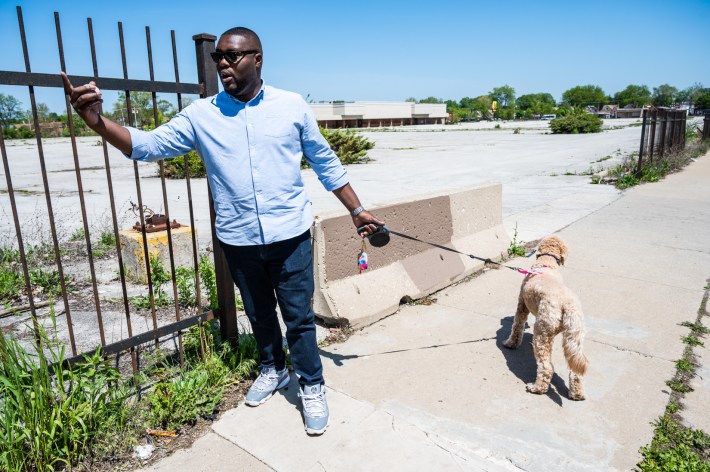 Johnson's office briefed City Council members late last week about the proposed camp, Ald. Maria Hadden (49th) told Block Club. The military-grade tents would also be climate-controlled with bathrooms and showers, intake spaces and facility areas, Hadden said.
All alderpersons were informed that the surge of migrants in the city "makes temporary shelters in all communities a possibility," Mosley said in the online statement. 
"Chicago needs help from every level of government, and the 21st Ward needs a plan that prioritizes our needs. By failing to prepare, we are preparing to fail," Mosley said. 
The ongoing humanitarian crisis is estimated to cost taxpayers $255 million by the end of the year, Johnson told alderpeople Friday. 
The city has spent nearly $133 million to address the crisis from August 2022 through July, according to the city's presentation to alderpeople.
Watch our "On The Block" TV show on The U, CW26 and MeTV.
Listen to "It's All Good: A Block Club Chicago Podcast":