WICKER PARK — Ed Rey was walking up to his Wicker Park home late one night in July when three young men, seemingly out of nowhere, approached him, he said. 
A restaurant and bar consultant who makes social media videos highlighting Chicago's food scene, Rey said he's usually hyper aware of his surroundings, especially late at night. 
But around 2 a.m. July 13, Rey said his guard was down.
"I walked right up to my house, just about three steps away from my home, got into the gangway area, and heard three guys come up to me and [shout] "give me all your s—! Give me all your s—!" 
The thieves were wearing masks and holding guns, Rey said, including one that looked like a "small assault weapon" aimed right at his chest. 
Rey was carrying a backpack with his laptop and notably, a hard drive where he was storing thousands of video clips he's shot for his Instagram and TikTok channels over the past few years. Many of them had yet to be edited and posted, he said. 
Rey tried to talk the guys out of taking the hard drive, which he said caught one of the guys by surprise.
"At that point, the guy just started punching me in my face. Got some good hooks in there," Rey said. "The kids were young. They must have not been over 20, teenagers." 
The three robbers grabbed Rey's backpack and initially his phone, before one of them threw it on the ground. Almost as quickly as the robbery had begun, it ended, Rey said. A van pulled up and the crew fled the scene. 
He felt like his body and brain went into shock, he said. He wasn't sure if he was seriously injured, and had to ask his roommate if he had been stabbed or worse. 
"What I really struggled with was not knowing that I was alive, in a sense. Your mind is all over the place," he said. "Right immediately afterwards, I was extremely paranoid." 
The attack on Rey wasn't an isolated occurrence. That same week, an employee at Bucktown Food and Liquor, 1950 N. Milwaukee Ave., was shot during an armed robbery. And that weekend, Marshall Russell was killed during an attempted robbery outside the California Clipper, 1002 N. California Ave., in Humboldt Park. 
Those incidents are just a few examples of a dramatic increase in armed robberies this year across the West Town, Wicker Park, Bucktown and Logan Square areas. 
The Shakespeare (14th) Police District, which includes Wicker Park, Bucktown and parts of Logan Square, has seen at least 351 robberies as of Aug. 31, up 62 percent from the same point last year, according to the city's data portal. That's more than double the 152 reported during that period in 2020.
In the 12th Police District, which includes parts of Ukrainian Village and West Town and stretches down through the West Loop to Pilsen, neighbors are dealing with a similar trend. 
As of Aug. 31, the 12th district had seen at least 531 robberies, 200 more than at the same point last year and almost 300 more than in 2020.
This summer, news reports and stories from neighbors and friends about nearby robberies have felt endless, residents told Block Club. 
In early August, at least 19 robberies were reported in Logan Square in one weekend. A few weeks later, the California Clipper was again targeted in an armed robbery, as was Rite Liquors in Wicker Park the same night.
And in late August, a TV news crew preparing a report on the spike in armed robberies were themselves robbed, with thieves making off with their video camera. The reporter, who asked to remain anonymous, called the incident "total irony." 
In August, the 12th and 14th districts, along with the Grand Central (25th) Police District, which stretches from the western part of Logan Square to Belmont Cragin and Montclare, had the most robberies of any districts in the city. 
And as the weather cools, the attacks don't appear to be waning. 
Around midnight Thursday, a man and woman were robbed in the 1800 block of West North Avenue in Wicker Park, police said. About 30 minutes later, another man and woman were robbed in the 1300 block of North Wood Street in Wicker Park, police said. 
In both incidents, the victims were approached by men with guns who demanded their belongings before fleeing. Police have not said if the cases are connected. 
Over the weekend, West Town tavern Chipp Inn was hit by armed robbers, along with nearby Ola's Liquor Store and Division Street Liquors, police said. The crimes were first reported by CWB Chicago. 
The onslaught of robberies have left neighbors frustrated, scared and exasperated. 
"It seems like there is not a day that goes by where something isn't happening in the neighborhood," said Miriam Ruiz, a retired CPS special education teacher who has lived in Ukrainian Village for more than 50 years. 
This year, Ruiz began volunteering with the Ukrainian Village Safety Advocates, a neighborhood group that formed partially in response to ongoing public safety issues on Division Street. 
While the organization has been dealing with a range of issues, Ruiz said this summer's rash of robberies "has changed the fabric of our neighborhood completely." She is constantly on alert and sometimes second guesses when and where she should go out, she said. 
As the robberies continue, Ruiz said she's still not sure what local leaders — from police to alderpeople and all the way up to Mayor Brandon Johnson — are doing to keep people safe.
"I would like to see or hear from the mayor, from law enforcement, Chicago police: What is your plan? What are you going to do?" Ruiz said. "Maybe you don't want to spill it, but just tell the residents: look, we're doing something." 
Who's Responsible And Are They Getting Away With It?
Many of the robberies that have occurred on the Northwest Side in recent months have been carried out by small crews made up of teenagers or men in their early 20s, according to a law enforcement source.
These crews, typically outfitted in hoodies, ski masks and gloves, are hitting several victims in one outing, the source said. Community police alerts show the attacks have been occurring one after the other.
"We're seeing multiple robberies committed within a short amount of time," the law enforcement source said. "Before we had one or two in the area, then they'd usually flee. Now we're seeing several — four or five committed in 20 minutes." 
David Douglas was one of several people targeted Aug. 13.
Around 1:30 p.m., Douglas, 57, was loading up his car for a family road trip in the 2500 block of North Campbell Avenue in Logan Square when another car pulled up and a guy with a gun got out, according to Douglas and police.
Douglas said the guy yelled, "Give me all of your s—!" while pointing a gun to his head. He put his hands up and begged the guy not to shoot before giving up his phone and wallet. The attackers then drove off with his belongings.
That same crew went on to commit at least seven more armed robberies that day, police said.
Douglas said he's still processing what happened to him. The robbery took him by surprise after living peacefully in Logan Square for 30 years, he said.
"It's not like it's at night. It's during the day when you're just walking around and not really thinking about it. You're not on your guard. It's broad daylight during a beautiful afternoon in the summer," Douglas said.
Also last month, Oliver Camacho watched from his second floor window as his roommate, a French citizen, was shot by armed robbers after parking outside of their Logan Square apartment building.
The robbery happened 7:10 p.m. Aug. 5 in the 2500 block of North Richmond Street, police said.
Camacho said a couple of masked men, who looked to be between 16-20 years old, pulled up and got out with guns drawn, demanding his roommate's belongings.
The 27-year-old, who is living in Chicago temporarily through an international internship program, didn't cooperate at first because the demands "didn't register," Camacho said.
He started to run away, which is when the masked men opened fire, Camacho said.
Camacho said by the time he got downstairs, his roommate was lying on the pavement with a gunshot wound in his leg, and the attackers had fled.
His roommate is recovering physically, but the shooting has taken an emotional toll, Camacho said. He calls every day on his way home from work so Camacho will wait for him on the stoop and make sure he gets in the apartment OK, Camacho said.
"It feels like right now that things are out of control and there isn't much effort to increase security in Logan Square," Camacho said.
Camacho's roommate, who asked to remain anonymous, plans to move to suburban Lombard, closer to work, he said.
"It is too scary to live here," he said.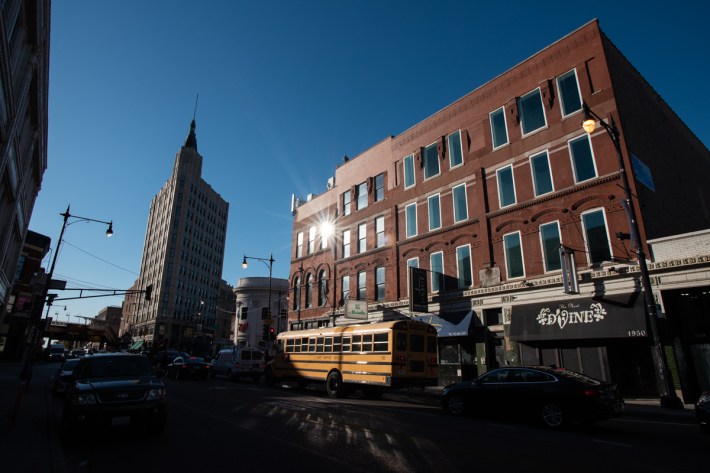 The attack on Camacho's roommate was one of the 19 reported across Logan Square the first weekend of August.
Neighbors across the Northwest Side and West Town are wondering what it will take to stop these incidents.
Police have made some arrests. Two teenagers, ages 15 and 16, are facing felony charges for robberies on Aug. 28 in the 1600 block of North Rockwell Street and 2000 block of North Mozart Street, police said.
And three teenagers, 18, 16 and 14, were recently charged in an Aug. 23 armed robbery in the 4200 block of West Dickens Avenue, police said. The 14-year-old was also charged for another robbery that same day in the 3700 block of West Potomac Avenue, police said.
Yet robberies are far outpacing arrests.
The law enforcement source said the Police Department's new foot and car chase policies could be hampering efforts to catch suspects. Under the foot patrol policy, officers aren't allowed to pursue suspects simply because they're running away or have committed minor crimes.
The policy does allow officers to pursue a suspect if they are an "obvious physical threat to any person," and if the need to detain someone outweighs the threat a foot pursuit poses to public safety.
The department's car chase policy, modified in late 2020, requires that every chase meets a "balancing test." In other words, officers must determine that apprehending a suspect is absolutely necessary and outweighs the risk of a crash.
"They feel like they can get away with it," the source said of Northwest Side robbery suspects. "I feel like they know, based on social media, that Chicago [police] can't chase."
To complicate matters further, many robbery suspects are under 18 and are sent home, rather than to Cook County Jail, after they're arrested, the source said. Attackers typically cover their faces, too, which can make identifying suspects difficult, he said.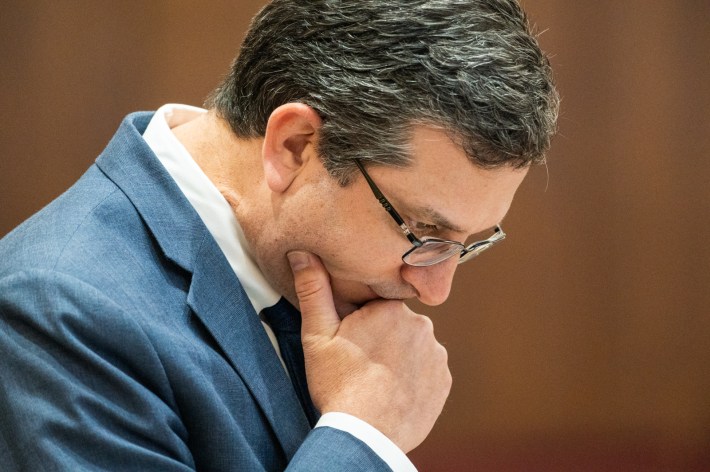 Bucktown Ald. Scott Waguespack (32nd) echoed these concerns, saying there are "zero consequences" for minors who commit robberies or similar crimes. 
"I've said before, they should be doing actual community service, instead of just being kicked out the door the same day," Waguespack said. "They should be doing something to really put more consequences on those juveniles."
In response to those claims, the Cook County State's Attorney's Office said in an emailed statement it "makes charging decisions in every case, including those involving juvenile suspects, according to the evidence and the law."
Meanwhile, robberies are piling up, leaving detectives completely overwhelmed, the law enforcement source said.
"I was talking to one of the detectives the other day. He came back from a day or two off, and he's got 15 robberies he's gotta handle. That's going to be loaded with additional ones," the source said.
"Are [detectives] getting the time to fully investigate these? When you have 15 on your plate, not to mention the ones you already had, it's gotta be difficult."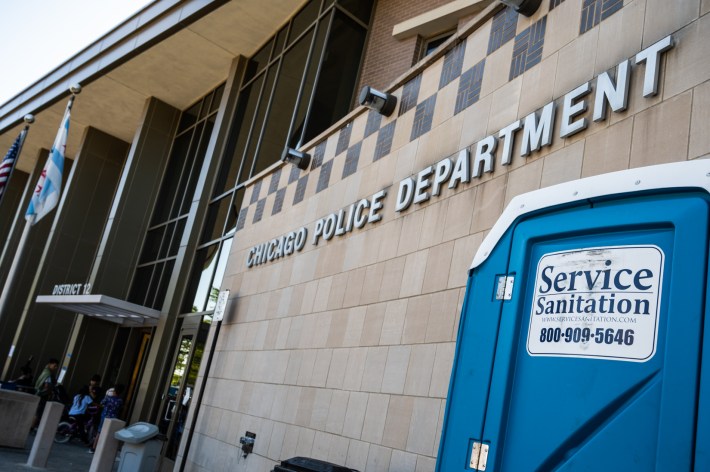 What's The Plan?
While robberies have surged, carjackings in the 12th and 14th police districts have declined this year, although remain higher than pre-pandemic levels, according to police data.
One idea that's been floated to help stanch crime in the West Town area is reopening the 13th police district, which was headquartered at Wood Street and Augusta Boulevard before it was closed in 2012 during a citywide consolidation. 
Some neighbors say they don't receive adequate police attention because the 12th District — which covers the neighborhood south of Division Street — is headquartered several miles south near Pilsen.
It's a cause that's been championed by Ald. Gilbert Villegas (36th), whose 8-mile "pool noodle" ward now encompasses parts of Ukrainian Village and West Town. 
Reopening the 13th District — or launching a satellite 12th District office — was a key campaign pledge of Villegas' during his reelection campaign this year. He argues it would bring more patrols to the neighborhood, helping create greater "visibility" for police and lead to a reduction in robberies and other crime. 
"The reason why the 13th Police District was successful is because even when police officers were not patrolling the area, they had to report back to that police district," he said. "And when you have visibility, you deter crime."
Villegas said the proliferation of robbery crews that have "been terrorizing residents" this summer led him to hold a community meeting last month in Ukrainian Village, where he reiterated his support for bringing more police into the neighborhood. The alderperson is also gathering signatures for a "binding" ballot referendum on the issue, which he hopes will be voted on during the March 2024 primaries.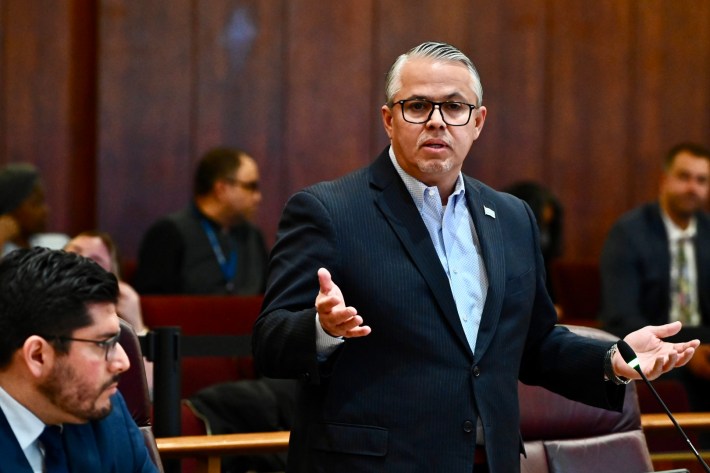 But it's unclear if there's the political will at City Hall to reopen the district or reallocate officers to West Town. Villegas said he's brought it up with Mayor Johnson, but that he was "noncommittal." The mayor repeatedly expressed during his campaign this year that he doesn't believe more officers on the street will necessarily keep neighbors safer. 
The Mayor's Office did not return a request for comment about its plan to address the surge in robberies in the West Town and Logan Square communities.
Instead, a police spokesperson replied to Block Club's inquiries, writing in a statement that the department's patrol and detectives bureaus "are enhancing internal coordination and collaboration to solve motor vehicle theft and robbery cases." 
"As we seek justice for victims of these crimes, each week personnel from both bureaus meet to identify and review patterns related to these motor vehicle thefts and robberies. These meetings also focus on strategic deployments to address and prevent these crimes, leveraging technology as part of the investigations, and community engagement efforts centered around awareness and prevention resources," the statement continues. 
In Bucktown, Waguespack said he's been having regular meetings with neighbors and business owners.
He said the best advice is for neighbors to remain vigilant and call 911 when they see a crime take place. 
"The plan for businesses and residents is to stay alert and be involved by helping police, calling these in. A couple of the arrests we've had were based on people being vigilant and aggressive, calling the police," Waguespack said. "The police have brought in more resources, tactical teams, working with detectives and the carjacking task force, which uses federal and state people."
Waguespack said he met with Johnson a few weeks ago to discuss the explosion of robberies in the 32nd Ward and surrounding areas. But the alderman said he didn't get any substantive answers about what, if any, plan the mayor's administration was working on. 
"I don't think he understood the extent of the crimes taking place over the summer," Waguespack said. The mayor "has no comprehension of what's happening here. He had no comprehension and he had no answers."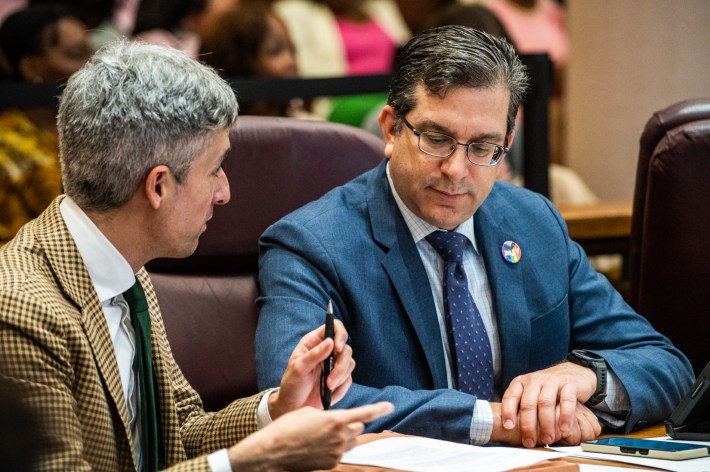 Ald. Daniel La Spata (1st) is hosting a public safety meeting Sept. 25 in partnership with Rep. Will Guzzardi, the 14th District Police Council and other community leaders in response to the robberies. Details will be released soon, La Spata's office said.
The spate of robberies is "unacceptable," La Spata said. He supports Villegas' plan to open a satellite 12th District office and other measures, such as installing more police cameras and license plate readers. He also stressed the importance of supporting anti-violence efforts, like Chicago CRED, that have proven successful.
"The goal for me is that we don't just push robberies out of the 1st Ward into another community," La Spata said. "The goal is to reduce the number of young people committing robberies in Chicago, period. That takes creating better opportunities for individuals."
Staying Positive
Two months after he was robbed in Wicker Park, Rey said he's doing a lot better, although he remains on edge sometimes when out in public. Police have not arrested anyone linked to the incident, and it remains under investigation, a spokesperson said Friday.
Rey keeps replaying the night of the robbery in his head, and has been thinking a lot about how things could have happened differently. Ultimately, he doesn't see the incident as a purely "black and white" situation, he said.
"I'm not happy this thing happened. But there's definitely a lot more to what brings a person to go do that then just, 'Hey, I'm going to pick up a gun today and go with two of my buddies and start robbing people,'" he said. "So to put my perspective in their lives, what's to say if I wasn't born into that same kind of scenario, I wouldn't be doing the same thing? So it's hard to compute."
Rey has also refocused his efforts to "showcase the positive" parts of Chicago through his restaurant videos, which he said works as a form of escapism as he still grapples with this summer's robbery. 
Recent features include drinking micheladas at Pilsen Fest, stopping by a Little Village taqueria and eating at Greek Islands. 
"With these video series and everything that I'm doing, it has been such a positive part of my life," Rey said. "Instead of focusing on a lot of the negative things, I try to create something positive." 
Watch our "On The Block" TV show on The U, CW26 and MeTV.
Listen to "It's All Good: A Block Club Chicago Podcast":
Watch our "On The Block" TV show on The U, CW26 and MeTV.
Listen to "It's All Good: A Block Club Chicago Podcast":