ROGERS PARK — Kurt Vonnegut's 1963 satirical novel "Cat's Cradle" concerns the dangers of religious extremism and unthinking adherence to technology, culminating in a world-destroying climate catastrophe. 
"I can't think why this story isn't relevant now," said Heather Currie, who is directing an adaptation of the book at the Lifeline Theatre in Rogers Park, 6912 N. Glenwood Ave.
After a summer of global-warming-related disasters, moral panics over drag queens and news stories written by AI, how could anyone argue?
"Cat's Cradle," opening Tuesday at Lifeline, tells the story of the entanglements of Jonah, a writer (played by Tony Bozzuto), with the family of Dr. Felix Hoenikker (Patrick Blashill), one of the fictional inventors of the atomic bomb, and with the inhabitants of San Lorenzo (an also-fictional island nation in the Caribbean) who are devoted to the calypso-based religion of Bokononism.
Vonnegut's novel sprawls across space and time, and it fell to Currie and playwright John Hildreth to fit it onstage.
"John did a brilliant job of taking a story that has a lot of satellites and side stories, and distilling it and focusing it while still keeping those threads moving through," said Currie.
There were additional challenges, namely the explanation of the history, theology and vocabulary of Bokononism and the staging of spectacles such as a plane crash and the end of the world. These were achieved with the aid of a slide projector and creative use of model airplanes and Barbie dolls, plus good, old-fashioned light and sound effects and mime on the part of the actors.
"I didn't want to do something that looks like we wish we had a million dollars," Currie said. "I want something that celebrates who we are, when we are and where we are, and get creative."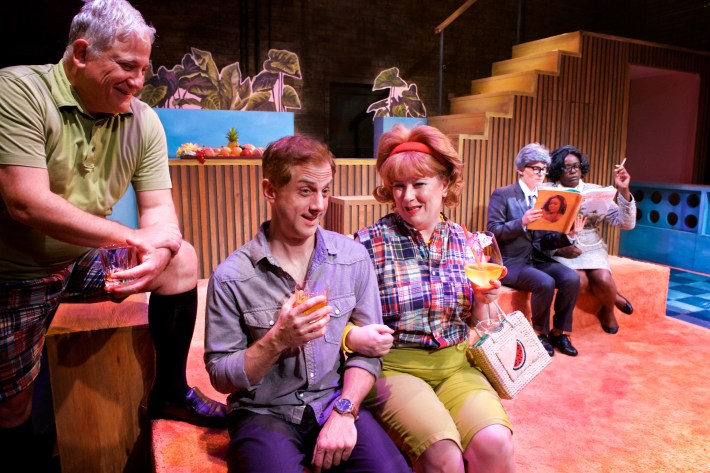 Another challenge was Vonnegut himself: Some of his characters and jokes have aged in a way that Currie thought would be distracting to audiences.
The character of Newt Hoenikker, a vertically challenged college student, for instance, refers to himself in the book as a "midget." Currie felt this would not hold up in 2023. Other characters might use the term, but Newt himself wouldn't. (In fact, little people began protesting use of the word in the early 1960s, around the time Vonnegut was writing "Cat's Cradle.") 
Currie also insisted that Newt be played by an actor (Shea Lee) who really was 4 feet 8 inches tall and who could empathize with the way Newt is consistently dismissed or patronized by the other characters because of his height.
There was also the problem of the novel's female characters, who fall into three categories: shrews, sex objects and dead.
Currie's solution was to work with the actors to give the female characters agency, despite the constraints of the plot.
"I don't think if you watch the play it'll hit you over the head, but you will feel the impact of a male-driven world on women," Currie said. "Not that we have 100-percent agency now, but at that time, [women] couldn't get their own bank account."
One scene Currie was especially insistent on adding was where the scientist Hoenikker tips his wife Emily for serving him breakfast. This shows both how women were expected to have no other role besides taking care of men and also how Hoenikker, who is completely wrapped up in his research, fails to see the way his actions affect other humans and the planet in general.
Currie said the most important part of the adaptation was not to forget that the book is often very funny and to preserve as much of Vonnegut's dark humor as possible.
"My hope is that people will love the characters and go on a ride and laugh with us and at some point, whether it's when they walk away or later that night or a week later, one of those ideas will set off self-recognition and self-reflection," she said. "I hope they don't feel judgment. I hope they feel like we're in it together. We're all tendrils, all tied together."
That last bit, incidentally, is at the heart of both Bokononism and "Cat's Cradle" itself.
"Cat's Cradle" opens 7:30 p.m. Tuesday at Lifeline Theatre, 6912 N. Glenwood Ave., and runs through Oct. 22. Performances are 7:30 p.m. Fridays, 2:30 p.m. and 7:30 p.m. Saturdays and 2:30 p.m. Sundays.
Tickets are $45, $35 for seniors, $20 for military and $15 for students. For more information, visit the Lifeline Theatre website.
Watch our "On The Block" TV show on The U, CW26 and MeTV.
Listen to "It's All Good: A Block Club Chicago Podcast":