LAKEVIEW — With a new master plan, neighborhood groups are hoping to improve Lakeview and Roscoe Village by adding more art and advocating for projects that cater to pedestrians. 
Throughout the past year, the Lakeview and Roscoe Village Chamber of Commerce surveyed more than 700 residents and 65 business owners to develop a master plan that will help guide development for the next decade. 
Neighbors largely said they prefer to walk to get around and would appreciate safer crossings, wider sidewalks and more community events, according to data gathered by the chamber.
"The responses we got told a story of wanting to build up the community in a safe and longstanding way," said Rebecca Girsh, the executive director of the Lakeview and Roscoe Village Chamber of Commerce. "Some people may have prioritized family friendly programming while others wanted more bike infrastructure, but everyone was looking to create a safe, vibrant, whole community." 
From these findings, chamber leaders created an 80-page document with recommendations to improve the neighborhood by widening sidewalks, carving out more space for pedestrians, creating more bike lanes, adding more lights and signs and commissioning more public art, among other things. 
The plan also includes larger projects that will take longer and require partnerships with local government, like connecting the walking paths near the Chicago River to make them more accessible.  
"We understand building relationships with city agencies is the key to success," Girsh said. "We can't change the city's priorities or its budget, but we can use this document as a roadmap to advocate for our goals for the neighborhood."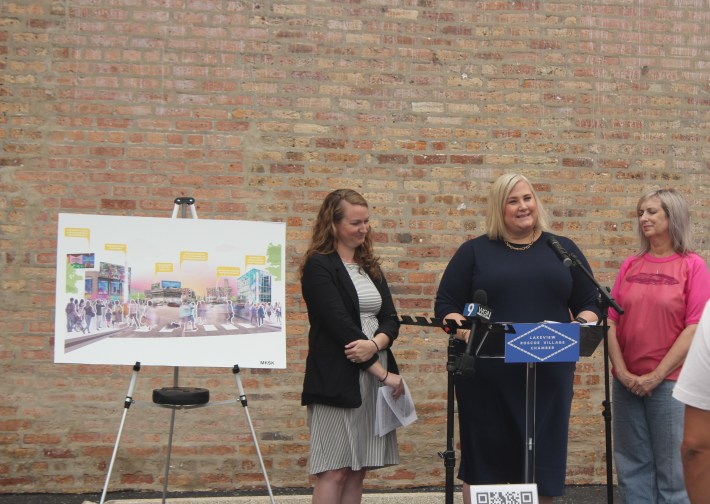 The chamber's last master plan was created about twelve years ago and led to the development of community spaces under two "L" stations that are now used for farmers markets and other events, Girsh said. 
"Those spaces were just possibilities back then and now people sit there and use the space everyday," Girsh said. "We're really excited to see what happens with our latest recommendations." 
One of the major components of the new master plan includes dividing Lakeview into six distinct sub-districts marked by new signs. This will allow the Chamber of Commerce to highlight each area's unique strengths in marketing materials which could help attract new businesses and allow for more targeted community events, Girsh said. 
"The diversity in the personalities of the different commercial corridors is something we want to embrace," Girsh said. "We already think of the neighborhood in these categories, but we want to focus those identities. Southport isn't the same as Roscoe Street, and we're excited to develop programming that meets the needs of each of the corridors."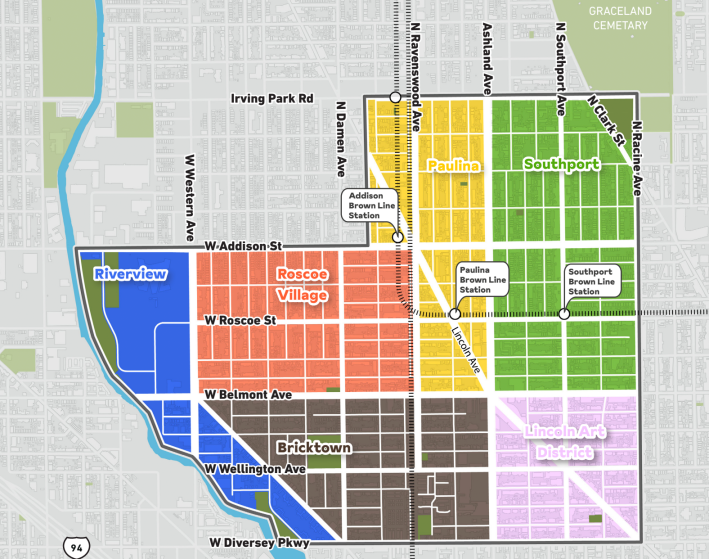 The plan also includes ideas to elevate the "iconic intersection" of Lincoln, Belmont and Ashland Avenues. Central Savings Bank, 1601 W. Belmont, has donated its wall for a large mural that will help to "activate" the intersection and "lay the groundwork" for more signs that will help passersby develop a sense of where they are, Girsh said. 
"The idea is to build on the investments CDOT has made to improve the streets there by adding accessories and details that welcome people to the area and get people to stay there longer and use it more," Girsh said.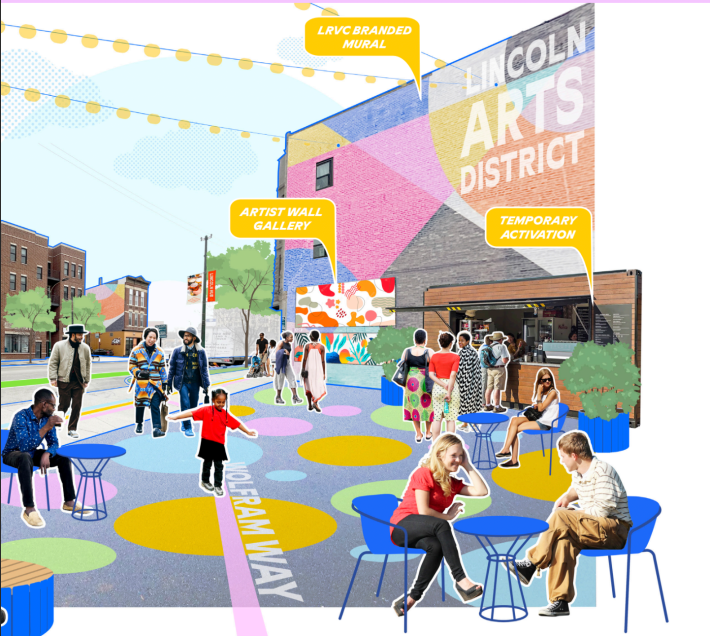 Another way neighbors hope to add more public art to the area is by turning alleys into art galleries, called "alleries," particularly along Lincoln Avenue. Planners envision business owners would donate their back walls to display art and allow the alley space to be used for community events, Girsh said. 
Some of the projects will likely be implemented within the next few years, like the "alleries," new signs and sub-neighborhood branding. Other projects — like making the riverfront more accessible, creating greenways and improving pedestrian infrastructure — are more long-term goals that will require partnerships with the city.
To read the full master plan—which includes more information about the timeline, funding and which projects will be prioritized — go to Lakeview and Roscoe Village Chamber of Commerce's website.
Watch our "On The Block" TV show on The U, CW26 and MeTV.
Listen to "It's All Good: A Block Club Chicago Podcast":