JEFFERSON PARK — Volunteers working with migrants at a Northwest Side police station are concerned after members of a Waukegan church began showing up to the station and encouraging some of the migrants to join them in the suburb with the promise of housing, work permits and more.
Members from The New Church of Joy, a Christian church active in the area for 30 years, have visited the Jefferson Park (16th) District police station, 5151 N. Milwaukee Ave., for the past few weeks. Members connect with migrant families staying there, offer them food, and promise better living conditions, access to free child care and other educational and health services if they come back with the group to Waukegan, church leaders said.
Spanish-language flyers they distribute promise "beautiful houses" with running water, hot showers, food, beds and child care.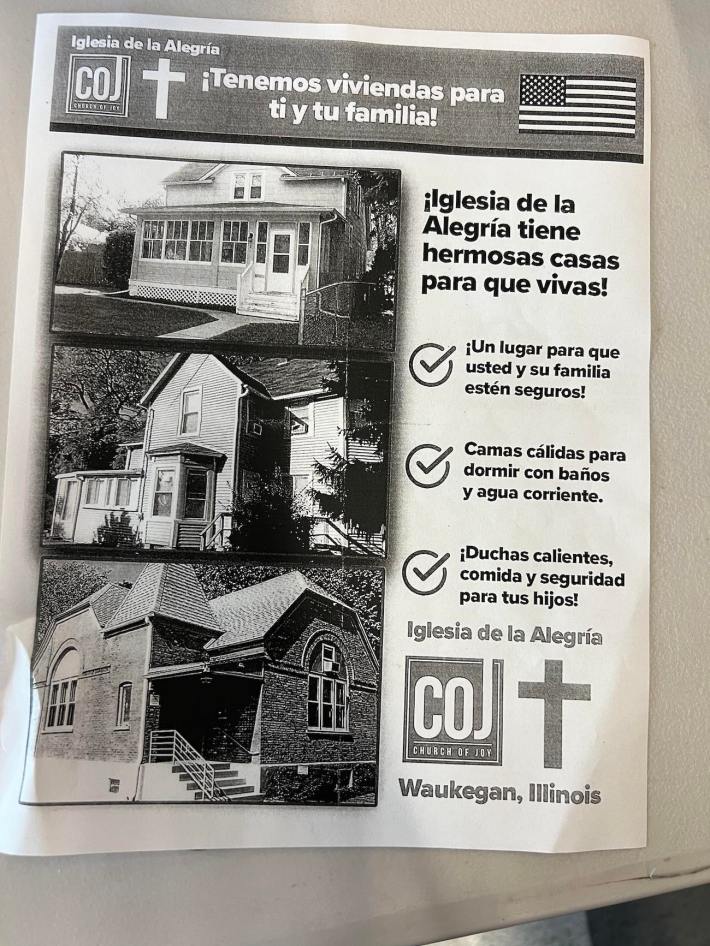 In late August, the church group took seven Venezuelan families to live in three church-owned properties in Waukegan, said Madison Rey, a church member organizing the efforts.
Rey, whose father, Luis R. Reyes, is the church's pastor and founder, said the group decided to gather volunteers and allocate money from its members to help asylum seekers after "the Lord spoke to my dad" and after seeing media coverage of the inhumane conditions hundreds of migrants face in overcrowded police stations and at-capacity shelters.
"We let them know we were a church, and as a church, and with the resources that we have, that we can provide places for them to live, give them food and clothes and we want to help them find jobs and get their children in school," Rey said.
However, volunteers have been skeptical of the church's actions, saying Rey and other members who visited the station did not explain their mission, or answer questions about where they were taking the migrants, what group they were affiliated with and why they chose the Northwest Side station.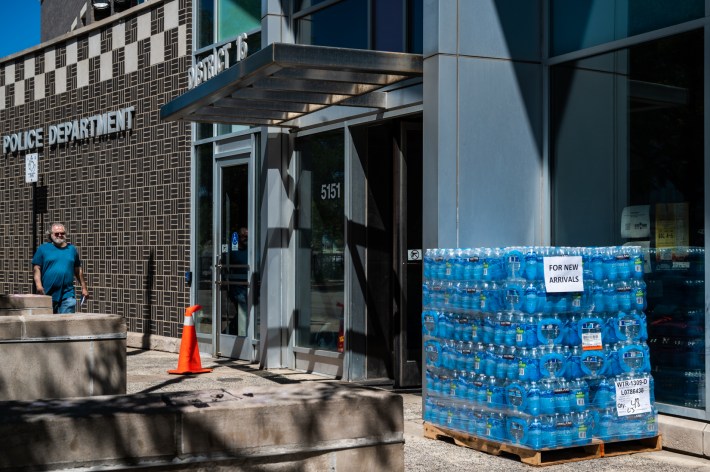 'A Lot Of People Had Questions'
The Church of Joy group did not connect with any volunteers who regularly visit the station to help families before coming to the station Aug. 31, said one volunteer who was there when church members arrived.
In videos shared with Block Club, members from the church are seen talking to some migrants and escorting some families onto a yellow bus, ignoring questions from volunteers.
Rey and others from the church eventually respond by saying, "we are helping the families" and that they plan to return, but offer few details as the volunteer keeps pressing for information and tells migrants getting on the bus to be careful, the video shows.
The volunteer asked not to be named for safety reasons.
One family who planned to get on the bus told Block Club she decided to stay at the station after seeing the interaction between the church members and volunteers.
"A lot of people had questions, and [the migrants] didn't want to lose their spot in line," a volunteer told Block Club.
Migrants who leave the police stations lose their spot in line to receive city assistance like asylum care and a shelter spot. Volunteers and police officers relayed this to the church members and the new arrivals who left, sources said.
"The church people were very rude. Why were they pushing me around and not answering my questions" one volunteer said. "… The families are like our kids now, [so] I am concerned for them."
A migrant who's been at the station for over a month also told Block Club she was wary of the church members. She thought it was strange they did not answer questions, rushed people on the bus and are not affiliated with Chicago, she said.
She said church members offered work permits, legal papers, free housing and free cars to those who went to Waukegan.
"It was very weird; people did not know who they were, and they do not work with any governments in Chicago," she said. "I told other [migrants] not to go. … I will not go with an unknown group that's promising so many things but aren't answering questions."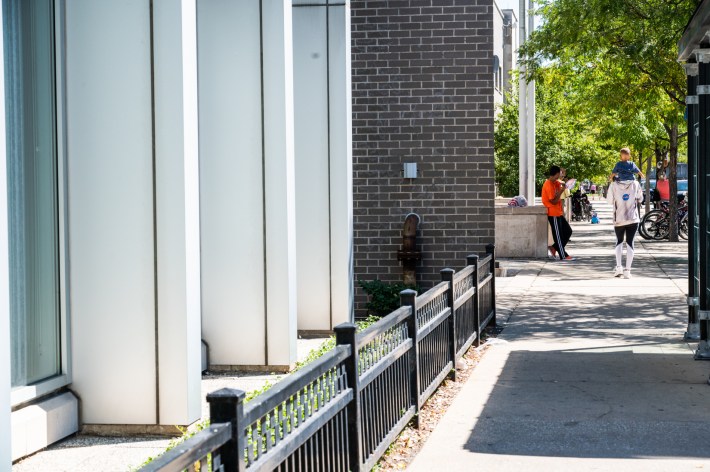 Volunteers reported the situation to local officials and worry the church could be taking advantage of vulnerable people, many of whom don't know how the system works, don't speak English and are desperate, they said.
Daniel Strom, an outreach staffer for Sen. Rob Martwick, connected with concerned volunteers and spoke to new arrivals about the situation. Upon hearing their experience, he and other staffers contacted the city officials, who have a list of the migrants who went with the church and are looking into the issue, he said.
"Some new arrivals felt [the church members] were pushy, which seemed worrisome," Strom said.
All of the families who left did so of their own accord, multiple sources said.
Spokespeople from the Mayor's Office and city's Office of Emergency Management and Communications did not respond to multiple requests for comment about the situation. Police referred questions to the Mayor's Office.
Volunteers were also skeptical of the New Church of Joy because of its anti-LGBTQ beliefs.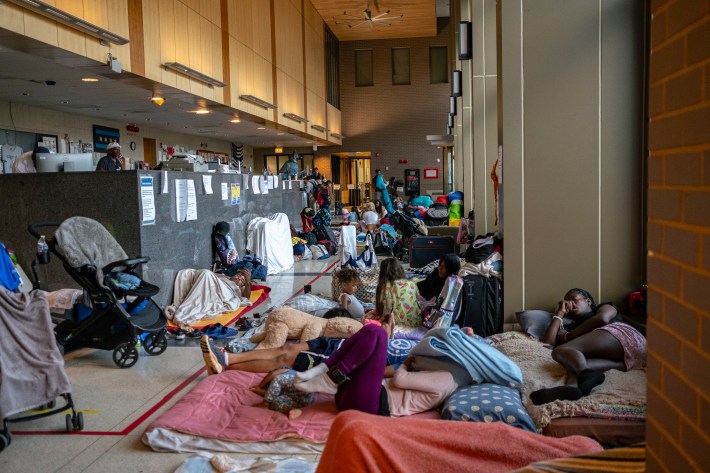 Rey said the church group did connect directly with families at the station before Aug. 31. She denied that anyone promised free cars to the migrants and said some are spreading misinformation about the church.
Asked why church members did not answers questions or share their plans with volunteers, Rey said the group wanted to focus on helping the families board the bus and not cause further "chaos or confusion" since there were a lot of people already there.
"[The volunteer] discouraged some families and [started] saying some things, and we don't know why she started going in this direction, but sharing things like, 'You shouldn't trust them' or, 'You don't know where they're taking you,'" she said. "But unbeknownst to her, we had already been connecting with these families and sharing a lot of communication with them of who we are and everything."
Jordan Jones, another member and organizer with the church, said the group checked in with police to get clarity on the city's process before picking up families. By taking people out of the long queue to receive city services, the church is assuming responsibility for them and plans to help them to get work permits and start the asylum-seeking process in Waukegan, Jones said.
"[The families] did forego their spot in the shelter, but that's what we're providing," Jones said. "Being able to still move along the along the process of getting a work permit, getting the educational piece in place for their children, as well as the medical, those are some of the pressing needs up front."
Katharina Koch, another volunteer at the Jefferson Park station who has been organizing meal trains for the families, is coordinating meal deliveries with the church group members and said it's a dire need. There's been no reports of negative treatment by the church to the seven families, she shared this week with the local volunteer cohort.
Waukegan Ald. Keith Turner (6th), whose ward covers the area where the New Church of Joy is located, was not aware of the church's plan to house migrants and said it doesn't host events or engage the community. He also was not aware of the residential units owned by the church, as there are no apartments on the church lot.
"The church is an old YMCA so it was a pool, showers. … My observation is the church is a ministry with a lot of music and gospel," Turner said.
Amid the swirl of information, donations and agencies trying to tackle the migrant issue in Chicago, it can be difficult for families to know who to turn to and who to trust, said Strom, of Martwick's office. Staying vigilant and reporting suspicious activity is important, as well as getting all the facts and not jumping to conclusions, he said.
"There are so many people doing things to help, that it's maybe conditioning new arrivals be trusting …. then you get situations like you may be inclined to trust the church," he said. "It's still a gray area — this could be a good situation."
Watch our "On The Block" TV show on The U, CW26 and MeTV.
Listen to "It's All Good: A Block Club Chicago Podcast":