ROSELAND — The city is closer than ever to a "transformational" Red Line extension decades in the making, officials said.
The CTA will soon receive almost $2 billion in federal funding for the $3.6 billion project to extend the south branch of Red Line nearly 6 miles, officials announced at a Friday press conference.
The "critical" dollars come from the $1 trillion bipartisan infrastructure deal passed by President Joe Biden in 2021, said Nuria Fernandez, administrator for the Federal Transit Administration.
Under the plan, the Red Line's South Side terminal would move from 95th Street to 130th Street. New stations would be built at 103rd and 111th streets near Eggleston Avenue, at Michigan Avenue near 116th Street and at 130th Street near Altgeld Gardens.
In late 2022, CTA received a nearly $1 billion boost in reshuffled city tax revenue for the project — although some alderpeople had debated freezing that funding until embattled CTA President Dorval Carter improved CTA reliability and quit snubbing invites to speak publicly before City Hall.
Agency officials "will pursue a mix of state federal and local funding over the next several months," to come up with the rest of the money for the project.
Several aldermen including Ald. Byron Sigcho-Lopez (25th) have called on the state and the county to contribute more funding to the project, as the Red Line Extension will be a boost to the entire region, they said.
Carter said Friday the extension's engineering phase could kick off before the end of the year. That would be the final step before construction can begin in 2025, with the project slated to be finished by 2029, Carter said.
Expanding the Red Line has been Carter's "top priority" since he returned to Chicago to lead the agency in 2015, he said.
"I couldn't be happier to finally raise the bar for the South Side with the rest of the city of Chicago through affordable and equitable transit services that will be available to everyone around the clock," Carter said. "I'm here to tell you the project is now happening."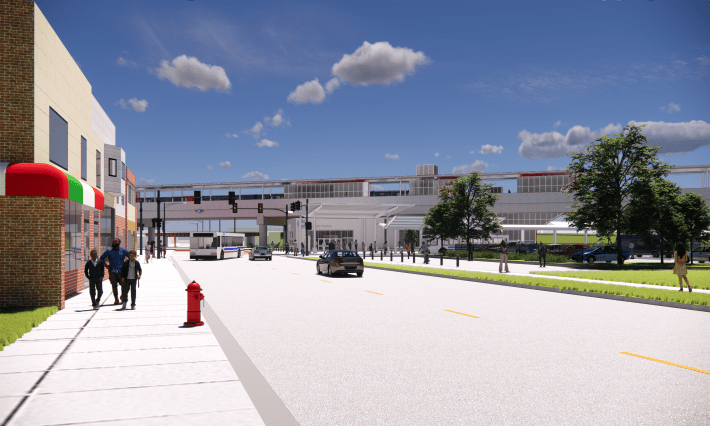 Mayor Richard J. Daley promised to extend the Red Line beyond 95th Street when the Dan Ryan terminal opened in 1969, but those plans never came to fruition. Far South Siders have read headline after headline promising the long-awaited extension was finally becoming reality — only to see construction never materialize. Projections for completing the work have come and gone.
Officials said Friday the construction will soon create 25,000 jobs and spur $7 billion in economic activity.
The extension will eliminate "mega-commutes" of 65 to 90 minutes for South Siders, Fernandez said.
About one quarter of those who live along the Red Line extension corridor are low-income, and 18 percent are unemployed, Fernandez said.
"People here have been underserved by public transportation," Fernandez said. "The extension is going to start to close the gap for those who have a job today, and those who are a seeking a job, so they can get that job and keep that job, because public transportation will reliably get them there."
Sen. Dick Durbin thanked the Biden administration and said he hopes it no longer takes "two buses and a train to get to work."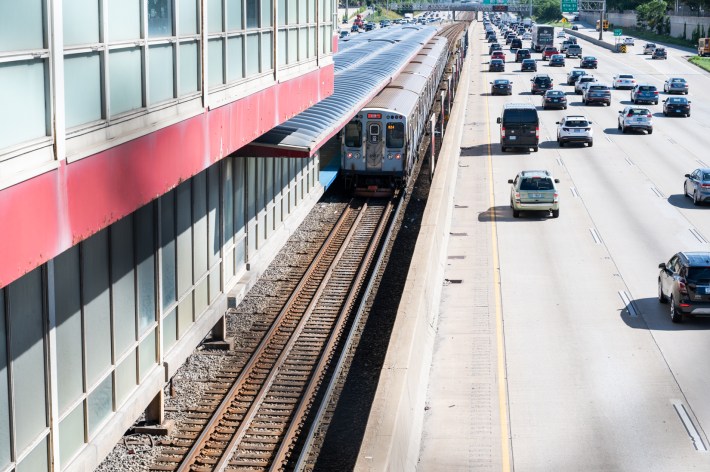 Mayor Dodges Question On Carter's Future
Carter served as the master of ceremonies Friday at RLE Community Outreach Center, 401 W. 111th St., which featured comments from Mayor Brandon Johnson, Durbin, Reps. Mike Quigley and Robin Kelly, and South Side Alds. Anthony Beale (9th), Peter Chico (10th) and Ronnie Mosley (21st).
It was a high-profile podium for the CTA leader who has dodged questions amid increasing calls from officials and Chicagoans to replace him.
Carter introduced Johnson as "a man who I know shares the same vision we all have, about the opportunity to improve the CTA going forward."
Johnson thanked Carter and said the Red Line extension will "right historic wrongs."
"The frustration is apparent, having to wonder whether or not your child can make it to school, or wherever or not you can make to your job on time, is a dynamic we need to address, and we need to do it in the most collaborative way," Johnson said.
Time has expired on a three-month grace period Johnson said he would give to evaluate the city's agency leaders. Johnson did not directly answer when asked about Carter's future at the CTA.
"As I've said before repeatedly, our team is fully assessing and evaluating all of our department heads as well as those who are leading our sister agencies," Johnson said. "As that evaluation continues to take place, I'll make the appropriate decision moving forward."
Block Club has reported Carter and other top CTA executives rarely used public transit while it lumbered through the pandemic.
Carter was asked how he traveled to the Red Line press conference Friday.
"I was driven to this event," Carter said. "But that's part of the problem. We're sitting in a part of the city where the public transportation options are extremely limited, compared to what they will be."
Watch our "On The Block" TV show on The U, CW26 and MeTV.
Listen to "It's All Good: A Block Club Chicago Podcast":