Local Lens is a new series where Block Club photographer Colin Boyle explores the story behind the photograph.
IRVING PARK — One night in June, I was sitting legs crossed in an alley looking for rats.
Since the start of the year, Block Club's Mina Bloom, Illinois Answers Project's Casey Toner, WGN's Lourdes Duarte and I had set out to get to the bottom of Chicago's rampant rat problem.
Our multi-part investigation highlighted countless stories about rat infestations, the city's inability to control it and scofflaws who blow off citations, including one suburban owner who owes the city $15 million in unpaid rat-related tickets.
This project took me all over the city to illustrate the scope of the problem and its consequences.
I watched a city worker smoke out a rat hole near Midway Airport with dry ice, documented yards devastated by rat packs and saw kitchens where Remy of "Ratatouille" might have visited.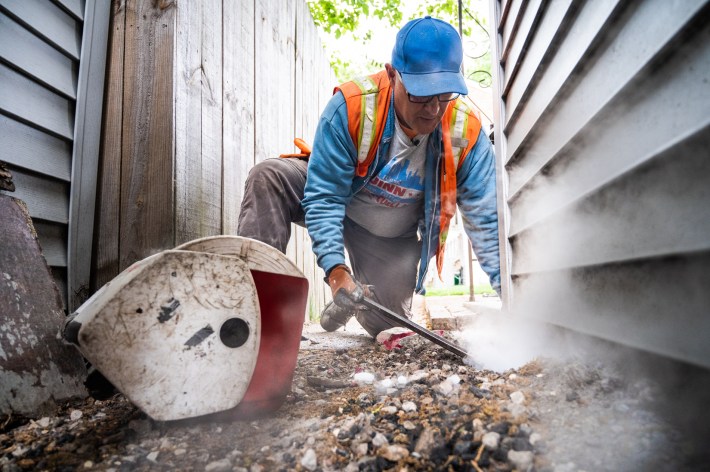 It had been a pretty nasty and fascinating task, but I still sought the ideal shot of the culprit to really tell the story.
That brought me to the 3700 block of North Sawyer Avenue, where the alley has garnered countless rat complaints over the years.
A resident let me into their backyard to stake out the area and try to catch a rat scurrying by.
My gear that night included my camera, a massive 200-500mm lens and an off-camera studio strobe light.
That lens is what I usually use for sports, breaking news and other shots requiring intense zoom. The flash is usually reserved for portraits; not rats.
But that's what it took to make the shot.
My settings were all over the place: 5000iso, ƒ5.6 and 1/200th. I kept the flash at a low power so to not startle the neighbors.
I went into the alley just before 9 p.m., and after half an hour of awkwardly sitting next to someone's garage, I spotted it.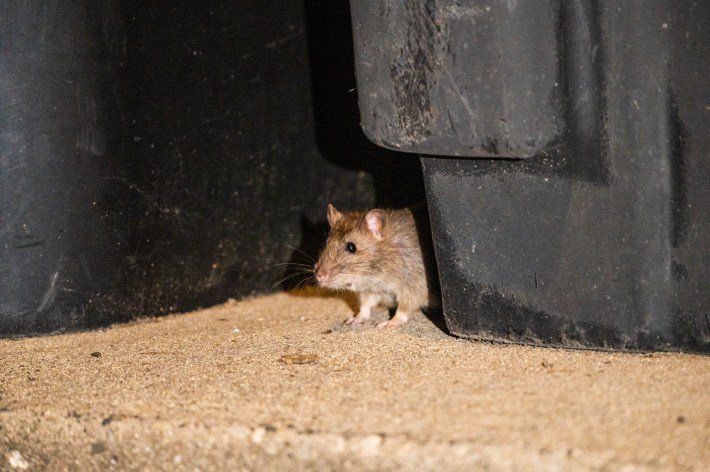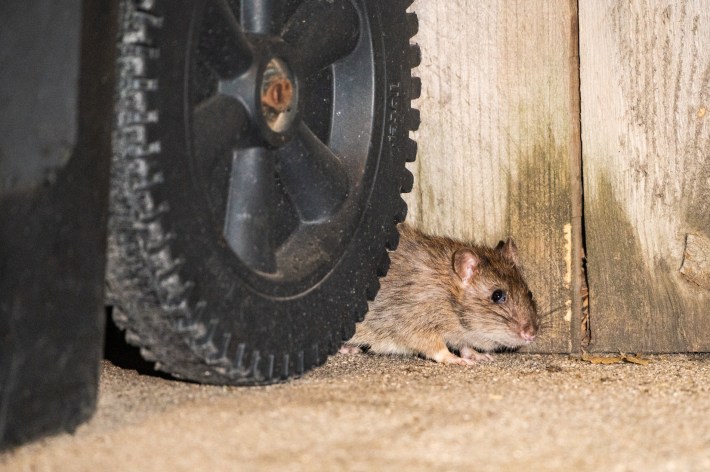 The rodent peaked out from behind a trash can, and it looked kinda cute for a second.
Our standoff lasted mere seconds. The strobe flashed, I was spotted and the rat scurried away. The rat was so big my editors questioned whether it was another creature at first, before we confirmed with some exterminators that it, indeed, was a rat.
I'm not quite sure what lesson to share from this photo. Patience?
It sure was one of the most peculiar tasks — and it sure made an impact.
Watch our "On The Block" TV show on The U, CW26 and MeTV.
Listen to "It's All Good: A Block Club Chicago Podcast":