ALBANY PARK — A Northwest Side church that has been supporting asylum seekers is struggling to keep up with related costs — and is asking neighbors for help.
Christ Lutheran Church, 3253 W. Wilson Ave., is part of Albany Park's 33rd Ward Community Care Collective. In addition to providing clothes and food, its volunteers are helping migrants navigate the bureaucratic web of filling out asylum paperwork, opening bank accounts and getting medical care, he said.
In May, Christ Lutheran took in five migrant families who were living at the Albany Park (17th) district police station, 4650 N. Pulaski Rd. The families continue to live at the church while awaiting permission to work, Terrell said.
"We're also helping their kids get into school and helping them with clothing as the kids grow. Helping with furniture. We're in this for the long haul," said longtime pastor Tom Terrell. 
But Terrell worries the volunteer-led efforts are unsustainable without a significant increase in donations, and help at the federal, state and city level. More than 13,500 asylum seekers, mostly from Central and South America, have come to Chicago since August 2022, and buses are still arriving daily.
The collective is asking for financial donations and for volunteers to give their time, Terrell said.
"I've probably bought 200 or 300 mattresses, and we just keep buying those and giving them to people in the police station," Terrell said. "I just bought 400 pairs of underwear and hauled it over." 
The collective seeks out discounts and deals to try and save money, but the number of people who keep arriving means more money is desperately needed, Terrell said.
"In our collective now, we're talking about buying tents for outside the police station because it's going to be getting colder," Terrell said. "And we have to keep in mind the [Albany Park] police station's parking lot floods when it rains. It's a whole new level of planning, but it's because we're maxed out at that police station."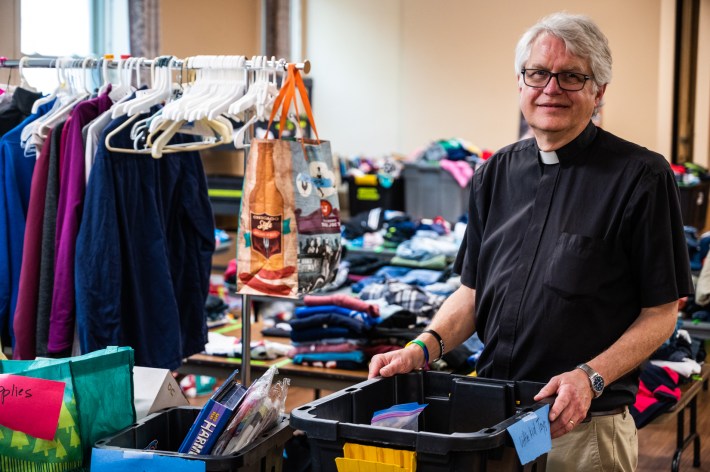 Christ Lutheran has collaborated with other church and mutual aid groups to care for migrants since last year. 
Earlier this summer, migrants at Luther Memorial Church, 2500 W. Wilson Ave. in Lincoln Square, offered to cook meals for asylum seekers still living in police station lobbies. 
Members of the Albany Park collective facilitated those efforts by collecting donations and delivering the home-cooked meals — 80 to 100 meals a day — to migrants at the Albany Park police station.
"We're doing it as cheaply as we can, but it's, like, $1,500 a week in supplies to feed that many people. And we're paying that out of our donations," Terrell said. "I just can't fathom how we're going to be able to that for a year. We have some generous people, but we don't have anybody who can donate $1,500 a week for that." 
A year after the first buses arrived, Chicago is still struggling for long-term solutions to secure housing, resources and more for thousands of asylum seekers. The city's stopgap solutions are failing, volunteers have said, and Mayor Brandon Johnson hasn't articulated a plan to address the crisis.
Lori Ann Lypson, deputy mayor of infrastructure, previously said the city is at "max capacity" for asylum seekers and is "desperate" for more space to house people, especially families.
About 6,600 people are being housed in city-run shelters, and another 2,000 are living in police stations and airports, officials said.
The current crisis will continue until the federal government does something to expedite work permits for asylum seekers so they can start earning money, find stable housing and build a life here, Terrell said.
Once a person submits an asylum application, 150 days must pass before migrants can apply for work permits, said Lisa Koop, director of legal services for the National Immigrant Justice Center. It takes a few months more before migrants can receive those permits, said Ere Rendon, director of Pilsen-based The Resurrection Project, a nonprofit working with immigrants in Chicago. 
Even with that, a "dire" shortage of lawyers and case workers in immigration law is also worsening the chances people have of even making a successful asylum case, nonprofit partners have said.
"The waiting period to get a work permit is just unbelievable, how destructive that is," Terrell said. 
For those who may not be able to donate time or money, Terrell said they should contact their federal representatives and demand they expedite work permits for asylum seekers.
"Every time [federal legislators] get a phone call, that's someone speaking on behalf of another 10 or 20 asylum seekers. If they get 1,000 phone calls, I think it could help bump it up as an urgent priority," he said. "Get rid of that delay in the work permit. It's just killing everybody." 
Watch our "On The Block" TV show on The U, CW26 and MeTV.
Listen to "It's All Good: A Block Club Chicago Podcast":