ENGLEWOOD — Phil Sipka opened his coffee shop with some savings, a dream to bring a sit-down shop to Englewood and a hope the neighborhood would support one of its own, he said.
Ten years and innumerable sacrifices later, Kusanya Cafe, 825 W. 69th St., has become a South Side staple and a lesson in persistence. Neighbors can celebrate Kusanya Cafe's years-long journey at the shop's 10th anniversary block party 3-7 p.m. Saturday at 69th and Green.
The free event is a way to celebrate the community's resiliency over the last decade with a "big party and show that gets people together," Sipka said.
Leaders of the cafe, which doubles as a nonprofit, will shut down the street to bring in food from local restaurants, goods from Englewood stores and resources from community organizations. 
At the CANVAS Stage, a lot owned by the nonprofit at 70th and Green, DJ Earn Money will spin tracks ahead of performances from Englewood's own Heavy Crownz.
In the Kusanya Roasting Room, Joy Room founder and cafe employee Michelle Morales will host free wellness sessions, including yoga, meditation and sound baths. 
Kusanya, a Swahili word, translates to "to gather."
"This is like Oprah's Favorite things, but instead, it's Kusanya's favorite things on the block shared with the neighborhood," Sipka said. "We're trying to do a big-scale thing that can make a difference for local businesses while encouraging people to have fun in the neighborhood and relieve stress. We hope everybody can come out."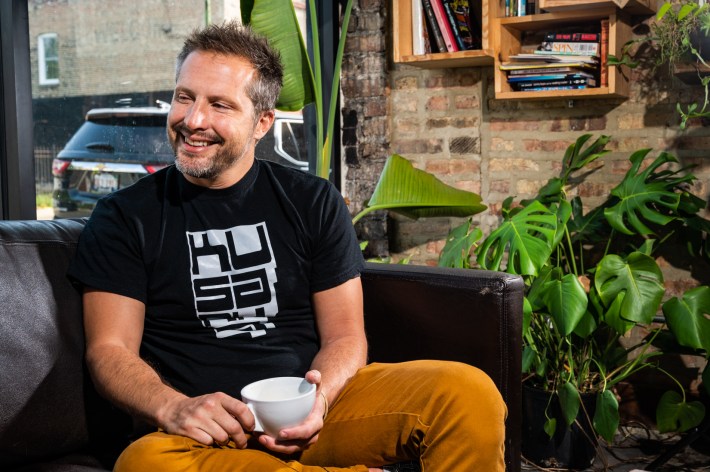 'One Of The Toughest Things I've Ever Done'
When neighbors visit Kusanya Cafe today, they find a bustling coffee destination bumping everything from R&B to Reggaeton. Sipka crafted the furniture out of rummaged trash.
The door is always swinging open and closed with customers. People from all walks of life come together in the Englewood shop for affordable drinks and toasted sandwiches. 
But the liveliness of the shop was a distant dream when Sipka opened in 2013, he said. Eight years ago, he almost quit the business for good. 
"Opening our doors was one of the toughest things I've ever done," Sipka said. 
Sipka knew business might get off to a slow start, he said. He didn't expect the shop to drain his savings in seven months or lose about $13,000 in a year, Sipka said. 
As far as he could tell, the nonprofit had done everything correctly, Sipka said. They'd posted fliers about the new shop on neighbors' doors, met with neighbors for years to build relationships and formed a leadership board who knew and lived in the area, Sipka said. News outlets shared stories about the nonprofit shop created for neighbors by neighbors.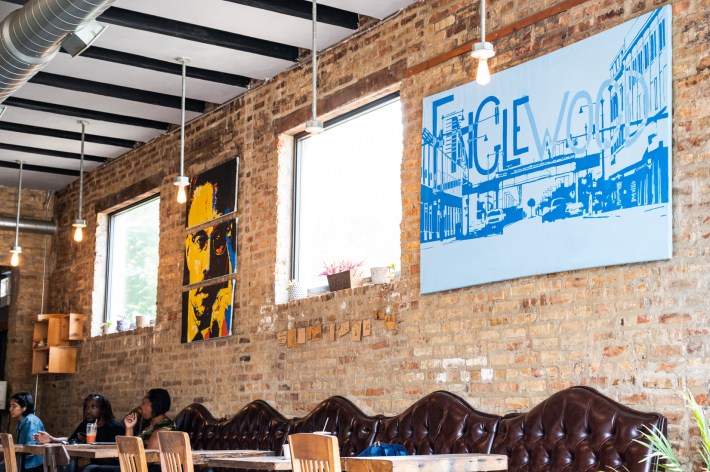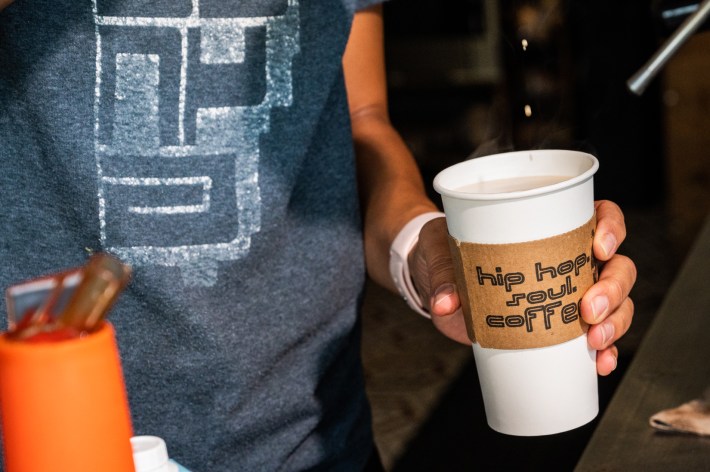 But they couldn't get people to visit the shop, Sipka said. Once they came in, neighbors always came back, "but getting them in that first time was probably the biggest hurdle," Sipka said. 
Sipka started to ask regulars what worked and what didn't, he said. "We needed to know why people didn't trust us enough to come in," Sipka said. 
One customer gave Sipka the million-dollar answer: "Businesses lie," the customer said.
Just because a company presents itself as a community ally doesn't mean it operates with neighbors' best intentions in mind, Sipka said. In a community like Englewood, which has been historically deceived by unfair practices and misled by institutions, neighbors are fraught with distrust, he said.
Neighbors needed to hear from others in the community that they trusted Kusanya, Sipka said. And the nonprofit needed to "put our money where our mouth is" to prove the shop intended to serve and empower the community, he said.
"… When new things come in, we're not exactly sure who they're for, and that caution comes from a legitimate experience," Sipka said. "We realized people needed to experience that safety or have someone they trust tell them about us. That's why things took longer here, but that loyalty was strong once it happened."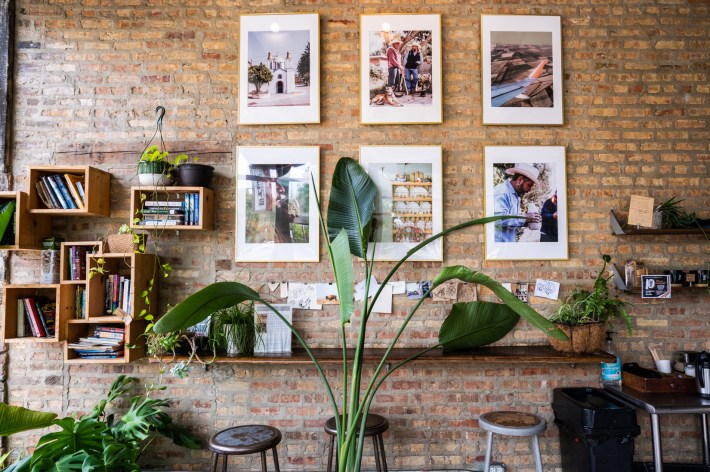 Kusanya Cafe stripped the "elitism out of coffee to make the space familial," Sipka said.  They took pay cuts to keep their prices affordable and hosted free events for the community. 
Growth was still slow initially, Sipka said. He took another job at Robust Coffee Shop in Woodlawn to keep a few extra coins in his pocket, he said. 
In the shop's 11th month, they finally broke even, Sipka said. Two years in, when the shop had "sucked the lifeblood" out of him, and he was ready to hand in his resignation letter, "all the good things started coming in," Sipka said. 
"How does a nonprofit cafe in Englewood last longer than businesses with much greater funding and easier neighborhoods economically to do things?" Sipka said. "I feel really lucky. I think that's due to our hard work here, the board's hard work and the neighborhood showing up, being a part and participating."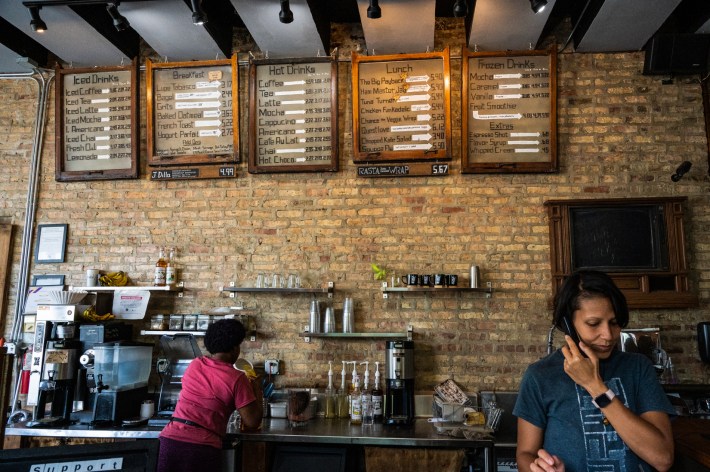 Sipka said people still walk through Kusanya's doors and ask when they opened. But he's learned that "when you believe in something, you're going to have to sacrifice for it." When you reach the moment where you're ready to quit, "you should stay a little bit longer because things are probably close to turning your way," he said.
"Englewood is like an onion. There are a lot of layers to it. Most people only see the top layer. You don't get to see the other layers until you've been here," Sipka said. "Just because a coffee shop is a good idea somewhere else doesn't mean it's a good idea here. There are a lot of things we need to be sensitive to and understand, and I think we've been able to do that."
Saturday's celebration is one way the shop will continue to "empower and uplift" the community, Sipka said.
The ultimate goal is to "build a tight-knit community where neighbors and businesses work in tandem to thrive," Sipka said.
Watch our "On The Block" TV show on The U, CW26 and MeTV.
Listen to "It's All Good: A Block Club Chicago Podcast":