NORTH PARK — The Bryn Mawr Block Party is taking over North Park on Sunday, hoping to showcase the neighborhood's commercial corridor.
A community market, food trucks and a music festival will fill Bryn Mawr Avenue between Kimball and Sawyer avenues from 10 a.m.-6 p.m Sunday. The event is sponsored by dozens of local North Park businesses and the Hollywood-North Park Community Association. 
The Bryn Mawr Block Party is North Park's first street festival in 10 years, according to the community association. The last street fest was the long-standing Korean Festival, last held in 2013.
By bringing a street fest back to the neighborhood, organizers are hoping to highlight the businesses that call Bryn Mawr Avenue home and help boost the corridor's viability, said Andrew Johnson, board member of the Hollywood-North Park Community Association. 
"We decided to plan this street festival as a way of helping to revitalize Bryn Mawr but also bringing attention to the many great assets that are still on the Bryn Mawr business corridor," he said.  
The event will feature an expanded North Park Community Market with more than 30 vendors and artists selling everything from ceramic housewares to fresh produce. Family-friendly activities include an obstacle course, face painting and pedal car races for children ages 3-8, sponsored by local toy store Run Rabbit Run. 
The live music lineup encapsulates the mosaic of people who call North Park home. Artists performing in the morning include award-winning children's performer Joel Frankel and renowned emcee Robby Celestin. 
A midday performance from the Hōkūle'a Academy of Polynesian Arts will segue to evening tunes from rock cover band Soul Daddy and punk-Latin fusion ensemble ÉSSO.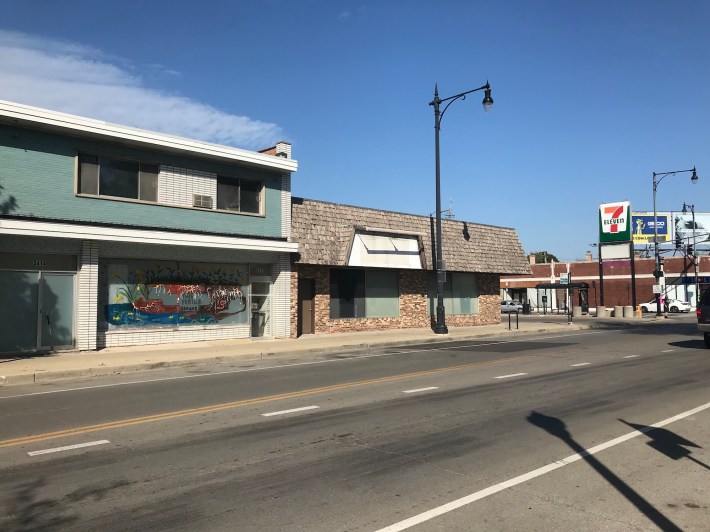 Commercial vacancies have increased over the past decade along the Bryn Mawr Avenue corridor in North Park, with a combination of absentee landlords and new developments impacting businesses, according to Johnson.
In 2019, Bryn Mawr Avenue had a storefront vacancy rate of 45 percent, compared to 14 percent along nearby Foster Avenue, according to the city's North Park Commercial Corridors Study. 
After a two-year legal battle between Northeastern Illinois University and private property owners, the university used eminent domain to purchase 14 properties on Bryn Mawr and Kimball avenues in 2016. The plans to convert those buildings into student housing were scrapped when student enrollment dropped and the university looked to assess options for the entire 3400 block of Bryn Mawr Avenue.
According to the community association, six of those properties remain vacant as the university searches for bids from developers. 
The Bryn Mawr Block Party aims to boost the commercial corridor and showcase the neighborhood's unique history and flair. 
"The neighborhood has its own character and has not been subjected to cookie-cutter chain establishments," said Johnson. "Yes, there's a lot of vacancies, but it's got great old bones and I think it's ready to be re-energized."
More information about the Bryn Mawr Block Party is on the Hollywood-North Park Community Association website.
Watch our "On The Block" TV show on The U, CW26 and MeTV.
Listen to "It's All Good: A Block Club Chicago Podcast":