CHICAGO — A new study shows far fewer Black and Latino Chicagoans voted in this year's mayoral election compared to white voters, underlying long-running imbalances in voter access and participation in city politics, researchers said.
The report, released Wednesday by the University of Illinois Chicago Great Cities Institute, details "shocking low" voter turnout among Black and Latino Chicagoans during the April 4 runoff in which progressive Chicago teachers union organizer and now-Mayor Brandon Johnson defeated Paul Vallas, former CEO of Chicago Public Schools.
About 61.1 percent of white registered voters cast a ballot in the election, compared to 29 percent of Black voters and 20.5 percent for Latino voters, according to the report.
The citywide turnout was 38.68 percent, according to the Chicago Board of Election Commissioners.
Juan González, a senior fellow at the Great Cities institute, a hub for urban research, said he and co-author Matthew D. Wilson used "granular," precinct-level data combined with data from the 2020 census to dig into the demographics of voting patterns.
Using this instead of ward-level turnout gives a more accurate picture because a precinct's demographics may differ from the ward's overall population, González said.
"Even though you might have a Latino-majority ward by population, who is voting in that ward might be very different than what the population shows," said González, who is also an author and former journalist. "And when you look at voting age in a Latino community, you take out anyone who's a green card holder or is undocumented, and then suddenly the percentage of that voting bloc drops dramatically."
For example, the 26th Ward, which includes Humboldt Park and parts of Logan Square, Hermosa, West Humboldt Park and West Town, is a Latino-majority ward where 65 percent of registered voters supported Johnson.
However, when looking at the precincts with a Latino population over 80 percent, the vote split 49.5 and 50.5 percent for Johnson and Vallas, respectively, the report concluded.
Each of the ward's white-majority precincts overwhelmingly voted for Johnson, suggesting his victory in the ward was buoyed by those votes, González said.
"It almost looks like it's the gentrifiers that were voting more for Brandon than the longtime Latino residents in that particular ward," he said. "Even though the city is broken up about a third [white], a third [Black] and a third [Latino], the white community still has much more say over who gets elected just by the fact that they're turning out at a much higher percentage."
RELATED: How Jesús 'Chuy' García Went From Frontrunner To 4th Place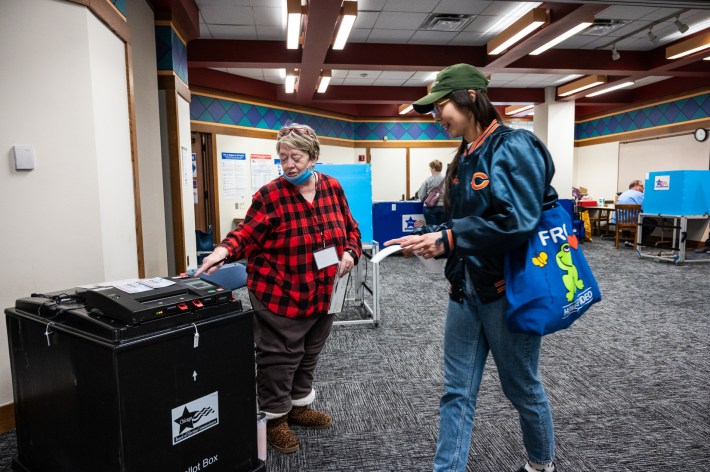 The report also compared voting patterns from the 1983 election of former Mayor Harold Washington, the city's first Black mayor, to this year's election. Both elections were contentious, revealing a deeply divided Chicago, and many people drew parallels between Washington's victory and Johnson's.
However, the two mayors had varying demographics of backers, the report showed.
Johnson won about 88 percent of Black Chicago voters, while an estimated 97 percent of Black voters who supported Washington in the '80s, according to the report. About 85 percent of Black voters casted a ballot in the 1983 election, nearly triple the rate of this year's contest, the report showed.
Johnson also picked up more votes from white Chicagoans than Washington did, according to the report.
Latino voters nearly split evenly for Vallas and Johnson during this year's election, while Washington earned the vote from 75 percent of Latino voters in 1983, González and Wilson found.
National and local news outlets predicted Latino voters could play a crucial role in swinging Chicago's April 4 mayoral election, especially after candiate Rep. Jesús "Chuy" Garcia didn't make the run-off.
But experts have pointed out Latino voters aren't a monolith, and their diverse ideologies coupled with a lack of voter outreach by campaigns are reasons why uniting Latinos behind a single candidate is difficult.
"I think there may have been some mistakes in outreach," González said. He referenced a survey conducted by BSP Research with Northwestern University and a coalition of nonprofits prior to the April 4 election that found nearly half of Black and Latino voters surveyed hadn't been contacted by a mayoral campaign or other local groups about voting — 46 and 47 percent, respectively. 
"There's also the reality that the Latino community is much more diverse economically, there's much more of a middle-class community now than there was 40 years ago or even 30 or 20 years ago," he said. "There's also been the growth of more conservative influences within the Latino community."
RELATED: Why Did Chicago's Latino Voters Split On Election Day? 'The Biggest Lesson Is Outreach,' Experts Say
It's difficult to pinpoint the "main reason" for this drop in Latino voter turnout compared to 40 years ago or compared to white Chicago's voting patterns, but it's something campaigns and elected officials should be addressing, Gonzalez said.
"There's a big problem that a progressive campaign, or any of the campaigns, is not reaching the Latino community in the way that it should," he said.
"On the one hand, we have a very progressive mayor in office, but on the other hand, the people whose policies he most wants to address, somehow or other, have not connected yet with the message. A lot of young people have, and a lot of activists have, but in terms of the masses of the people, there's still a long way to go."
González and Wilson also found precincts with a high Asian-American population cast 77.8 percent of their votes for Vallas.
"While the city's overall Asian population is still relatively small … it nonetheless remains Chicago's fastest-growing group and will exercise increasing political influence in years to come," they wrote.
Watch our "On The Block" TV show on The U, CW26 and MeTV.
Listen to "It's All Good: A Block Club Chicago Podcast":