ROGERS PARK — Amid the scrum of reporters covering political debates on the Far North Side, Tess Lacy pressed "Record" on her phone and tried her best to blend in.
"You're only 15?" an exhausted candidate asked Lacy as she pressed forth with questions about affordable housing, migration, climate change and city services for youth.
Lacy recently started 10th grade at Jones College Prep — but the wunderkind reporter has printed and passed out her own newspaper to neighbors since she was a 4th-grader, with a simple hope to spark more interest in local news.
The Kidler has sprouted to eight pages of Far North Side neighborhood news and local politics, publishing once a month and boasting a regular staff of straight-A students.
The paper's visibility and traction revved up as Lacy became a staple on the campaign trail for Edgewater's 48th Ward, a tight and closely watched race that ended in an upset victory for progressive Ald. Leni Manaa-Hoppenworth.
Lacy is the reporter, editor, publisher and front-page news writer for The Kidler, "and she's really good at pestering us about our deadlines," said her childhood-friend-turned-cartoonist Renée Rakowitz, an 8th-grader.
Lacy recently scored a wide-ranging one-on-one interview with Ald. Maria Hadden (49th) and written over a thousand words about the economic and racial inequalities in nearby Chicago Public Schools, "which was fun because it was a data-driven article," she said.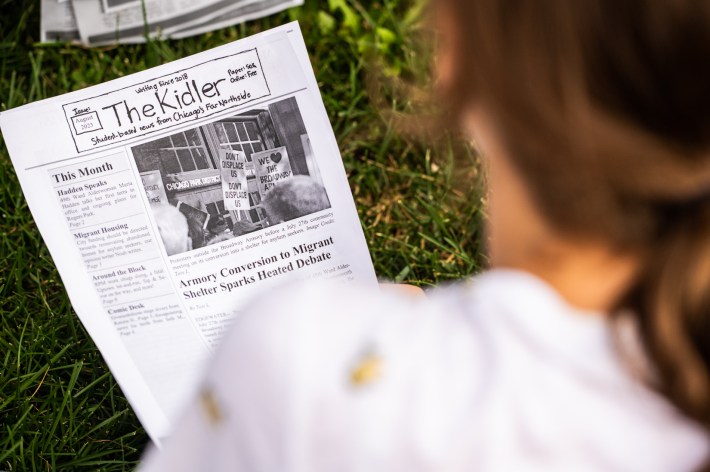 About 15 copies of the monthly edition sell out fast for 50 cents each, "pushing the bounds of what my parents will agree to print," Lacy said. An online newsletter that accompanies each edition has a hundred subscribers, including "librarians, friends, teachers, my mom and everyone in my apartment building," Lacy said.
Lacy squeezes in about an hour and a half "after homework" every day to format, edit, report the news and dish out tasks to its staff. For background, she likes to read "the Reader, Block Club, the Sun-Times less intensely, and WBEZ wakes me up in the morning." 
The high school sophomore said she stumbles on stories through word-of-mouth — "and I'm on the press release lists now, too." Tracking down sources and approaching people on the street makes Lacy "feel extroverted while I'm working."
Her message? "To encourage more participation in the Democratic process," she said.
"Especially with local stuff, because I've always lived in the neighborhood and what's happening is personal to all of us. I can talk to anyone who has a tidbit about whatever they're seeing out their window." Lacy said. "When a young person approaches these topics, they have something to contribute."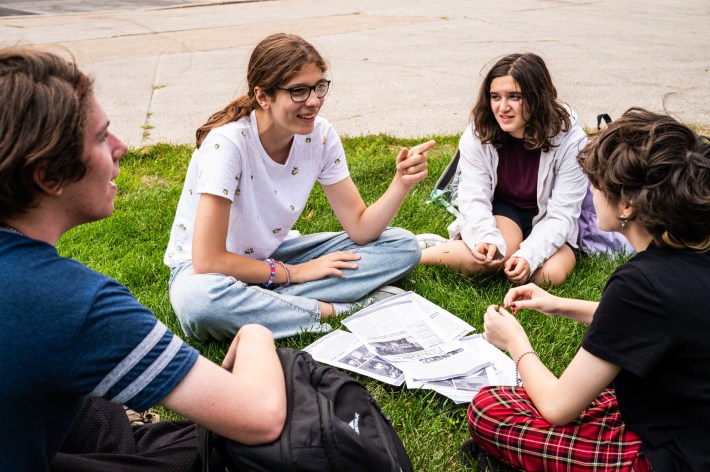 The Ability To 'Make Some Noise'
Along with Rakowitz, Jones College Prep sophomore Seth Macias-O'Malley creates comics and illustrates Kidler articles.
Noah Barbas, a senior at Jones, reports for the school newspaper but was poached to be a columnist for The Kidler, where he says he has more space to write about the neighborhood he's grown up in.
In sprawling pieces, Barbas has backed the creation of bike lanes and asked if the city can do better than house migrants in police stations.
"It can be hard for kids to have the mentality that they can change things because it feels like everyone in charge is 50 years older than you, and you feel like you don't know what you're talking about," Barbas said.
"But why not try," Lacy said. "You might not be able to vote yet, but you have an ability to make some noise, craft your opinions and pressure your parents."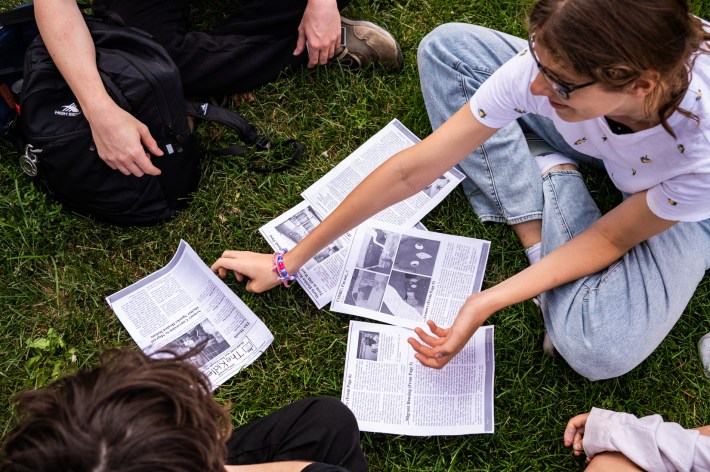 Kidler staffers met with Block Club Chicago after school recently for a talk over Starbucks vanilla bean Frappuccinos.
The kids agreed the most important issue facing the neighborhood is climate change.
"We've lost beaches. The lake levels are going up and down. There's been a massive heat wave. Communities along the lake are noticing," Lacy said. "It's a massive issue, and something that can easily be a local topic here."
But "the everything problem" on the Far North Side is displacement and a lack of affordable housing, Lacy said.
Rakowitz jumped in to say the bodega where she used to get popsicles closed after a Whole Foods moved in across the street.
"We're at the perfect age when our early childhood was right before gentrification hit, and we've seen it happen," Lacy said. "It's the issue that's constantly in the background of every article I've written. Affordable housing is what made these neighborhoods so special, and what we need to keep it this way."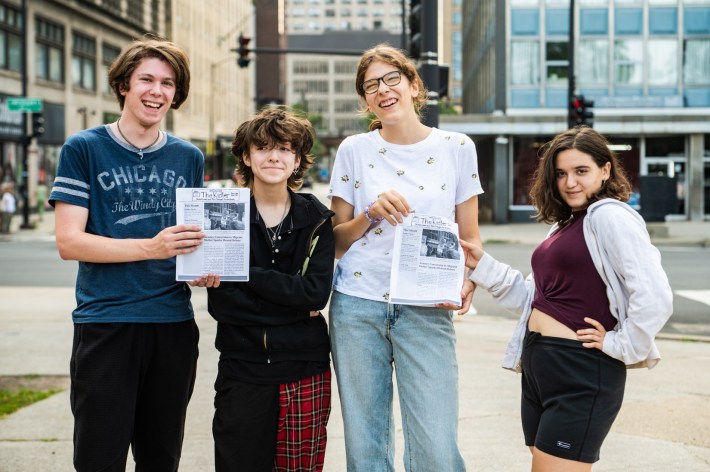 From Kidland To The Kidler
Right before the pandemic hit, the city had asked Lacy and her friends to shut down "Kidland": a makeshift mini-town of scrap materials they built over the years on one of their parent's front lawns.
Kidland had its own currency, government, rules for sweeping the sidewalks and a newspaper, called "The Kidler," said Lori Waxman, mom to Rakowitz and a longtime art critic for the Chicago Tribune who had joyfully surrendered her front yard for the avant-garde project, which some neighbors called an "eyesore."
In Kidland, Lacy was always "The Mayor," Waxman said.
"She's a special kind of leader who becomes the de facto, because she just cares and can do so much," Waxman said. "Tess has always been very mature for her age, very interested in systems and structures, self-motivated and organized, serious about the world and her place in it, and how she can contribute to it from the ground up."
The newspaper started as "just my personal rambling machine," Lacy said. She would make the newspaper by hand on notebook paper, trace it on a few more ripped sheets and pass them out to whomever would take it.
Article topics included the happenings of Kidland and "maybe some Minecraft too," Lacy said. The newspaper's name "may be a slight rip-off" of The Quibbler, the fictional alt-newspaper featured in The Wizarding World of Harry Potter, she said.
It was around 8th grade when Lacy said she started taking the newspaper seriously, citing her sources and venturing outside Kidland to cover the real world.
The retirement of longtime Ald. Harry Osterman (48th) sparked Lacy's interest in local politics, she said.
"I had always seen him walking his dog," Lacy said. "I've been alive like the same amount of time this man has been in charge. It made me really think about how local politics affects me."
Lacy's signature Kidler piece on school disparities was informed by her firsthand experiences at Andersonville's former Lyman Trumbull Elementary School, one of the 50 divested and under-enrolled schools closed by the city in 2013.
"All I remember is principals crying in the auditorium, kids not wanting to leave and walking by the week after it closed and seeing it slowly fall apart," Lacy said. "I republished Illinois Answers Project's big piece about the closures, even though it took up more than half of our pages, because it's important."
Waxman is the first to get a hard copy of The Kidler each month and said she has watched "the evolution of the work" over the years.
"When it was put out by 10-year-olds, it read like it was from 10-year-olds. Now it's 15-year-old stuff, and it has greater depth and maturity and skill," Waxman said. "The paper has grown as its contributors themselves have developed as people. They'll have this unique capacity to look back and see how they've come to understand the world around them."
Rakowitz, Waxman's daughter, said she already has her sights set on McGill University in pursuit of a career as a psychologist and child therapist.
"That's so you," Lacy said to Rakowitz with a smile.
Barbas is applying to colleges now and wants to major in zoology.
"So I'm going to have to find another person to gripe about bike lanes," Lacy said.
Lacy said she's too busy now to think too far ahead. But local journalism "is something that will always be part of my life," she said.
"But I have to go do my Mandarin homework now," said Lacy, leaving a copy of The Kidler on the table for a Block Club reporter to read.
Watch our "On The Block" TV show on The U, CW26 and MeTV.
Listen to "It's All Good: A Block Club Chicago Podcast":