SOUTH LOOP — The Chicago Police Department is launching an "internal investigation" after officers looking to use a South Loop coffee shop's bathroom were turned away — and after the officers allegedly brought people who are homeless into the shop to make a point about bathroom access.
The incident happened Friday at Dollop Coffee inside the Nema apartment tower at 1210 S. Indiana Ave., which has several all-gender restrooms. Two officers walked in and asked to use the cafe's restrooms but were denied access, with a barista saying the facilities are for paying customers only, according to an account published by Dollop owner Dan Weiss.
Weiss said the officers were denied use of the the restroom Friday because they didn't first buy something, per the shop's policy, though exceptions are sometimes made for first responders "who are mobile and need access to bathrooms on the job."
"I cannot fault my employee for enforcing a rule that I put in place," he said.
The officers then came back twice that day with people who are homeless and "intimidated" the staff, Weiss said.
Weiss, who owns the coffee chain with over a dozen locations across Downtown and the city's North Side, said in a statement that's since gone viral the officers had "shamelessly exploited" people who are homeless "in retaliation to a very small perceived slight."
"Those officers may rightfully have been annoyed about our bathroom policy, about being asked to grab a coffee if they want us to clean up after them in our toilet rooms, but their response was horrifyingly inhumane and is the real story here," Weiss wrote in his statement. "I'm ready and willing to partner with the city as a business owner — but I won't stand by and be quiet while people are mistreated by a few bored cops."
A police source with knowledge of the incident said the two officers had used the restroom at the Dollop Coffee location previously without issue. They bought people who are homeless lunch and coffee, a gesture they said was not related to the earlier bathroom incident where officers were turned away, the police source said.
A police spokesperson said Tuesday "an internal investigation has been initiated into this matter." Police did not comment further.
In a new statement to Block Club Tuesday night, Weiss said he also will be filing a formal complaint against the police officers.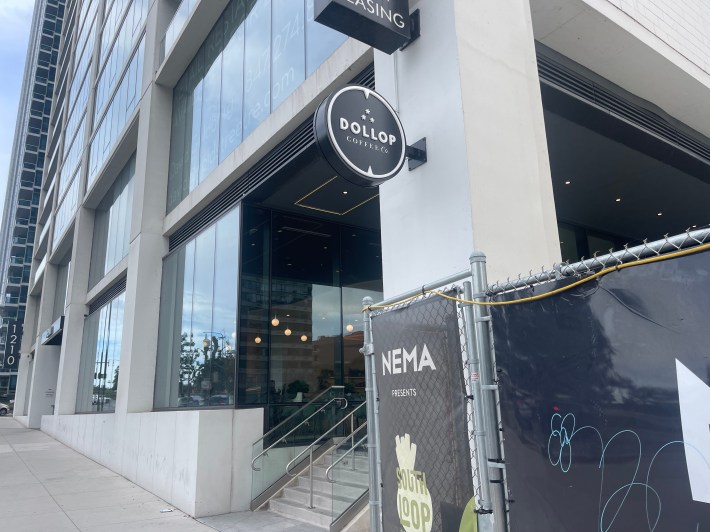 Weiss softened his tone in his latest statement and chalked up the restroom snafu to a "misunderstanding."
"[O]ur bathrooms are for paying customers," Weiss said in his latest statement. "Of course, exceptions could have been made for first responders who are mobile and need access to bathrooms on the job."
The dust-up comes amid a larger conversation about the lack of public restroom facilities in the city and as more businesses lock bathrooms to dissuade drug use and other activity in the facilities.
In his previous statement, Weiss said the Dollop's restrooms had presented an "every day" struggle for staffers, who must routinely clean up feces, needles and drug paraphernalia. The issues led Dollop to restrict its restrooms to customers, Weiss said.
"As most public-facing service workers can attest, this work has become far more dangerous as spiraling public health crises, crumbling infrastructure and impatient patrons collide in restaurants and coffee shops," Weiss said in the statement. "It's why we have this bathroom policy."
Exceptions have been made at times, Weiss said. But turning the officers away "wasn't a political statement," and rather was about the high volume of free restroom requests made that day, Weiss said.
"When Dollop engages in activism or social justice initiatives, we do it intentionally and transparently. You'll know it when it happens," Weiss said. "These officers were offended that they were being treated like everyone else and they were bullying employees. And using unhoused and impoverished people to do so. It was disgusting."
Watch our "On The Block" TV show on The U, CW26 and MeTV.
Listen to "It's All Good: A Block Club Chicago Podcast":