HUMBOLDT PARK — A strike has been averted at the Chicago High School for the Arts, the only arts-focused public high school in the city.
Last week, a few dozen teachers, parents and school staffers rallied outside the Humboldt Park/West Town school — also known as ChiArts — at 2714 W. Augusta Blvd., holding signs that read, "Staff our schools" and "Sustainable jobs! Sustainable schools!"
The teachers, represented by the Chicago Teachers Union's charter division, had accused administrators of cutting school programs and support services, and "put[ting] their salaries and their own interests over providing a world-class education to our passionate young artists."
On Wednesday, however, the union and the Chicago High School for the Arts reached an agreement, according to school officials.
"We're very pleased to be able to offer meaningful improvements in salaries and benefits to our dedicated teachers," said Duffie Adelson, interim chair of the ChiArts Board of Directors. "ChiArts is a unique and vital school community, and we look forward to continuing to work together on behalf of our students and families."
Though the union would not confirm that a deal was reached, they tweeted that there was a "major breakthrough at the bargaining table" Tuesday night and that the strike, which would have started Wednesday, was "on hold."
In a statement, ChiArts officials said the two parties would meet again Wednesday to "finalize language so the new Collective Bargaining Agreements can be ratified shortly."
The agreement will cover both arts and academic teachers, the school said.
RELATED: Fed-Up ChiArts Teaching Artists Seek To Join CTU: 'We Want A Seat At The Table'
ChiArts is a privately managed contract school funded by the district and private donors. It enrolls about 600 students across the city, most of them Black and Hispanic, according to CPS data. The students get both an academic and arts education.
Like charter schools, ChiArts has its own independent board.
In recent years, consistent layoffs and delays in hiring have created "instability for our students and entire school community," teachers said last week.
Teachers also called for a fully staffed counseling team and a full-time nurse.
While details of the deal reached were not immediately available, school officials said last week they had agreed to a 16 percent wage increase for all teachers, expanding arts education time and bolstering school services.
RELATED: Hundreds Of ChiArts Students Protest Outside Of Humboldt Park School, Alleging Administrators Have Created 'Toxic' Environment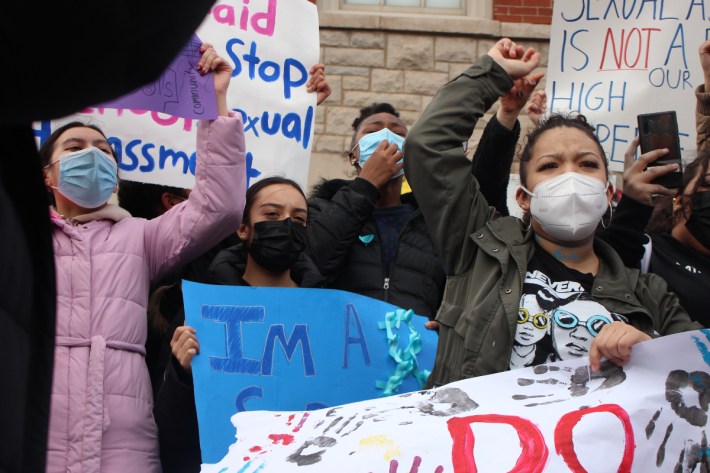 In 2019, ChiArts teachers went on strike over a lack of resources, low teacher pay and other issues, but the action fizzled after they reached a tentative agreement with administrators the same evening.
The teachers have the support of Humboldt Park Ald. Jessie Fuentes (26th), who attended Wednesday's rally, sign in hand.
Fuentes, who has talked publicly about growing up around poverty, violence and incarceration, said poetry and theater "saved my life."
"Our young people deserve a fully staffed and fully funded conservatory because arts is what saves lives," the alderwoman said.
ChiArts teachers "walk into that institution every day caring about the lives of young people, often having to be social workers and counselors, when we don't have those positions filled. They showed up during COVID, when other people did not. They made sure that our young people had the love and care they deserved," Fuentes said.
The shaky contract negotiations follow a heated, prolonged battle between ChiArts students and administrators.
Hundreds of students marched outside the school last year, accusing administrators of creating a "toxic" school environment where they don't feel protected from sexual misconduct among their peers.
Students also used the protest to show support for teaching artists, who they said deserve better job protections, and to lament the firing a favorite teacher.
Administrators have said they've taken meaningful steps toward resolving the school's issues in the wake of the outcry, including rolling out sexual assault training for faculty and staff, bringing in an independent organization to review the school's human resources department and adding parents to the board.
"We are working as hard as we can to reach a settlement and we believe that we will.  We only want the best for our students as they deserve a world class education," Adelson said.
Watch our "On The Block" TV show on The U, CW26 and MeTV.
Listen to "It's All Good: A Block Club Chicago Podcast":