LOGAN SQUARE — A festival dedicated to dumplings and other dough-filled treats from across the world will take over Logan Square Park this weekend.
World Dumpling Fest is coming to the grassy area near the Logan Square Monument at 3150 W. Logan Boulevard noon-7 p.m. Saturday, organizers said in a news release.
The one-day fest will feature more than 10 local food vendors, serving everything from Chinese bao to Haitian doumbrey. Organizers "are using a generous definition of 'dumpling' to include as many cultures as possible," the release said.
The vendor lineup includes Cafe Tola, Polombia, Bombay Eats, Onigiri Ten, Himalayan Restaurant, I Love Grill & Lemonade and Kizin Creole, according to the event website.
There will also be musical performances throughout the day from groups like Los Pleneros de Don Segundo, Chicago Balinese Gamelan and the Center of Peruvian Arts, according to the release.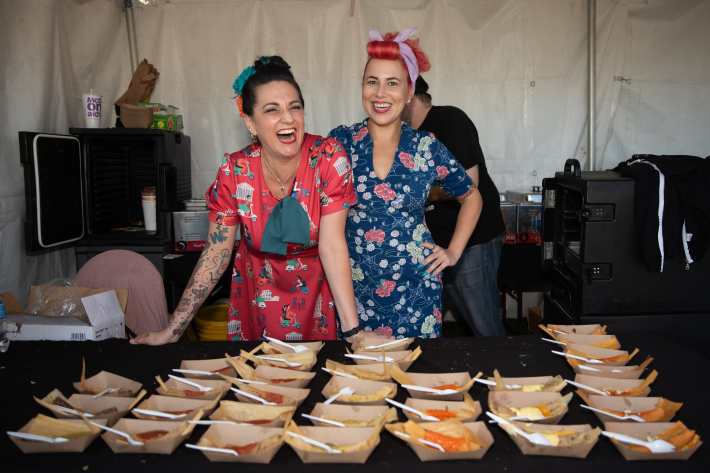 Admission is free, but food sampling will require tickets, which are now available online. A $25 ticket will get you one serving of dumplings (about 3 ounces of food) from five vendors, while a $40 ticket will get you one serving of dumplings from 10 vendors.
All ticket-holders will be entered to win a raffle for a World Dumpling Fest plushie. Ticket prices will go up to $30 and $45 the day of the event.
The event is being put on by the Chicago Cultural Alliance, an organization based out of The Loop that represents nearly 50 cultural heritage centers and museums across the city. Many of the musical and dance groups featured in the fest are affiliated with the organization.
It's the fest's first year back after a four-year hiatus and its first year in Logan Square. From 2017-2019, the event was held at Navy Pier, said Mónica Félix, executive director for the Chicago Cultural Alliance.
Organizers moved the fest to Logan Square with the hope of exposing more neighbors to global food and cultural experiences, and to highlight local cultural centers.
"While the festival attracted several visitors to Navy Pier in the past, we found that those attendees were largely tourists," Félix said in an email.
"Our goal is for Chicagoans and other local community members to attend the festival and learn about these local community centers. Hopefully, they will go on to plan a trip to a local museum in their neighborhood, see the exhibit and learn about that community."
The fest drew between 3,000-5,000 people when it was held at Navy Pier. Organizers are expecting a smaller turnout in Logan Square this year — between 2,000-3,000 people — but the drop is "worth it for the increase in attendance from locals," Félix said.
For more about information about the festival, click here.
Watch our "On The Block" TV show on The U, CW26 and MeTV.
Listen to "It's All Good: A Block Club Chicago Podcast":