LAKEVIEW — One family has gone all in on bringing West African cuisine and culture to the Lakeview neighborhood.
Comfort's African Cuisine, 2835 N. Broadway, opened in late July to neighbors, offering Nigerian food that features many family members providing for their customers.
Tobi Afolarin is the co-owner, lead manager and one of chefs, along with his brother and co-owner Gbenga Afolarin and Gbenga's wife, Helen Afolarin. Eunice Okesola, sister of Gbenga and Tobi, is the executive chef.
When you hear the name of the restaurant, you may think of the good feeling that comes from enjoying comfort food. While you definitely may experience that while eating at Comfort's African Cuisine, the name has a deeper meaning: It honors the legacy of Tobi Afolarin's mother, Comfort.
The family said both interpretations apply at Comfort's.
"[Customers] are comfortable when they come here. We don't rush them to leave. They sit here for as long as they like," said Geraldine Mullen, Tobi Afolarin's wife who is also a partner in the restaurant.
Comfort's offers a variety of traditional Nigerian dishes like grilled croaker fish, jollof rice, catfish pepper soup, meat patties, yam porridge and moi moi, made from ground peeled black-eyed peas or brown beans.
If you're not familiar with West African culture, Comfort's brings you that experience, specifically with the way you eat their food.
When you enjoy one of their soups — egusi, for example — it comes with pounded yam, commonly known as fufu. You use your hands to break off a piece of fufu and pick up the vegetables/meat in the soup. A bowl of water on the side enables you to clean your hands as you go.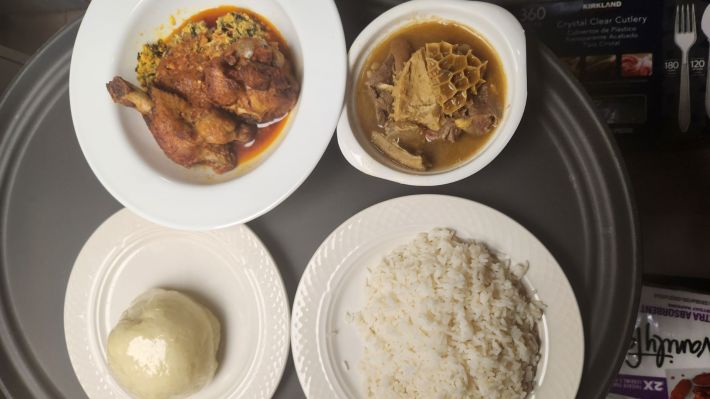 "People have been loving the experience," Mullen said. "They come here for the experience. Sometimes first-timers don't like things right away [if] you haven't acquired the taste or get to know the taste. But it's been great, it's been successful."
Mullen also sees a lot of support coming from neighbors who had been looking for a place to have West African food in the Lakeview area.
"We have had a lot of Nigerians that live in this general area saying that they no longer have to go Uptown, now that they have [a restaurant] that they really love this close," she said.
Mullen and Gbenga Afolarin, both licensed real estate brokers, said they chose the location in Lakeview because they were familiar with businesses in the area and felt that an African restaurant was missing.
Comfort's features a lounge on the second level where folks can have small gatherings while also listening to music and socializing.
"Comfort's family wanted to be able to bring a different restaurant to the neighborhood that is authentic, along with a twist of ambiance," Mullen said. "Catering a cultural feel of a lounge with artwork and African artifacts, our lounge could be used for social gathering space to enjoy for any occasion."
Comfort's African Cuisine is open noon-9 p.m. Monday-Saturday and 3-8 p.m. Sundays. Reservations, delivery and catering services are available.
Watch our "On The Block" TV show on The U, CW26 and MeTV.
Listen to "It's All Good: A Block Club Chicago Podcast":