BEVERLY — After months of organizing, Beverly neighbors have reached an agreement with the property management company that had moved to terminate their leases in the South Side apartment buildings they've called home for decades.
Levav Properties has agreed to provide relocation assistance and rent debt forgiveness to the 200-plus tenants facing non-renewal notices, according to a press release issued last week by the Metropolitan Tenants Organization.
"Levav is happy to announce that we have come up with an amicable resolution for our Beverly residents, by working very close with the Alderman [Matt O'Shea] and [Metropolitan Tenants Organization]," said Levav CEO Chris Milliner in an emailed statement. "I truly believe the resolution is very fair, Levav is committed to upholding to [sic] our end of the agreement."
In May, after acquiring several buildings in the Beverly and Morgan Park neighborhoods, Levav posted lease non-renewal notices on the doors of over 200 residents.
The residents, many of whom are low-income or on fixed incomes, were distressed. So they organized, partnering with Metropolitan Tenants Organization and creating a group they call O'Shea Neighbors United, after Matt O'Shea, the 19th Ward alderman who represents both neighborhood.
Tenants and members of the neighborhood organizations spoke at a press conference Thursday in front of Levav's offices on 95th Street in Beverly, sharing their experiences over the past few months and their feelings about the agreement.
"It's better than nothing," said Dolores Harris, a senior tenant who has lived with her daughter and caretaker at 114th and Hale for the past 11 years.
Both of Harris' daughters live in the building and her daughter-in-law Sylvia Hamilton lives across the street. All of them have until Sept. 30 find a new place to live.
While they are glad to have the financial assistance, Hamilton said they are having a hard time finding a place where they can all be close to each other again. They're hoping to stay in the area or in nearby Evergreen Park or Oak Lawn, but they are looking everywhere they can.
Gordon Dymowski, who has worked closely with O'Shea Neighbors United as a sort of unofficial spokesperson for the group, said he's ready to move on — from the apartment where he took care of his mother for six years before she passed away last year, and from the months of protests, organizing and advocacy work he has been engaged in since Levav served him a non-renewal notice.
"I'm just tired," Dymowski said. "I'm so used to advocating for mom in terms of health care. I'm used to pushing things forward. So I'm feeling sort of the same way as I did after mom died, like I can move forward and expend that energy on myself.
"If it has to come to a close, at least we got something. It was either that or keep fighting."
Dymowski says he is looking for apartments in places like Bridgeport and Rogers Park. His experience with Levav has made him extra careful when looking at potential apartments, he said. He's researching the building owners and looking for places that don't require a move-in fee to make sure he's not "walking into another Levav situation."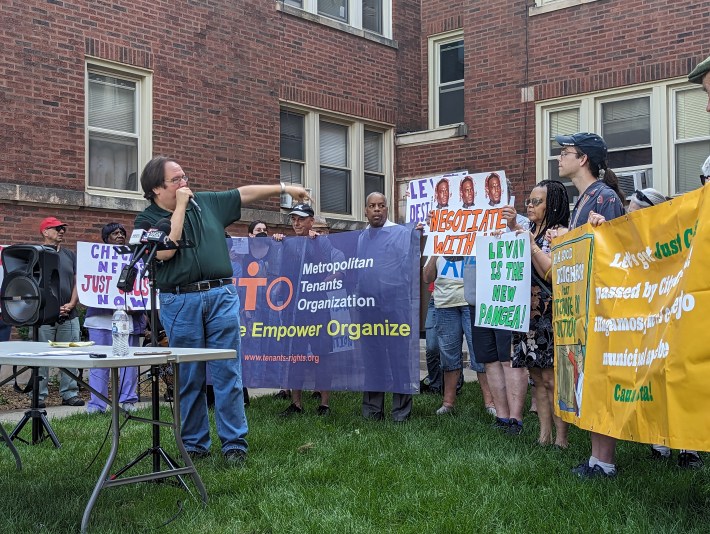 Alderman 'Went To Bat For Us'
Levav has also negotiated separate agreements with individual tenants, including Brenda Robinson, 72, who has lived in her apartment in Beverly for over 20 years.
When Robinson and her brother, both of whom are seniors, received non-renewal notices, they attended a few meetings with O'Shea Neighbors United in May, but they stopped attending the meetings because they "didn't like the direction it was going," she said. "But I'm glad they're getting what they're getting … The good thing is people came together."
Instead, Robinson began to speak directly with O'Shea, she said.
"Alderman O'Shea went to bat for us, for the seniors," said Robinson.
O'Shea said residents began calling, emailing and visiting him in his office after they received the non-renewal notices. In response, he reached out to the Department of Family Support and Services to see what he could do to help. Then he met with Levav to negotiate with them.
"First we focused on seniors, and then we tried to focus on families that might have children in our schools," O'Shea said. "My goal was as many people as want to stay in that building in our community, advocate for them."
O'Shea was invited by O'Shea Neighbors United to attend the group's meetings every Wednesday at a local church.
At the meeting he attended, he noticed that most of the approximately 25 members that day were older people, some of whom he knew. O'Shea said he was frustrated after hearing a recommendation at the meeting that tenants stop paying rent as a protest tactic.
Arieh Venick, a Metropolitan Tenants Organization representative working with O'Shea Neighbors United, said the organization "would never actively encourage tenants to withhold rent without a connection to [an issue about housing conditions]" and the group held a training to advise tenants about their rights to withhold rent, the circumstances in which they can do so and the proper legal process for doing so.
Venick said the collective decision was not to withhold rent, but individual tenants did make the decision to do so, though not by the Metropolitan Tenants Organization's instruction.
In July, O'Shea attended the group's protest in the courtyard of one of the buildings, but ultimately, he said he preferred to work in a different way.
"I'm not flashy like a lot of other people in my line of work. I just try to work behind the scene," O'Shea said. "My focus is to advocate for my residents, particularly the seniors."
After the protest, when members heard through media coverage that O'Shea was meeting with Levav one-on-one, they wrote an email to O'Shea demanding "inclusion in any talks or agreements with Levav Properties as it relates to our housing."
"These are our homes and we need to be at any meeting making decisions in regard to our housing," the email said.
But O'Shea did not feel a large meeting would be effective.
"If you have 30 some odd people in a room, you'll make the news but you're not making resolutions," he said. "I knew that we had Levav making progress."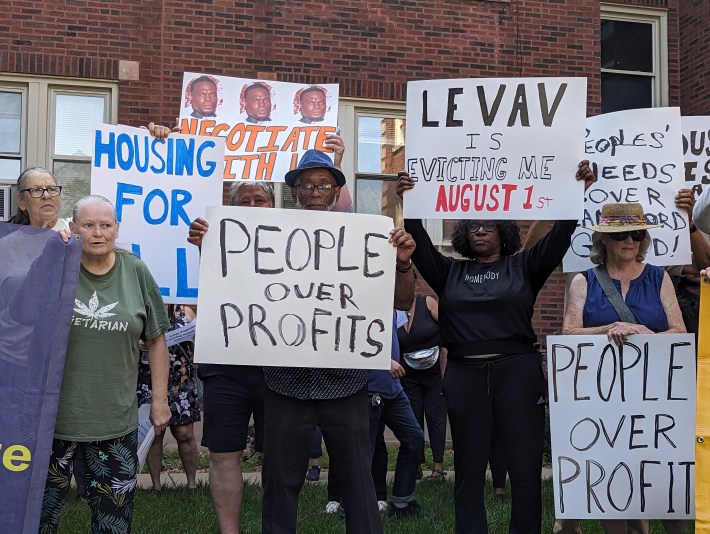 Not A 'Perfect' Resolution
Eventually, Levav reached out to Robinson and her brother with an offer to allow them to stay into their apartment for one year and pay the same rent they paid before Levav acquired the property. They will not receive the rent forgiveness or relocation assistance that Levav agreed to for the other residents.
"What I wanted was more time, and that's what I got," said Robinson. "This gives us time to really look for what we want."
Robinson said she wishes her neighbors in the Levav buildings had gotten more time, too. The extra time, she said, will hopefully allow her and her brother to find another home in Beverly because they have forged strong friendships here.
In her 72 years, Robinson has lived all over the city, but she says there's something special about Beverly.
"I've never been in a neighborhood as friendly, a neighborhood as safe," she said. "Beverly has a feeling. I don't know how to explain it, but it's a feeling. It's a warm, welcoming feeling. People look out for each other here."
Several tenants regret that they will not be able to remain in the Beverly area, but say they are grateful to have a resolution that will at least help them relocate.
"This isn't perfect, but it does go a long way," said O'Shea. "And it's a good deal for my most vulnerable residents, my senior residents."
O'Shea Neighbors United said in a press release they intend to continue working for tenants' rights, with a focus on encouraging O'Shea to support a Just Cause law for Chicago. The law would require landlords to pay relocation costs or offer rent assistance to tenants when their leases are terminated without a just reason.
Watch our "On The Block" TV show on The U, CW26 and MeTV.
Listen to "It's All Good: A Block Club Chicago Podcast":