WEST HUMBOLDT PARK — After multiple delays and protests, Amazon is ready to open its new "rapid response" warehouse on the West Side. 
Amazon's 140,000-square-foot West Humboldt Park facility, 1260 N. Kostner Ave., will open Sept. 27 with 40 workers to start, said Sarah Glavin, Amazon's head of community affairs in Chicago.
Another 40 to 50 workers will come in each additional week, and new jobs will be listed online each Monday, Glavin said.
The company plans to bring on a total of 350 full-and-part-time staffers by the end of the fall. That's down from the 500 positions the company initially announced for the facility, which had been planned as a warehouse for boxed products but will now serve as a facility for same-day deliveries.
Starting pay is $18.50 per hour, and part-time positions come with flexible hours, Glavin said.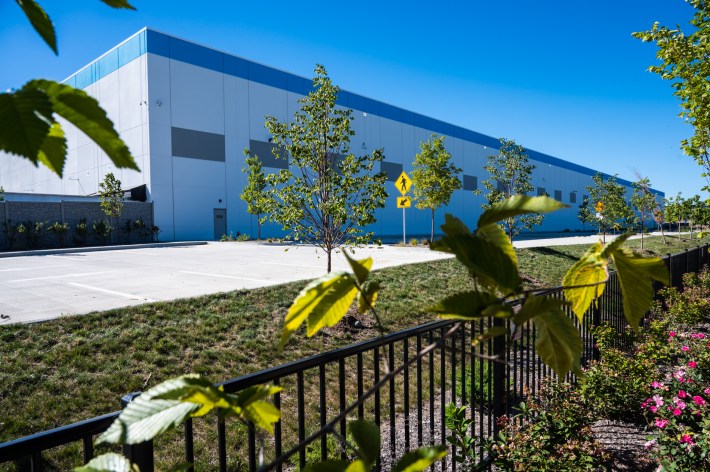 The long-anticipated facility has generated significant scrutiny since it was announced in 2021.
The company paid $30 million for the 26-acre West Humboldt Park facility, formerly the home of Allied Metal Company, according to Crain's.
The Seattle-based behemoth made record profits during the pandemic and began expanding rapidly in the Chicago area, signing 21 leases for new buildings and opening multiple facilities, Crain's reported at the time.
However, the growth began to slow and many facilities sat empty after the company slashed thousands of jobs at the end of 2022.
The West Humboldt Park warehouse initially was scheduled to open in late 2022, but the company indefinitely postponed those plans.
Frustrated neighbors and community organizations protested this summer, demanding to know when the facility would open and deliver on the hundreds of promised jobs.
While neighbors have looked forward to its job prospects, some have criticized Amazon and Ald. Emma Mitts (37th) for not hosting a community meeting before plans were announced and ignoring their concerns about the company coming to the neighborhood.
Many have questioned if the warehouse will benefit locals, if the jobs are long term and if the facility will cause property taxes in the area to increase and drive out low-income neighbors.
Black Workers Matter has pushed for Amazon to provide better protections and pay once it opens, demanding politicians support a $28.50 minimum wage, require majority local hiring and refuse donations from Amazon.
Organizers also have raised concerns about Amazon's pattern of building facilities in opportunity zones, part of a federal program that offers tax breaks to spur private investment in economically distressed areas. The West Humboldt Park warehouse is in an opportunity zone, according to state data.
"We just think there needs to be a complete overhaul of how development is done," community organizer Chris White said in June. "There needs to be a basic level of community benefits with anything that goes through [the Department of Planning and Development], and this administration needs to recognize that for the city."
Mitts has staunchly defended the project, saying the facility would boost a community hit hard by the COVID-19 pandemic.
"Amazon has made promises to Chicago's West Side 37th Ward, and now everyone can see they're delivering," Mitts said in a statement to Block Club. "This is a prime example of the importance of major businesses investing in our communities and playing a crucial role in elevating our neighborhood economy for long-term improvement."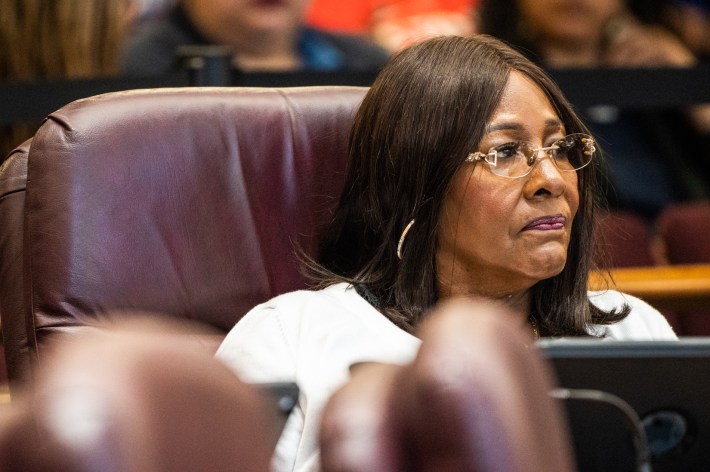 Originally planned as a distribution center that housed boxed products to be delivered over the course of days or weeks, Glavin said the facility has been converted into a "rapid response" center that specializes in same-day deliveries of smaller essential items.
There will be robotic arms throughout the warehouse that support the workers, she said. Deliveries for items such as dog food, diapers, and detergent will take as little as four hours once the facility is online, Glavin said.
Employee benefits and perks include immediate health care, parental leave and tuition support, as well as an all-faiths prayer room and an Atari Pac-Man console in the break room, Glavin said.
The company will provide transportation to and from its Bridgeport facility for employee onboarding for those who lack a car or access to public transit, Glavin said.
A former West Sider who lives in nearby Oak Park, Glavin said the facility's opening presents new opportunities for the West Side where many areas have lacked investment and job security. Those opportunities range from job fairs to field trips to learn about robotics in the warehouse, Glavin said.
Community partners who helped Amazon with benefits, community engagement and other educational opportunities include Austin Peoples Action Center, Bethel New Life, Inc., Black Men United, BUILD, Inc., the Westside Health Authority and the Kelly Hall YMCA.
"I think there are lots of opportunities for us to help the community after we open. We work with groups doing everything from food equity to urban agriculture," Glavin said. "We don't want to be a faceless entity here. We're full of people who live here and who love this city."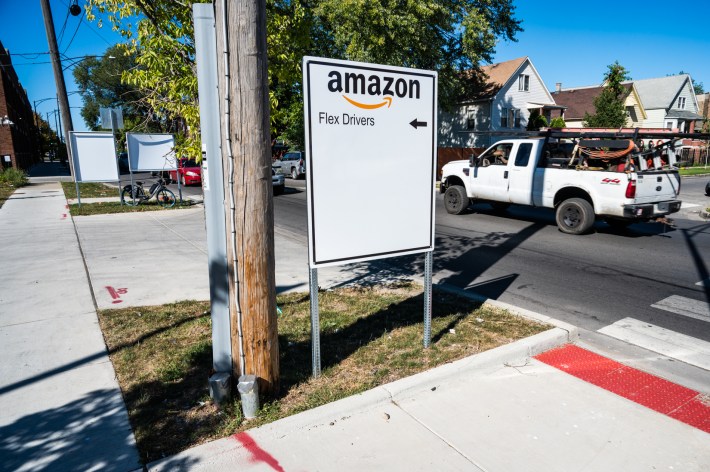 The center still faces opposition.
Humboldt Park resident Maura Madden filed a lawsuit Tuesday in Cook County Circuit Court, hoping to block the opening of the building.
Madden, who said she lives less than 1,200 feet from the center and works on a garden nearby, alleged she was given no formal notice of the center being developed and will suffer from "unreviewed and unstudied environmental, traffic, noise, lighting and other social impacts," the lawsuit states.
The lawsuit asserts the facility is improperly classified under city zoning code, and should have gone undergone review for a special use permit before the city's Zoning Board of Appeals.
The lawsuit aims to stop the building from opening until a public approval process has begun.
"Amazon is building these huge 24/7 facilities that generate a lot of noise, lights, traffic and greenhouse gas emissions," Ramsin Canon, Madden's lawyer, told Block Club. "They know if they give people a chance to participate in the planning process, they know it won't get built or built in a way that's cost effective for them."
Amazon spokeswoman Caitlin Tully said the company has followed all applicable zoning laws and regulations when opening a new facility and received a certificate of occupancy from the city Aug. 4.
Watch our "On The Block" TV show on The U, CW26 and MeTV.
Listen to "It's All Good: A Block Club Chicago Podcast":