CHICAGO — A woman who was shot at Friday's White Sox game said Wednesday through a lawyer she did not bring a gun past security into the stadium, as online rumors about the mysterious shooting continue to swirl.
The 42-year-old woman was one of two people shot while sitting in the left field bleachers at Friday's game at Guaranteed Rate Field. Police and Sox officials have yet to determine who fired the shots that struck the two fans, and theories abound as to whether the shots came from inside or outside the stadium.
The 42-year-old shooting victim "denies bringing a firearm into the stadium" and "denies having anything to do with the discharge of a firearm at the stadium," lawyer John Malm said in a statement issued Tuesday.
She is a White Sox season-ticket holder who "underwent emergency medical treatment" for two gunshot wounds to her right leg, Malm said in the statement.
Malm's firm is investigating the incident and looking to "pursue justice on behalf of our client," he said in the statement. He did not immediately return calls for further comment.
Police and city officials have said little else about what happened Friday night when the 42-year-old woman and a 26-year-old woman were hit by gunfire.
On Monday, Supt. Fred Waller told reporters that police had "almost completely dispelled" rumors that bullets came from a gun fired outside the ballpark. But ABC7 reported Tuesday that top police officials have since held a "high-level meeting" to review evidence, leading them to reconsider all possibilities while they "appear no closer to solving the case."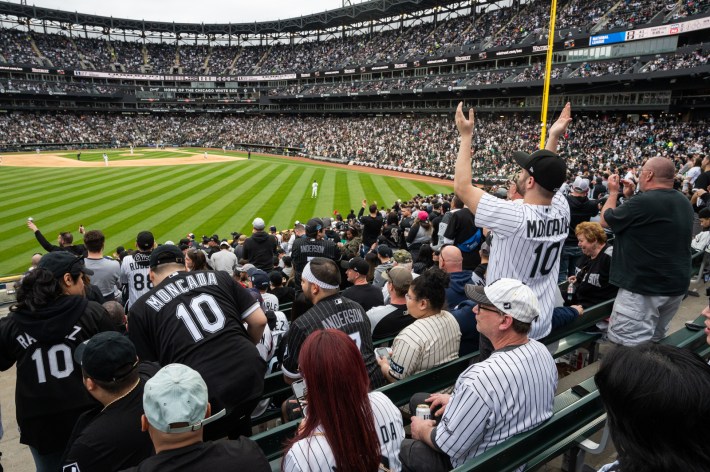 In a statement, CPD officials denied a report Tuesday that one of the injured women had gotten a gun past security by hiding it in her belly fat.
"This investigation is still active and ongoing," the police spokesperson said. "Updates will be provided as they become available."
A CPS spokesperson said in a statement that one of the injured women is a school teacher.
The 42-year-old woman suffered two gunshot wounds to her right leg, with one bullet that traveled through her thigh and another that lodged in her shin, according to police reports obtained by the Sun-Times.
Police are investigating if the 42-year-old woman brought in a gun, according to the Sun-Times.
However, Malm, the woman's lawyer, said evidence they've reviewed rules out her injuries being self-inflicted.
"We have reviewed photographic evidence and x-rays of our client's injuries with firearms and medical experts who confirm the gunshot wound our client sustained was not self-inflicted and was not the result of her accidentally discharging a firearm," Malm said in a statement.
The brother of the 26-year-old woman who was shot told the Sun-Times they heard a noise similar to a squeeze of an empty water bottle before she discovered a bloody scrape on her lower abdomen.
A crowd then formed around the older woman a few rows behind them as blood spilled on the bleachers, the brother told the Sun-Times. He said he didn't know what caused the incident.
Responding officers reported at least two shots were fired — with a third woman finding a bullet in her hoodie, according to the Sun-Times.
"I felt a pinch in my back … sure enough I picked up a damn bullet," the woman with the hoodie said in a now-deleted Facebook post. "Still in shock … but I am fine."
The Chicago Tribune, citing a police report, said Chief of Patrol Brian McDermott asked the Sox to stop the game for public safety reasons at 8:12 p.m. The game continued, however, until it ended around 9 p.m.
The White Sox then canceled a post-game Vanilla Ice concert, with a message on the jumbotron telling fans they were having "technical issues."
Waller, speaking to the Sun-Times Monday, defended a decision by police to back off an initial call to stop the game.
After it became clear that someone had been shot, police determined there wasn't an active threat, Waller told the Sun-Times. The game went on as to not "create a panic," Waller said.
Team officials previously said they coordinated with and deferred to police in the call to play on. The team has yet to say anything about the cause of the incident.
On Saturday, the team published a security video, which has since circulated online.
In a statement Monday, Bridgeport Ald. Nicole Lee (11th) said she plans to meet with the team to discuss "protocols to ensure fans' safety at future games."
"[W]e will get to the bottom of this," Lee said in the statement.
In June, a reckless driver badly injured four people as they crossed 35th Street to enter the stadium on their way to the game. The incident led fans and witnesses to call for more safety precautions around the ballpark.
Watch our "On The Block" TV show on The U, CW26 and MeTV.
Listen to "It's All Good: A Block Club Chicago Podcast":