IRVING PARK — A Little League baseball coach accused of pulling a gun on a couple during an apparent parking dispute in Horner Park faces felony charges and has been banned from the league and the park.
Anthony Borrero Santoyo, 33, of suburban Cicero was arrested around 4 p.m. Aug. 19 at 2651 W. Montrose Ave., police said. Santoyo, a convicted felon, was charged with felony counts of unlawful use of a weapon by a felon and aggravated unlawful use of a weapon in a vehicle and two misdemeanor counts of aggravated assault with a deadly weapon, according to court records.
Santoyo appeared at an Aug. 20 bond hearing where a judge placed him on electronic monitoring and banned him from Horner Park as a condition of his bail, according to court records.
Santoyo did not return a request for comment. 
Santoyo, a coach with the Horner Park North-West Little League, appeared agitated after his team lost during a baseball tournament at Horner Park the day of his arrest, neighbors and league members said.
After the games were over, players and their families had a picnic at the park while kids played pickup baseball games for fun, neighbors and league members said.
That's when police said Santoyo approached a 31-year-old man and 48-year-old woman in the parking lot while he was inside a black 2016 Jeep Cherokee.
As he approached, Santoyo used "fighting words" and said, "What's up? Come on. Let me park," then flashed a "small silver handgun" at the man and woman, according to the police arrest report.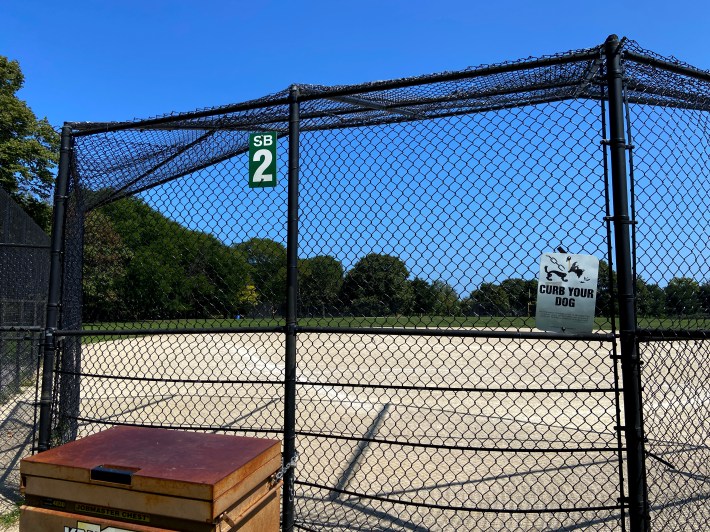 Police said Santoyo left in the Jeep, but came back to the park and, according to some league members and neighbors, returned to the picnic.
"He was there at the picnic," said a league member who asked not to be identified.
"We were still at our our picnic area and we started hearing rumors about the gun. People were unsettled and my family decided to stay away from the parking lot until we got a clarification or update on what happened," said a woman who had watched the game and was at the picnic. She also asked not to be identified.  
Police officers who had been called to the scene then saw Santoyo "fleeing again on foot northbound on the walking path," according to the arrest report. Bystanders identified him and police took him into custody, according to police.
Officers searched Santoyo and found car keys for the black Jeep, police said. In the car, they found a chrome semi-automatic loaded pistol, holster and live rounds, police said. 
In an emailed statement, the Horner Park North West Little League's board of directors said Santoyo was one of their coaches but in light of the Aug. 19 incident, Santoyo has been banned from the group and any events.
"A photo of him is posted in both field houses and police will be called immediately if he enters the park. Horner Park Northwest Little League takes the safety of our players and families seriously and do not condone this type of behavior," the board said in the statement. 
A flier with Santoyo's face and information about his arrest was posted Monday inside Horner Park's comfort station between the baseball fields and the parking lot. 
"He is not allowed at Horner Park. If you see him immediately call 911 and let them know that he was previously arrested at Horner for possession of a gun (he flashed the gun at another parent) and that he is trespassing," the sign said. 
"There were so many scared kids that were watching this happen," said the woman who was at the park that day. "That someone would go that crazy at a children's baseball game, this guy shouldn't be coaching at all." 
Watch our "On The Block" TV show on The U, CW26 and MeTV.
Listen to "It's All Good: A Block Club Chicago Podcast":