CHICAGO — Dryer lint. The Jonas Brothers and a snowy leopard. Fast food. Sandwiches. A Saturday afternoon date. A long-distance friendship. Having a loose tooth on the first day of kindergarten.
These are just a few things Chicago poets Coelti and Lisa Marie Farver have written about for strangers while writing in the streets, offering to type up poems on any subject that their patrons request.
Farver and Coelti are based in Edgewater and Uptown, but you can find them with their typewriters across the city. They have set up shop at street corners in Andersonville, farmers markets, beaches, Fulton Market, the Full Moon Jam and various private events.
"I haven't found a place where I wouldn't take a typewriter," said Coelti, 32, who uses they/them pronouns.
Farver and Coelti sit at a table with signs advertising poetry — "come get a poem," one of them reads — and they engage with passersby, who can then purchase the poem for whatever it is worth to them. Once they finish writing, they read the poem out loud to their patrons.
"It gives people a unique piece of art and a unique way to be a patron of the arts," Coelti said.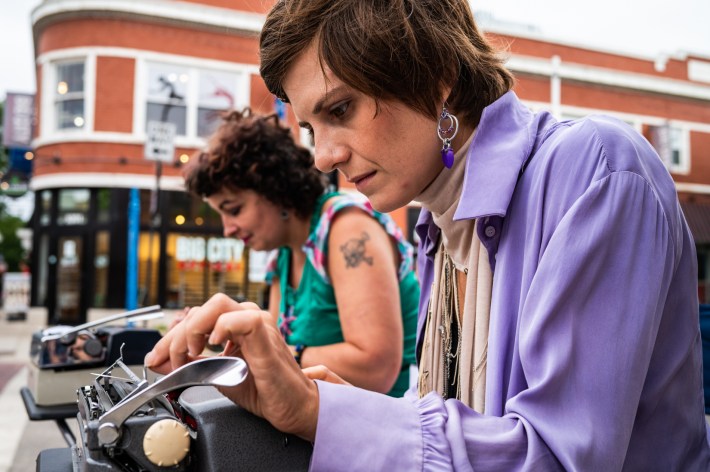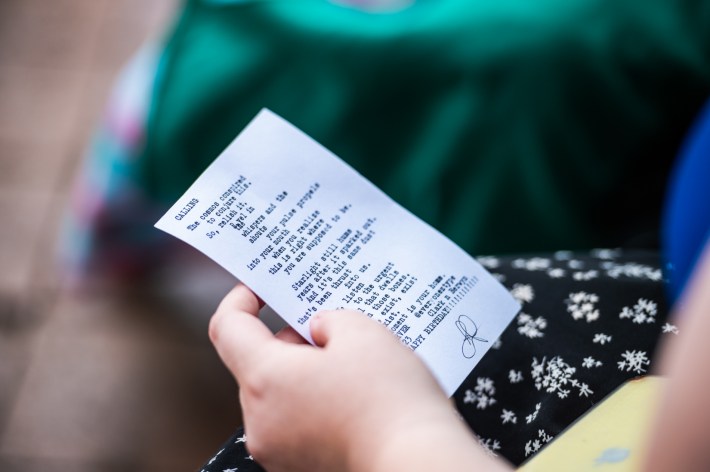 When Farver moved to Chicago about 12 years ago, she immersed herself in "everything poetic and artistic," including a typewriter poetry group called Poems While You Wait. But Farver said she didn't actually own her own typewriter until about four years ago, when Coelti gifted her one.
"When I found typewriter poetry, I found a way to connect with people and hear their stories," said Farver, 42. "It combined the spontaneity of improv and of my bad procrastinating habits with the sincerity of writing unedited."
The medium is all about celebrating the mundane and holding space for one another, she said.
"It's realizing that every little thing can be spectacular," Farver explained. "Everything is a poem. Everything can be a poem."
Typewriter poetry allows Farver and Coelti to connect with people in "spontaneous" and "thrilling" ways that they wouldn't otherwise be able to do, especially after the outbreak of COVID-19.
"We as a society got so closed off during the pandemic, and understandably so, and then slowly started to emerge," Farver said. "As we're reconnecting and re-figuring out how to be people and how to be people around people, I think it's so important for people to be as sincere with who they are and with other people."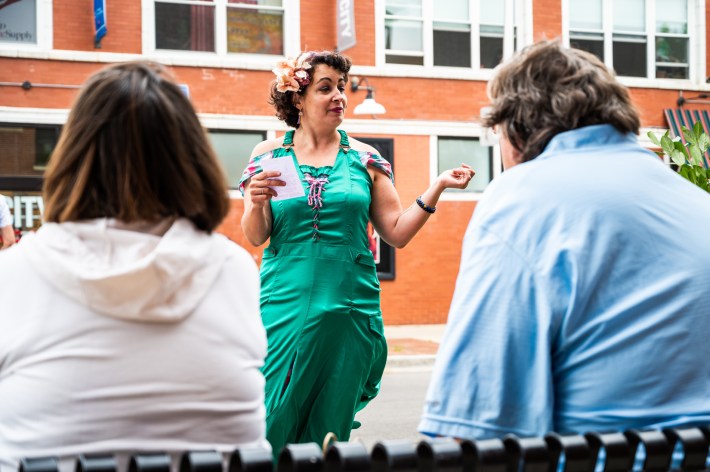 While Farver and Coelti are often asked to write about friendship and romance and even mundane, everyday objects, their typewriter poetry can also be cathartic for people experiencing grief and heavy emotions.
"There was a woman I wrote for at the end of 2021 at a holiday market," Coelti said. "She had a really tragic story about how her nephew had died from COVID and how she had her own grief, but especially for her sister. She didn't really have words to help and asked me to write a poem for her sister."
"I really love when people invite you into their intimate stories and trust you to make art about it," they said.
Even before Farver and Coelti started busking, writing had always been a part of their lives. Farver studied English writing in college and has worked as a travel writer and journalist. She is constantly immersed in the arts, writing poetry and working with local theater and improv groups.
She is especially drawn to typewriter poetry because of how honest it is, she said.
"It's almost impossible to bullshit when you're writing on a typewriter," Farver said. "What comes out, comes out. And I want more people to be less afraid to be who they are."
"It's a metaphor for life," she said. "You have to learn to accept your mistakes and go on and accept that some things aren't perfect and the way something turned out sometimes is the way it's exactly supposed to be."
For Coelti, writing has been a constant in their life alongside years of theater, dance and street performing. Coelti started out street performing as a hula hoop dancer in 2010, largely inspired by their mentor, poet and dancer Plain White Tom.
But it wasn't until the spring of 2021, after throwing around the idea with Farver and other writer friends, that Coelti took a leap into poetry street performances.
"It's so cool and so interesting and so needed in a time when we are all seeking connection," Coelti said. "It's really hard for me to imagine doing anything else."
Farver and Coelti said their poetry would not be possible without fellow neighbors engaging with them.
"These people are just as much a part of the art as we are," Farver said.
Coelti said they hope to see more typewriter poets.
"I think it's really, really interesting to do a spontaneous negotiation for improvised art," they said. "Let's make art together. Yes, right here. Yes, right now."
You can find Farver and Coelti on Instagram at @everyoneztype and @typewritualist, respectively, or busking across the city. You can also email them at typecastpoetry@gmail.com.
The duo will be at the Andersonville Arts Weekend the weekend of Sept. 29-Oct. 1 in collaboration with local stationery shop Paper and Pencil, 1480 W. Berwyn Ave.
Watch our "On The Block" TV show on The U, CW26 and MeTV.
Listen to "It's All Good: A Block Club Chicago Podcast":