AUSTIN — The Federal Emergency Management Agency has opened four disaster recovery centers in the Chicago area where residents who saw flooding this summer can apply for financial relief. 
Two centers are in Austin on the West Side, one at Washington Square Mall, 4851 W. North Ave., and the other at Columbus Park field house, 500 S. Central Ave. Two others are in suburban Cicero and Berwyn.
These centers are part of the government's response to the intense flooding that hit Chicago, particularly on the West Side and in the western suburbs, after record-breaking storms in late June and early July.
President Joe Biden approved a disaster declaration for Cook County that freed up federal assistance for residents and business owners who had been pleading for more relief.
That means neighbors and businesses affected by the flooding can receive grants for temporary housing and home repairs, low-cost loans to cover repairs for uninsured property losses and other programs to help people recover.
People can apply for federal disaster assistance, upload documents, learn about ways to make their property more flood resistant and get their questions answered in person at the disaster centers, according to a news release from FEMA. 
Information is available in multiple languages, including American Sign Language, according to the news release. There is also accessible parking spaces at all of the locations. 
Additional centers will open soon and you can find more information about where they'll be located online. 
Scroll down to find out more.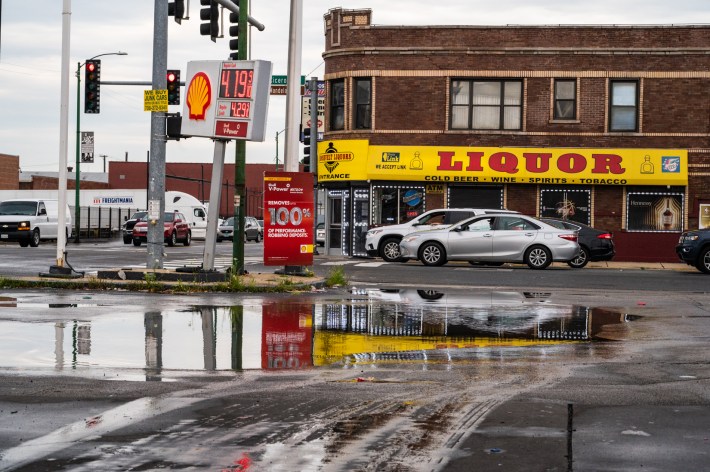 Remember, you don't have to visit the disaster centers in person to apply for assistance.
RELATED: Here's How West Siders Can Apply For Federal Flood Assistance
Residents can apply at www.DisasterAssistance.gov, by calling 800-621-FEMA (3362), or by using the FEMA smartphone app. Anyone using a relay service, such as video relay service, captioned telephone service or other service can give FEMA the number for that service.
After registering, a FEMA inspector will call to arrange a visit of the damaged property and will request proof of ownership or occupancy.  Approximately 9,400 housing inspections have been completed already, according to FEMA. 
More than 6,000 households in Cook County have been approved for federal assistance and will receive more than $32 million in grant funding for home repairs and property losses, according to data from FEMA.
Homeowners, renters and businesses have received more than $2.6 million in low-interest disaster loans from the Small Business Administration, FEMA's data showed. 
Hours And Locations: 
North Austin, Washington Square Mall — 4851 W. North Ave. It's open 7 a.m.-9 p.m. every day.
South Austin, Columbus Square Field House — 500 S. Central Ave. It's open 8:30 a.m.-7 p.m. Monday-Friday, and 9:30 a.m.-6 p.m. on Saturdays.
Berwyn, Berwyn Grove Avenue Parking Garage — 3310 Grove Ave. It's open 7 a.m.-7 p.m. every day. 
Cicero, Morton College — 3801 S. Central Ave. It's open 7 a.m.-7 p.m. Monday-Saturday. 
What You Need To Register
A current phone number where you can be contacted
Your address at the time of the flooding and the address where you are now staying
Your Social Security number (or the Social Security number of a minor child in your household, if you're applying on their behalf)
A general list of damage and losses
Banking information if you choose direct deposit
If insured, the policy number or the agent and/or the company name
After registering with FEMA, residents will be given an application number that should be kept for reference or status checks on filed claims, according to the city's disaster assistance application process webpage.
A FEMA inspector will call within a few days to arrange a visit of the damaged home or apartment. Proof of ownership or occupancy of the damaged home is required.
How To Apply For Disaster Unemployment Assistance:
The Illinois Department of Employment Security is now accepting applications for disaster unemployment benefits from people whose work was interrupted due to the flooding.
People can receive up to 26 weeks of benefits as long as their employment continues to be impacted by the disaster, according to FEMA. Eligibility for benefits is determined on a week-to-week basis.
Applications must be filed by Sept. 21. People can call the employment security office's appointment line at 217-558-0401 and say they're calling about the Cook County Flood Disaster Unemployment Benefits.
Phone operators will schedule people's appointments at American Job Centers in Lawrence, Pilsen or Woodlawn, where they can apply for assistance.
Before applying for the disaster unemployment benefits, people must apply and be found ineligible for regular state unemployment insurance benefits, according to FEMA.
Watch our "On The Block" TV show on The U, CW26 and MeTV.
Listen to "It's All Good: A Block Club Chicago Podcast":