KENWOOD — The landlord of a South Side affordable apartment tower where residents have long dealt with squalid conditions is still in charge after the company once again prolonged a court case to have someone else oversee the building.
Tenants at the Ellis Lakeview Apartments, 4624 S. Ellis Ave. in Kenwood, have fought their landlord, Apex Chicago IL, to address problems with rodents, trash, dirty water and more since 2020. During those three years, the company has repeatedly failed to follow court orders to bring the building up to city code.
Lender Freddie Mac recently moved to take away Apex's control of the property, but Apex remains as landlord for now after the company's lawyers requested a new judge hear the case.
Cook County Circuit Court Judge Jean Cocozza granted the request during the most recent hearing last week, as "anybody could ask for [a substitute judge] at any time" without giving a reason for the request, Cocozza said.
"Sometimes it works in your favor, sometimes it doesn't — that's how it goes," Cocozza told an attorney for Freddie Mac who raised concerns with the timing of Apex's request. The landlord asked for a new judge one week before the receivership hearing.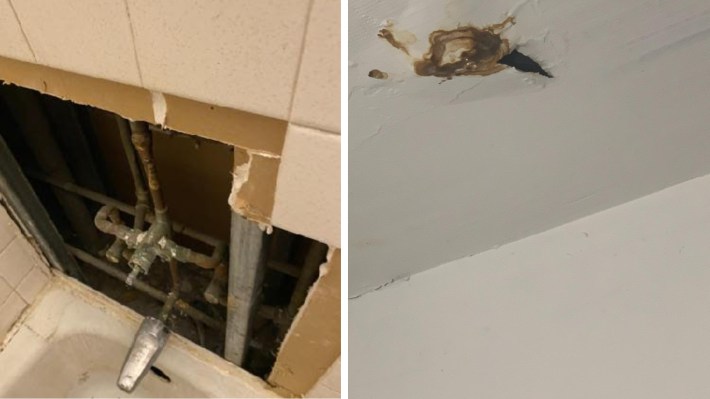 Cocozza's ruling means circuit court Judge Patricia Spratt will decide if real estate firm Trigild IVL should take over as receiver to oversee long-delayed repairs at Ellis Lakeview.
Spratt was assigned the case within three days of Cocozza's ruling, according to court records.
"It's really good to see how expediently that moved," said Eric Sirota, an attorney for the Ellis Lakeview Tenants Association. "Now, it's really a matter of the new judge familiarizing themselves with the case and the receivership motion. We're hopeful that will happen quickly."
If receivership is granted, Apex will likely lose decision-making power at the property but remain responsible for repair costs, Sirota said.
"What would be so positive about it … is that major repair decisions wouldn't have to go through Apex," he said. "Apex has shown resistance to funding those repairs."
"It's not surprising" that Apex would want to push back a hearing that could result in the company losing control, but "it just delays additional repairs that need to be made," Sirota said.
Kate Hartig, Freddie Mac's public relations director, declined comment this week and referred Block Club to county court records.
Though Ellis Lakeview residents are parties to a separate lawsuit against Apex filed by the city — which has dragged on for more than two years with few consequences for the landlord — the residents are not parties to Freddie Mac's foreclosure case.
Sirota declined to say whether the tenants association will push to become a party to the foreclosure case.
Last week's hearing with Cocozza lasted only a few minutes, as the judge said she did not have the Ellis Lakeview case on her schedule.
Cocozza blamed delays and confusion during that hearing and several others that morning on the numerous attorneys, Ellis Lakeview residents, reporters and observers in attendance at the public hearing.
"That's why this call started late, because we didn't have enough cases to warrant 35 people in this room," Cocozza said.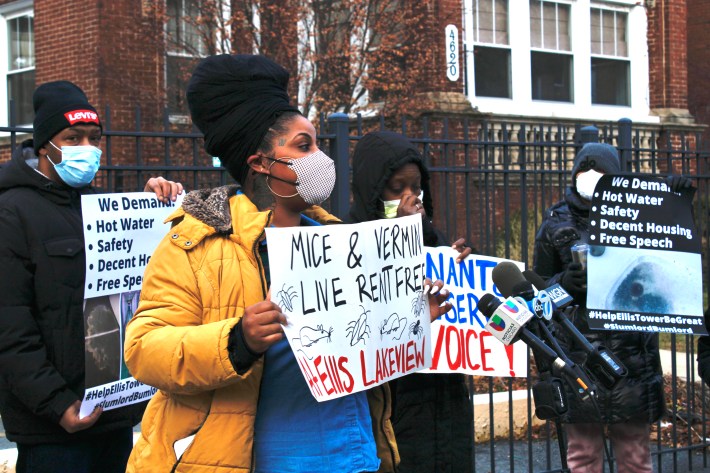 Owner Won't Fix 'Egregious' Problems, Feds Say
The Federal Home Loan Mortgage Corporation, or Freddie Mac, filed to foreclose on Ellis Lakeview in June amid pressure from tenants.
Apex has mismanaged and willfully neglected Ellis Lakeview during its four years of ownership, as the company "refuses" to fix "rampant and egregious" pest infestations and a litany of unsafe conditions, Freddie Mac officials said.
Tenants repeatedly have complained of a broken elevator, mice, roaches, water damage, piled-up trash, brown water, faulty plumbing and furniture, security issues and other concerns.
As recently as May, officials reported "evidence of significant pest infestation," laundry facilities that were "outdated" and "sporadically functioning," missing screens in residents' windows and numerous other issues.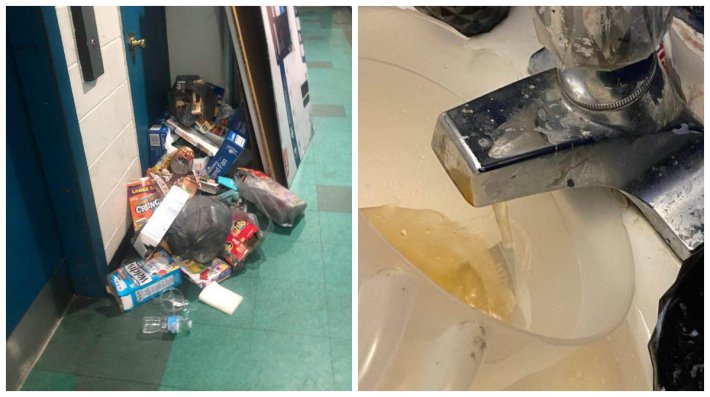 City attorneys asked Cook County Judge Lisa Ann Marino to appoint a receiver in April 2022. Marino ordered Apex to replace Integra Affordable Management — its troubled management company — with 5T Management in June 2022, but she declined the more drastic step of appointing a receiver.
Residents were cautiously optimistic the move would improve living conditions, and city attorneys dropped their receivership request. But just three months after signing the agreement, Apex was $555,000 behind on its bills and had told 5T to stop making court-ordered repairs already in progress.
Apex continued to neglect Ellis Lakeview for months before tenants organized a campaign to demand Freddie Mac take action.
In March, Freddie Mac told Apex to set aside more than $1.75 million for roof, facade, elevator, plumbing and other repairs within 30 days. Apex did not do so and defaulted on its mortgage, according to the foreclosure filing.
Freddie Mac demanded Apex repay its mortgage in full after defaulting, but Apex did not respond, according to the filing.
Apex defaulted again in May by letting its repair funds remain below $100,000, which violates the company's agreement to stave off receivership last year, according to court filings. Freddie Mac then filed for foreclosure June 12.
Freddie Mac is now pushing a court order forcing Apex to sell the property and pay the mortgage back in full, plus interest. The feds also want the court to install Trigild IVL as the property's receiver and put Apex on the hook for court costs, among other possible damages.
"Simply put, the conditions at the property are unsafe and/or unhealthy, and a receiver is necessary to protect the tenants and stabilize the property," the request reads.
The foreclosure push could take months to finalize, tenant organizers said earlier this month.
Watch our "On The Block" TV show on The U, CW26 and MeTV.
Listen to "It's All Good: A Block Club Chicago Podcast":