BUCKTOWN — You wouldn't know there's a shuffleboard court in Bucktown's Senior Citizens Memorial Park unless you were looking for it — and really knew where to look.
The faded triangles and boundary lines are barely visible on a sloping slab of concrete along the park's southern edge, across the street from the larger Holstein Park.
The only giveaway is two benches, where shuffleboard players once could relax between turns or spectators could watch as discs slid from side to side, scoring points and knocking out opponents.
But the neglected court is virtually unplayable now. All manner of park goers use the benches — but no one is carrying a shuffleboard cue or disc.
"It just looks like a piece of giant sidewalk," said Kevin Reedy, president of the Illinois Shuffleboard Association. "But once you notice the benches, which usually accompany a shuffleboard court toward the head and the foot of it, you're like 'Oh, why are those benches there?' And then, 'Oh, there's faded lines here.' And you can kind of see it."
The Illinois Shuffleboard Association, along with Friends of Holstein Park, hopes this will be the last summer the shuffleboard court remains barren. Volunteers have launched a fundraising campaign to pay for a total overhaul, including pouring new concrete and regular maintenance.
The groups have so far raised more than $2,000 of a $12,000 goal. Friends of Holstein Park is planning additional fundraisers, and people can also contribute through the group's website.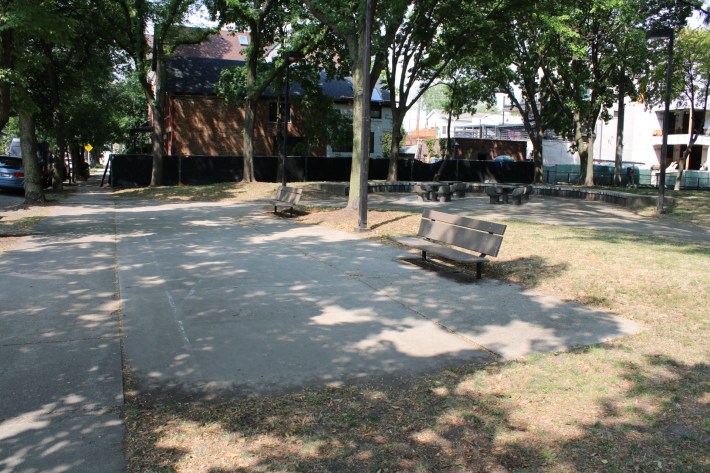 The court had once again sprung back to life — albeit temporarily.
Reedy and other volunteers had set up a temporary, portable court on top of the permanent one during last weekend's Bucktown Arts Fest. Kids and parents stopped by to slide discs — or as Reedy calls them, biscuits — across the surface, and got quick lessons from the Illinois Shuffleboard Association members.
Reedy and neighbor Jordon Novak, who is helping lead the fundraiser, are optimistic the scene this past weekend, where neighborhood kids seemed a lot more interested in shuffleboard than browsing the festival's artist stalls, is a glimpse of a not-so-distant future.
"Shuffleboard's this kind of weird sport I've picked up and loved," Reedy said. "So specifically here, being able to spread that love of this game with the larger Bucktown, Wicker Park, Logan Square community and having a place that all ages can go to … it's a great way to fuel this love to the next generation."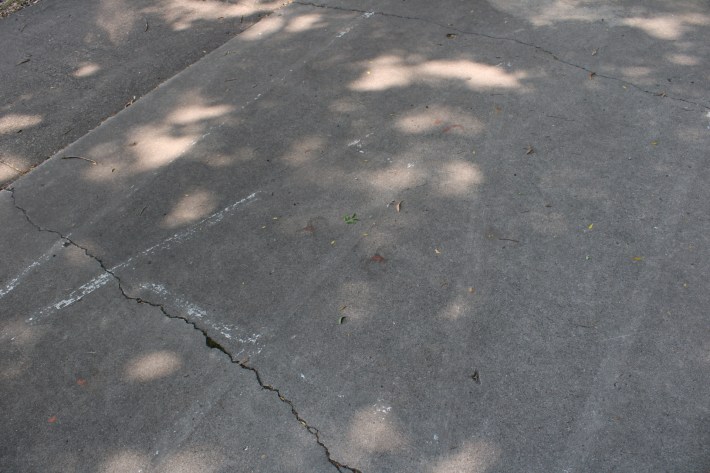 A Mission To Make Shuffleboard An All-Ages Attraction
The Illinois Shuffleboard Association launched in 2020 to raise awareness of the game in Chicago and across the state.
Reedy, Novak and other members all met at Royal Palms Shuffleboard Club, 1750 N. Milwaukee Ave., a shuffleboard bar in Bucktown that caters to a younger crowd of players.
As players started traveling to tournaments out of state, they wanted an official organization to rep their scene and organize events. That culminated in the group's first nationally recognized tournament last summer at Royal Palms, followed by another earlier this month.
Expanding access to the game beyond the walls of Royal Palms became part of the association's mission, too, as public shuffleboard courts can be very difficult to find.
So when Reedy first learned about the court at Senior Citizens a few years ago, he was thrilled — and then almost immediately disappointed.
"I brought some discs over to see if we could play on it. And because of all the cracks, it's just not playable in its current condition," Reedy said.
But that sparked a bigger idea: What if the court could be rehabbed, creating an all-day, all-ages outlet for anyone interested in playing shuffleboard?
At a meeting in January, Friends of Holstein Park president Michael Barry independently added an agenda item to discuss restoring the court. That got the ball rolling, volunteers said.
"Jordon and a couple other people from the Illinois Shuffleboard Association showed up at our meeting. They expressed interest in trying to get involved and do this," Barry said. "So that was how we kind of spurred trying to fundraise for this."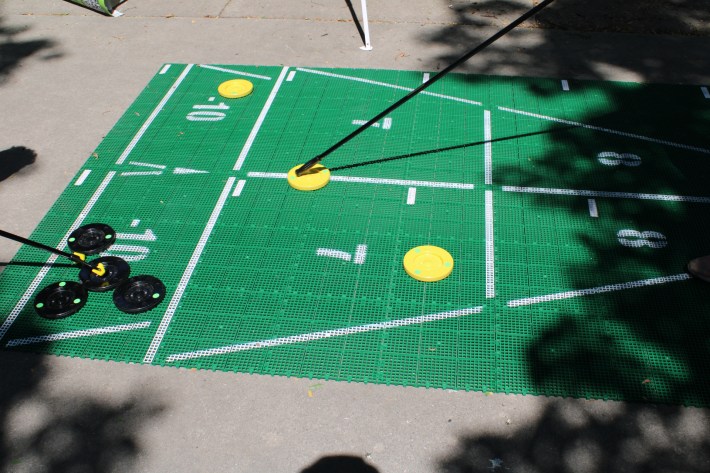 While the construction process might seem simple, there are actually numerous steps involved, Novak said, including installing a new "sub-base" below the concrete.
"We need to remove the current shuffleboard court and get a brand new sub-base. Make sure that's perfectly level and then build basically a very thick, reinforced concrete slab," Novak said. "And then we really need to finish it and make it playable."
Once the court is installed, lines will be painted on and it will have to be regularly waxed so the discs keep sliding. If all goes according to plan, construction could take place next spring, Barry said. The groups are coordinating with Holstein Park supervisor Andrew Holzman, who Barry said has eagerly supported the idea.
Volunteers also hope to make shuffleboard equipment available at the nearby Holstein Park field house and refurbish the court's benches — possibly with the help of the Chicago Park District.
"We also plan on making sure the fundraising efforts or maybe outside funding will get some sets of discs and cues to leave in the field house that people can borrow," Reedy said. "The equipment is pretty cheap, and it's possible people will also just buy their own and use it whenever they want."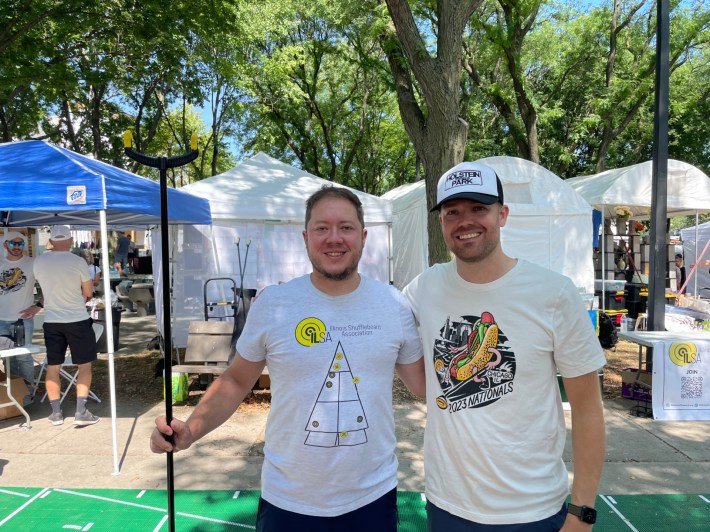 In addition to the court, Barry said he's focused on revamping Senior Citizens Memorial Park to bring in new users from across the neighborhood, including building a nature play center and sponsoring chess programs at the park's pre-built chess tables.
That would all coincide with the efforts of Bucktown neighbor 14-year-old Peter Tolzmann, who earlier this year planted a native plant garden in the park's northwest corner.
"There's a lot of things to do, but it was spurred by making activities for my little guys and making others happy, bringing people together," Barry said.
Once the shuffleboard court is up and running, Reedy and Novak hope it becomes a community resource for anyone interested in playing, from kids to older neighbors and everyone in between.
"The more and more people of all ages play it, they realize it's a fun game for literally everyone," Novak said. "It's a great way to meet your neighbors."
Watch our "On The Block" TV show on The U, CW26 and MeTV.
Listen to "It's All Good: A Block Club Chicago Podcast":