GRAND BOULEVARD — The storefront Abundance Bakery called home for over 30 years is now home to Pookie Crack Cakes.
Yes, you read that correctly. And whatever you're thinking, owners Dedra McGee Simmons and husband Doug Simmons have probably heard it before.
But behind every name is a story, and the story of their bakery at 105 E. 47th St. is a great one.
Simply put, it's a bundt cake with buttery glaze, McGee Simmons said.
"You know how the bundt cake fluffs up and cracks all at the top right, right? You poke holes in the cake before you pour the buttered rum sauce on it and let it drip all into cracks and holes of the cake. You soak it and then you turn it upside down and all that rum sauce and seeps out. You slice it and you and you eat it in the morning. It was really like a breakfast cake," said McGee Simmons, who grew up on the West Side.
But the name didn't really hit until a neighbor who sampled one of her cakes took note of the caravan of double-parked cars on their narrow residential street and joked that McGee was putting a little something "extra" to be drawing such a large crowd.
"He said I had people out here like Pookie," McGee Simmons recalled. The neighbor was referencing Chris Rock's drug addict character in "New Jack City," a popular urban '90s classic.
McGee Simmons said she's seen people from all over the country stand in line to try her specialty loaf cakes. They come in nine varieties, including caramel, Chocolate Oreo Dream, Peach Crack Cobbler and her ever-popular Butter Pecan Praline. Each cake is $11.79.
What began as a modest side hustle to her corporate pharmaceutical job really took off during the pandemic, when — after spending several years selling her popular butter pecan praline cake out of her third floor South Shore walkup — McGee Simmons wondered out loud to her husband what would happen if she decided to do it full time. Besides, her cakes had become so popular their two-bedroom apartment was covered in cake supplies and McGee Simmons wasn't sure when she'd be returning to the office.
It made sense to dream bigger, she said.
McGee Simmons made hundreds of cakes a week from her home, selling out of her inventory in a matter of hours. She and her husband moved to a larger house, believing they'd be able to meet demands a little easier. When it became apparent they'd need even more space, her husband suggested they start looking in Bronzeville and Hyde Park — the two neighborhoods on McGee Simmons' wishlist.
The couple had just looked at a storefront in the nearby Rosenwald Apartments when they noticed the brown paper covering the windows of Abundance Bakery.
Simmons used to sweep floors there as a kid but lost touch with late owner Bill Ball as the years passed. That it sat empty now was, perhaps, a sign, Simmons thought.
He remembered how Abundance Bakery was a life preserver for so many kids like him, kids who'd been seen as "problems." He remembered how Ball's faith and support changed his life.
Ball, himself known for his caramel upside down cake, died in April 2022. He was 74.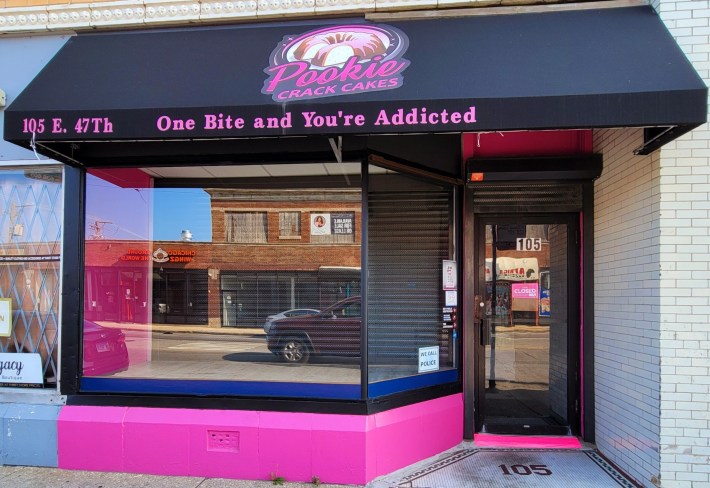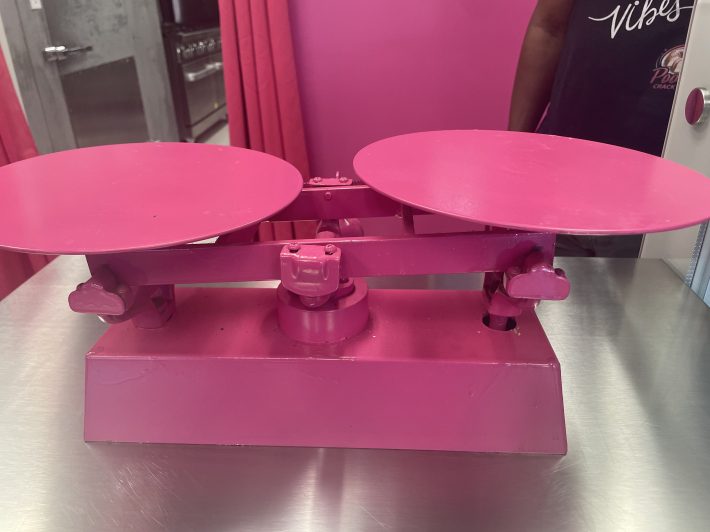 When Simmons began telling his wife about the history of his old neighborhood and how it created a lifetime of connections, she knew her bakery would feel right at home.
Simmons, a Marshall High alum, managed to beat out other 50 interested buyers last fall, getting the keys 24 hours after Ball's widow returned them to the landlord.
McGee Simmons signed the lease in September 2022 and spent the last 10 months getting the storefront ready, investing $40,000 of her savings into the business. The night before the grand opening, the couple had $12.86 in their checking account.
"We couldn't even afford to get the peaches I needed for the cobbler cake. My mother-in-law had to go buy some for me and bring them down," McGee Simmons said.
The bakery sold out of everything the next day and every day since, supply increasing with ever-growing demand. McGee Simmons said she's gone from making 250 cakes a day to 400.
Traces of Ball and Abundance remain; a scale he once used to weigh items has been dyed pink and now serves as a cash register station. The strip of blue paint Ball once used to decorate the storefront is still there.
"The spirit of Abundance Bakery lives on in Pookie Crack Cakes," Simmons said. "This neighborhood deserves a bakery."
Pookie Crack Cakes is open 11 a.m.-6 p.m. Wednesday to Saturday, and 11 a.m.-4 p.m. Sundays or until they sell out.
Watch our "On The Block" TV show on The U, CW26 and MeTV.
Listen to "It's All Good: A Block Club Chicago Podcast":