UKRAINIAN VILLAGE — A wine shop dedicated to showcasing low and non-alcoholic wines — including some brands not often found in Chicago — opens Friday in Ukrainian Village.
2048 — its named inspired by its address at 2048 W. Chicago Ave. — is the first brick-and-mortar store for owner Quenjana Adams, who has been hosting wine pop-ups and tastings for the past year and a half around the city.
Adams launched her business Prāzbar in late 2021 after years of thinking about the best way to serve non-drinkers in her faith community.
Prāzbar starting gaining traction during a series of pop-ups last year in Bronzeville and more recently in West Town, leading to Adams' spot on Chicago Avenue. It's the latest in a series of new bottle shops in the area catering toward non-alcoholic beers, wines and spirits.
But unlike Humboldt Park's Bendición Dry Bar or In Good Spirits in West Town, 2048 will serve only low and non-alcoholic wines, all between 0 percent and .5 percent alcohol.
"I hadn't seen a wine bar, or a wine shop, that was exclusive to non-alc wine. And I like to stand out," Adams said in an interview last week. "So I said, 'let's do this.'"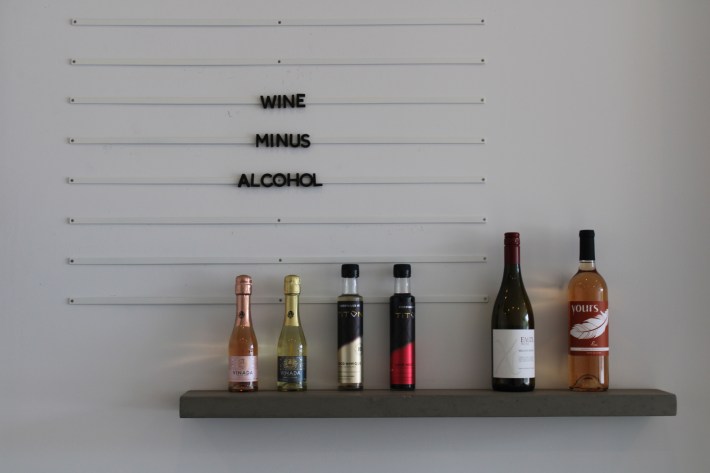 The idea to create a spot centered around non-alcoholic beverages first came to Adams in 2015, when she was looking for a way to create an outlet for people in her faith community.
"I found myself at a point where faith was a big part of what I was doing, so I wanted a social space for the faith-based community to hang out," without alcohol, Adams said. "I was even looking for spaces. But I had no money and I was young, and I just didn't know. So it always was just a dream."
Years later, that dream was reignited during a 2021 trip to New Orleans with her aunt, who was looking for a specific brand of non-alcoholic wine, Adams said.
Adams and her aunt called all over the city and stopped by several different shops, but came up empty. That inspired her to once again start looking into the "non-alc" scene.
What Adams found, she said, was a totally new landscape for sober spaces and non-alcoholic brands than what existed in 2015. There were now numerous companies offering low or non-alcoholic options, buoyed by a burgeoning movement taking off across the country — and in Chicago.
"It fit right in with what I always wanted to do," Adams said. "And of course I was in the best city ever to try."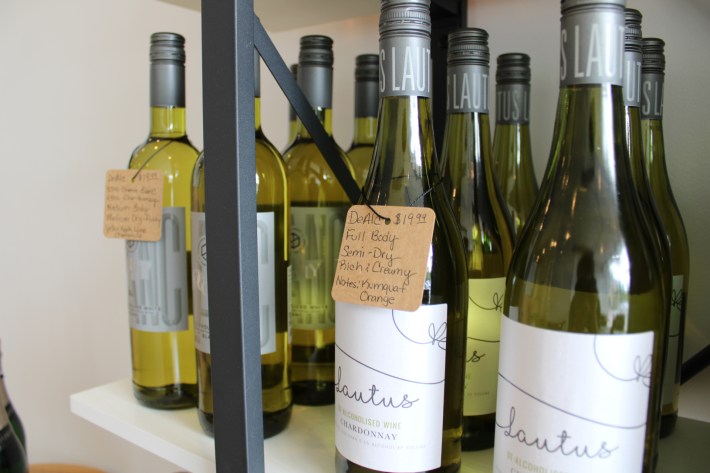 A few months after the trip to New Orleans, Adams launched an LLC under the name Prāzbar (pronounced praise-bar). She began hosting non-alcoholic pop-up bars in early 2022.
It was through those pop-ups — hosted at a Sip and Savor in Bronzeville — that Adams went through a lot of "trial and error," she said. By serving a range of drinks and brands, she learned what both she and potential customers liked and didn't like.
After months of a the research-heavy process, Adams decided to focus pretty much exclusively on the "niche" of non-alcoholic wines.
"I like to say at this point, I'm not an amateur and I've tried it all," Adams said. "We've tried a lot of products. So when we focused on wine, I knew what I wanted, because I know what people like and I know what tastes good. So that's what we have on our shelves."
The Bronzeville pop-ups were followed by a longer stint at the West Town Chamber of Commerce's pop-up on Chicago Avenue, near where Adams lives.
Earlier this year, she was walking by the storefront at 2048 W. Chicago Ave. and reached out to the owner to see if she could take it over. The store came with a massive "2048" sign in the front window, inspiring Adams to drop the Prāzbar name.
Adams is finishing a few last-minute renovations before her grand opening Friday. She's also planning to host a series of tastings, events and meet-ups at the store.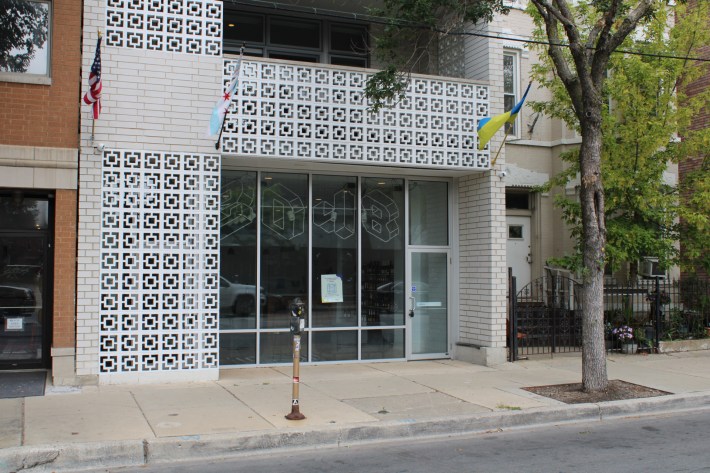 At the center of 2048 remain the wines themselves, which Adams said she hopes people treat no different than alcoholic versions.
In that spirit, she's planning to import non-alcoholic wines that aren't yet available in the United States. Adams said she pays close attention to various European countries where the non-alcoholic wine scene is much larger than Chicago's.
"Because this movement is so new here, there are popular, non-alcoholic brands that are not available here," she said. "We just aren't there yet. So I do want to be a pioneer in that."
As she prepares to open her shop this week, Adams still isn't totally sure where she fits in to the larger movement of sober and alcohol-free spaces and brands. But she said she values her role as a facilitator for people who may be curious to learn and experiment.
"I always find myself [at] a very thin line between being part of the sober movement or just a safe space for people who don't drink. I've learned that it's distinguished. But of course my customers, they come on both sides," Adams said. "I feel honor to be someone who's trying still trying to figure out how we fit in, but to be that person to open up the space and opportunity for people who really know."
2048 will initially be open noon-9 p.m. Friday-Sunday.
Watch our "On The Block" TV show on The U, CW26 and MeTV.
Listen to "It's All Good: A Block Club Chicago Podcast":