UPTOWN — Friday Morning Swim Club, the renegade lakefront meetup that's swelled to thousands of people and raised safety concerns, has been canceled for the rest of the summer by its organizers.
Andrew Glatt and Nicole Novotny, who founded the swim club two years ago with a crew of just eight people, announced the cancellation on Instagram Tuesday, citing "complex communication that's happening between the Chicago Park District and the city."
The cancellation also comes after the event has come under increased scrutiny from city and park officials over safety and permitting issues. The founders of the massively popular event at Montrose Harbor also cited "last Friday's events" as reason for the cancellation.
Organizers moved to cancel last Friday's event, but did not say whether it was connected to the wave of pushback. Still, hundreds of swimmers flocked to Montrose Harbor anyway for an unofficial swim club.
Police officers watched as about 250 people gathered peacefully at the site, a police spokesperson said. Park District officials were also handing out flyers instructing people not to get in the water, a witness said.
"What happened last Friday isn't what we envisioned for Swim Club ever," Glatt said in the Instagram post. "We weren't present, but from what we're told, multiple Park District employees and CPD officers were seeking out people with Swim Club gear [and] threatening to arrest them — or myself and Nicole had we been there."
People have raised safety concerns about Friday Morning Swim Club because the events are hours before swimming is allowed, aren't patrolled by lifeguards and encourage floats prohibited by the Park District. The Sun-Times recently reported organizers ghosted Park District officials when they were approached about getting the needed permits to hold such an event.
Some swimmers also said increasing car traffic around the event has gotten out of control.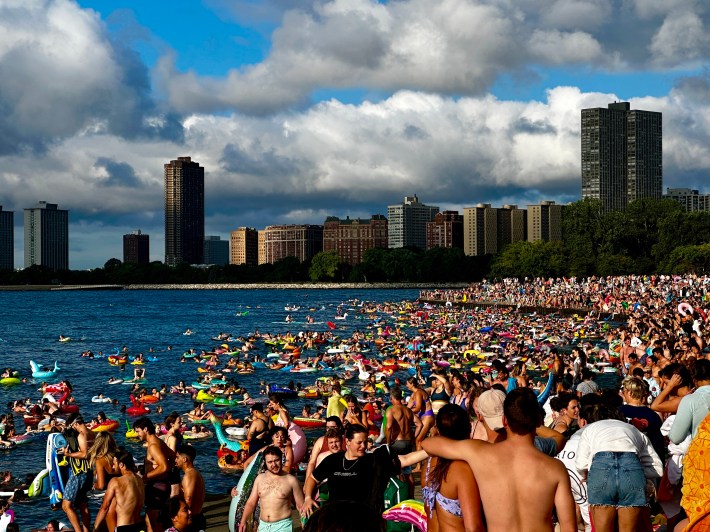 Glatt and Novotny said in the Instagram clip said they hope to bring the Swim Club back next summer, with Glatt saying "this is not a simple fix."
"There's a lot of conversations to be had, [and] a lot of work to be done," Glatt said. "We care about this community and we're going to do whatever we can to work with the Park District to make this happen next year."
The founders of the event said they are planning free events for the swim club community in the wake of the cancellation.
Friday Morning Swim Club started with a group of eight friends and rapidly grew through word-of-mouth, the organizers previously said. This was the third year the weekly event has been held.
RSVPs on the event's Instagram page exceeded 2,000 for the July 14 swim. At the event's peak, organizers estimate as many as 2,400 people showed up for a Swim Club meetup. 
Watch our "On The Block" TV show on The U, CW26 and MeTV.
Listen to "It's All Good: A Block Club Chicago Podcast":