THE LOOP — Advocates and elected officials rallied Monday to share drug overdose prevention resources and continue the fight to end the opioid crisis.
The "End To Overdose Now" rally was hosted by the Illinois Harm Reduction and Recovery Coalition at Federal Plaza, 219 S. Dearborn St. It was held in advance of International Overdose Awareness Day, which is Thursday.
Last year in Cook County, 2,000 people died of an opioid overdose, 1,407 of them in Chicago, according to provisional data from the Cook County Medical Examiner's office.
Mayor Brandon Johnson addressed the crowd, referencing his Treatment Not Trauma campaign promise that seeks to reopen mental health clinics and calls for social workers, not police officers, to handle 911 mental health emergencies.
"We must not criminalize and further harm our brothers and sisters in need. We must create a real public health approach to this crisis," Johnson said. "We will not incarcerate our way out of a crisis that stems from social and economic disparity and mental health struggles."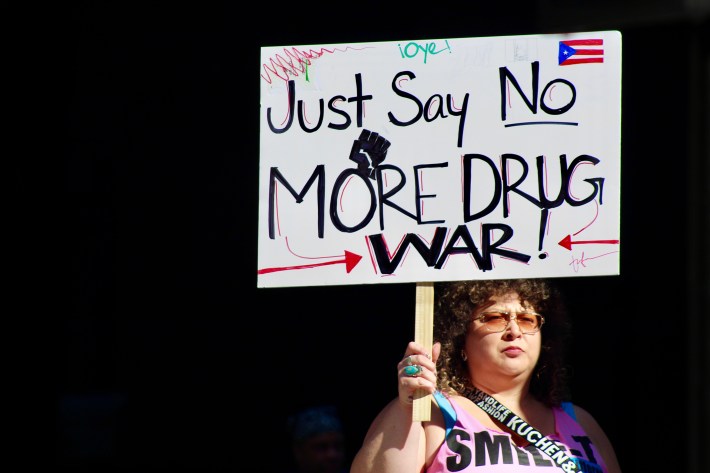 Gail Richardson, a former drug user, was among the neighbors who shared their stories of their path to sobriety with the crowd.
"I went from selling drugs, using drugs to saving lives," Richardson said. "By the grace of God, I'm standing here and I'm mad as hell. I'm tired of these people dying from these drugs."
After spending time in federal prison and going to the hospital several times throughout her life, Richardson said she now works with the West Side Heroin and Opioid Task Force, providing services to drug users.
Six days a week, Richardson said she is out "boots on the ground," working closely to help people cope with drug abuse.
"I have to tell my story sometimes. If that's going to help someone take a step to go in and get treatment, I'll tell them my story," Richardson said.
The mayor talked about the "ripple effect" of substance abuse on the user and their loves ones, an experience he said he knows firsthand.
"Substance abuse doesn't just harm the user. It creates a ripple effect in our families and neighborhoods and I know this in a very personal way of having lost my oldest brother to an addiction," Johnson said. "He died addicted and unhoused. If only he would have had the services as well as the opportunity to experience treatment not further trauma, I believe he would be alive today."
More people have been impacted by opioid overdoses than car crashes and gun violence combined in recent years, Chicago Department of Public Health spokesperson Anna Dolezal previously told Block Club.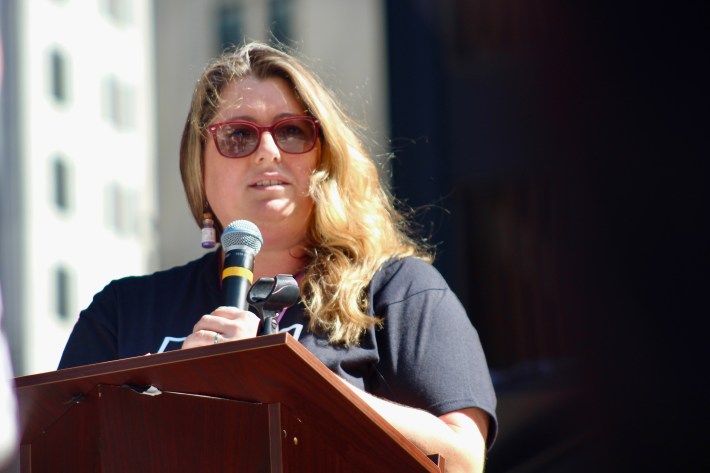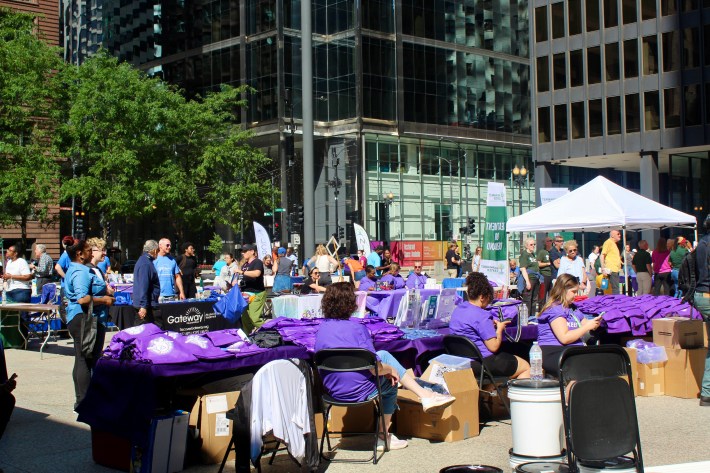 Chelsea Laliberte Barnes, co-founder of the Illinois Harm Reduction and Recovery Coalition and a social worker who lost her brother to addiction, said events like this one help to create awareness and "destigmatize" harm reduction efforts.
Narcan, a life-saving medication used to reverse overdoses, was available at tables during the rally.
As the city grapples with drug overdoses, a Narcan vending machine is planned to be installed at the 95th Street station in Roseland. The machine is slated to go live in the next few weeks, according to a spokesperson for the Chicago Department of Public Health.
Narcan dispensing machines will also be installed at the Harold Washington Library, the Uptown branch library and the Department of Family and Support Service's satellite center at 10 S. Kedzie Ave., according to the public health agency.
Advocates have also long pushed for the creation of "safe consumption sites" where people can use illegal drugs with clean needles while under the supervision of recovery experts.
When asked by Block Club if he will create such sites in the city, Johnson said, "This is something that I've talked about on the campaign trail, is all of us working together to come up with a viable solution, and this is one that's been on the table. I'm looking forward to having those conversations."
Illinois lawmakers are working to pass a bill that would allow the creation of overdose prevention sites in Chicago. There are 18 state representatives sponsoring the bill.
"We're asking for our government to save lives, to do everything that they can to invest in strategies that are evidence-based and proven across the world and that we're even doing here in our communities," Barnes said.
More than 200 safe consumption sites are already operational in other countries, according to advocacy group Drug Policy Alliance.
Watch our "On The Block" TV show on The U, CW26 and MeTV.
Listen to "It's All Good: A Block Club Chicago Podcast":
Watch our "On The Block" TV show on The U, CW26 and MeTV.
Listen to "It's All Good: A Block Club Chicago Podcast":