PILSEN — The driver of a car that hit and killed a woman as she crossed the street in Pilsen has been charged with two misdemeanors, police said.
Leonel Macedo Torres, 38, of Pilsen, was arrested and charged after the fatal car crash Wednesday afternoon, which happened outside Ald. Byron Sigcho-Lopez's (25th) ward office at 2100 W. Cermak Road.
Torres was driving an SUV south on Hoyne Avenue in Pilsen around 5:30 p.m. Wednesday. He turned right to go west on Cermak Road and hit the 48-year-old woman as she was crossing Cermak Road, police said.
The woman was pronounced dead at Stroger Hospital, police said.
Torres was arrested and charged with one misdemeanor of driving an uninsured car while causing "bodily harm" and one misdemeanor of driving with a suspended license, police said. He was also given a citation for not giving a pedestrian the right-of-way.
Police didn't answer whether Torres obeyed the stop sign at the intersection of Cermak Road and Hoyne Avenue before turning right.
Torres couldn't immediately be reached for comment.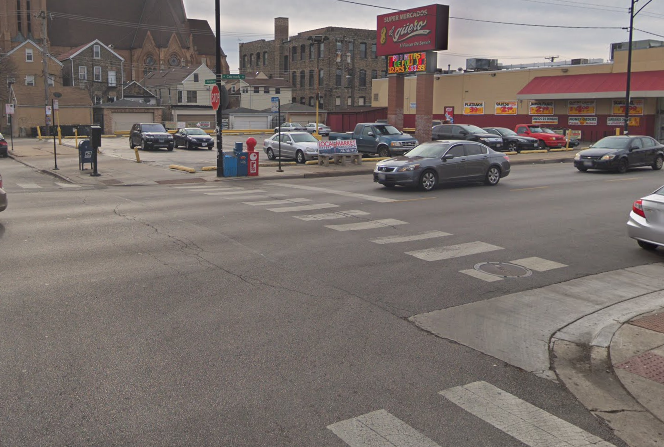 Sigcho-Lopez said he and neighbors have been concerned about the safety around the Cermak Road and Hoyne Avenue intersection even before the crash.
In May, he said he asked the Illinois Department of Transportation and Chicago Department of Transportation for a traffic study of the intersection to determine if better infrastructure could be put in place.
There are stops at all four crosswalks, but Sigcho-Lopez said he wondered if a stoplight or additional lighting could help make it safer for pedestrians in light of "aggressive, reckless" driving.
"I do think that it is important that we expedite the implementation of these changes, because we cannot keep having tragedies in our community because we don't see the same infrastructure investments that other communities have," he said.
There are speed bumps on Hoyne Avenue north and south of Cermak Road, but Sigcho-Lopez said he didn't think that was sufficient to deter drivers from turning quickly at the intersection.
Sigcho-Lopez said the woman who was killed left behind a husband and three daughters. She had just dropped off one of her daughters at karate practice when she was killed, he said.
"It's devastating, it's tragic," he said. "And it's more tragic when we think that these accidents can be prevented."
CBS 2 reported the woman's family is asking for a toxicology report from Torres.
Neither the city's nor state's transportation department immediately responded to a request for comment.
Mayor Brandon Johnson has yet to appoint a new commissioner to the Department of Transportation since former-commissioner Gia Biagi stepped down last month.
Watch our "On The Block" TV show on The U, CW26 and MeTV.
Listen to "It's All Good: A Block Club Chicago Podcast":