LOGAN SQUARE — Mayor Brandon Johnson perused the Logan Square Farmers Market Sunday morning, days after the market was abruptly called off — then called back on.
Organizers of the market — which typically sees about 15,000 shoppers every Sunday — announced Wednesday the market would be canceled over safety concerns, citing car traffic as a danger to market visitors, and urging the city to close more streets to keep people safe.
The last-minute cancelation brought backlash from vendors who rely on the bustling market for their income. But on Thursday, organizers said the market would go on as usual. On Sunday morning, the market appeared to be back to normal — except for the addition of the mayor, media, a new traffic configuration and even higher sales for some.
Logan Boulevard was closed off to car traffic between Milwaukee and Sacramento avenues, something organizers have long-requested.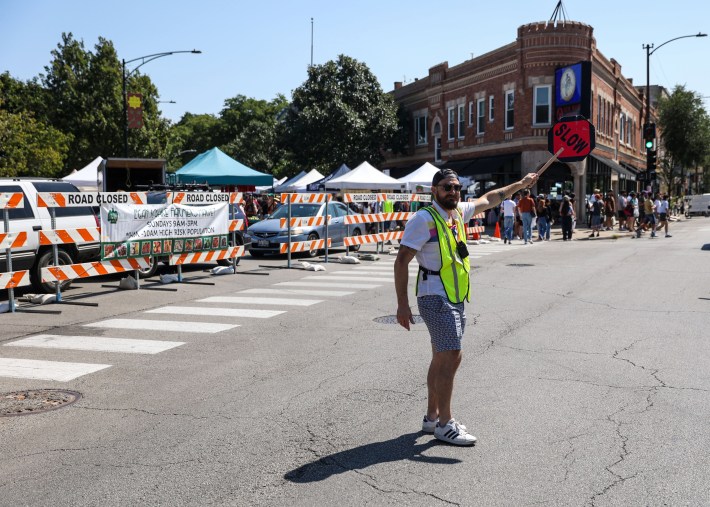 The change is permanent through the market's end of October season, lead organizer Nilda Esparza of the Logan Square Chamber of Commerce said.
"I'm able to talk more to you guys and my vendors as opposed to chasing cars," Esparza said. "That's very different and very relieving."
Some vendors said the road closure allowed vendors to space out more, leading to less foot traffic congestion.
Corban Koster, market vendor of Geneva Lakes Produce in Burlington, Wisconsin, said turnout for vendors and shoppers was "bigger all around."
"All the attention drew out a lot more people, and because of the street closures more vendors could vend all day and get a little more space between everyone," Koster said. "I don't know if it was our busiest day, but it definitely could have been."
"It just took a little extra sweat to get here."
Beekeeper Michael S. Thompson said he was happy the mayor liked his honey and that the market was not canceled. A 15-year veteran of the market, Thompson estimated vendors would have lost more than $200,000 had the market been called off as initially announced.
"It was a near-tragedy. This is our livelihood," Thompson said. "The market has gotten very overcrowded. But the solution is not to punish the farmers."
Thompson was frustrated that market organizers hadn't published a roster of vendors every week, which most community markets do. He also said someone should have contacted the vendors before canceling the market.
Thompson "doesn't have the solution," he said, but he'd like to talk it out.
"There's a real lack of communication," Thompson said. "What happened was not right. It was a cruel threat."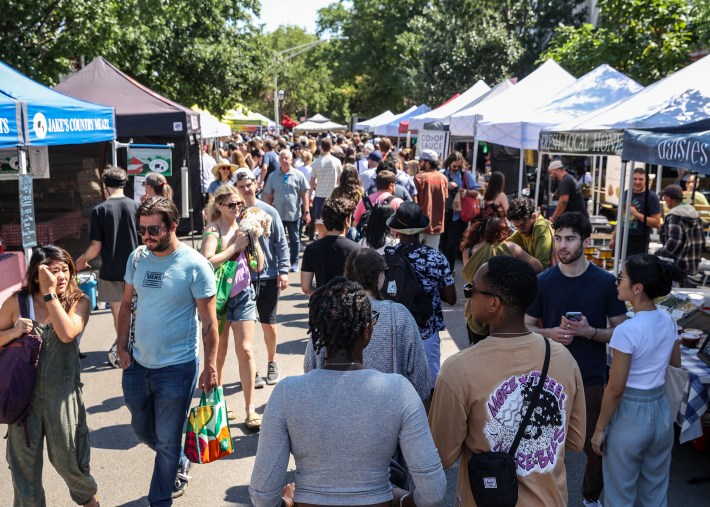 Jimmy Petrozzini of coffee-seller "Jimmy Beans" welcomed the street closures, saying the market was "less squished with more elbow room."
He had arranged to set up shop outside a nearby bookstore if the market's cancelation went through. It took six years for Beans to win a coveted permit for the market, which now accounts for about a third of all sales, Petrozzini said.
"If this closed it would've been a real kick in the pants," Petrozzini said. "I got nothing bad to say and never really seen any problems here. It's crowded but I don't think there's been riff raff."
A team of about nine yellow-vested "logistics crew members" were on scene to direct traffic and manage market flow, Esparza said.
Market regulars Nikki Acopian-Devall and Brian Devall said the flow of people, cars and freshly baked goods was significantly smoother. A couple weeks ago, the couple got in a "near accident" crossing the street near Logan Boulevard and Sacramento, they said.
"But the problem is not the farmer's market or the unauthorized sellers: We need CPD to put safety over punitive measures like denying permits," Acopian-Devall said. "Who cares if the market is spilling over an extra street or two."
Devall said he doesn't mind how much the market has ballooned in recent years.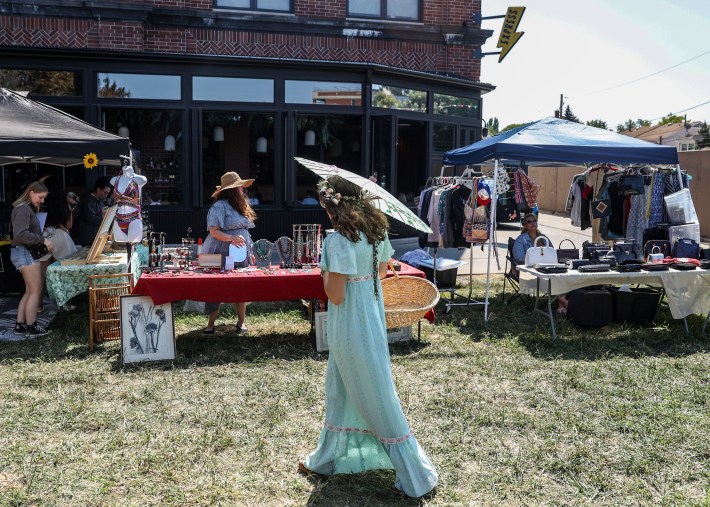 "Its success is a testament to the vibrance of the neighborhood and that people want to come here," Devall said. "Logan Square has become a destination for the city as a center of culture, music, all that good stuff. The buildup has led us to have a farmer's market unlike no other."
Flanked by security, Johnson bought a coffee and other goods while trying free samples of chai tea, nuts, honey and hummus from local vendors. The mayor didn't wince after a dab of "Carolina Reaper" hot sauce.
He stopped and smiled for a photo with Esparza's goddaughter.
"The people of Chicago made this happen," Johnson said.
When asked about whenever traffic near the market posed a safety issue, Johnson dodged.
"I've talked a lot about how the soul of Chicago is supporting our small businesses, being able to do right for our neighborhoods and bring people together," Johnson said. "It's beautiful. … We're all working together for a better, safer, stronger Chicago."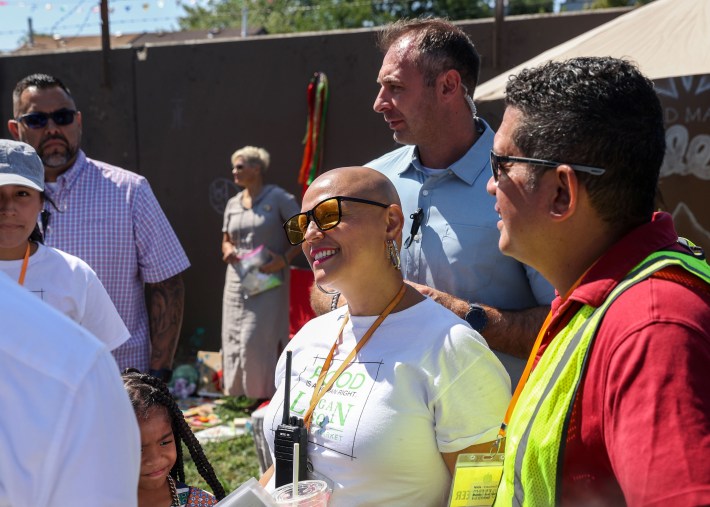 Another issue raised ahead of Sunday's market was an uptick in unlicensed vendors.
For more than a decade, unlicensed vendors have set up just east of the market and across the street from the market's Milwaukee Avenue and Logan Boulevard entrance selling clothing, books and other items. The booths have become more elaborate in recent years, however.
Johnson thanked one unlicensed vendor for keeping up an "ancestral push" of selling goods on community streets as a means of getting by.
Unlicensed vendor Simone Hoekstra sat on a tapestry with clothes for sale and stuck her nose in a Joan Didion book as the mayor and his entourage rolled through. Hoekstra said she's been working informally at the market since she was a child selling lemonade.
She thought the hub-bub about the market was "a little bit silly."
"But I'm glad people are talking about the market, honoring things that have been here a long time and bringing attention to the neighborhood," Hoekstra said. "A crackdown would make everything a lot harder."
Watch our "On The Block" TV show on The U, CW26 and MeTV.
Listen to "It's All Good: A Block Club Chicago Podcast":