CHICAGO — Temperatures could top the triple digits Thursday as the city is set to break more heat records.
There's a "good chance" it will be 100 degrees at O'Hare Airport Thursday — which would be the first time the city has clocked a triple-digit temperature since July 6, 2012, according to the National Weather Service.
The current record high for Aug. 24 is 100 degrees and was set on that day in 1947, according to the weather service. Chicago's hottest August day on record was 102 degrees on Aug. 5, 1918.
Chicagoans took cover Wednesday as "oppressive and dangerous" heat baked the city with a "real feel" heat index of 116 degrees. The mark broke a 76-year-old record for highest heat index on that day in city history — and was second only to the 118 degree heat index set on July 13, 1995 in the middle of a historic heat wave that killed over 700 people.
Temperatures reached 98 degrees Wednesday. The highest temperature ever recorded in Chicago is 105 degrees, set on July 24, 1934, according to the weather service.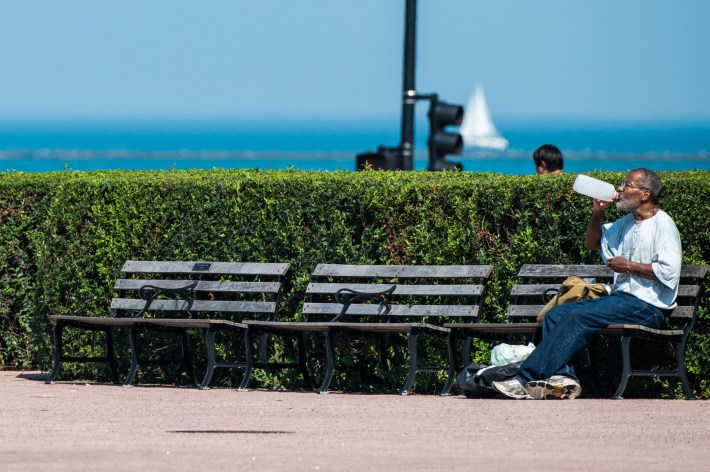 Thursday will be even hotter with 100 degree temperatures and a heat index that could climb again to 115 degrees, according to the weather service. But relief could be coming sooner than previously expected.
A thunderstorm in the late afternoon or early evening "is possible," according to the weather service. There is currently a 30 percent chance of showers, with "sharply cooler temperatures" expected between 6-9 p.m. Thursday.
An 80-degree high is expected for Friday, with a low around 69 degrees at night, according to the National Weather Service.
The weekend will be even more comfortable, with sunshine and a high around 75 expected for Saturday and Sunday.
Mayor Brandon Johnson took to Twitter Thursday morning to remind Chicagoans it's trash collection day, and to toss Streets and Sanitation workers "a cold water or cool towel if you can."
More information on ways to beat the heat can be found here.
Watch our "On The Block" TV show on The U, CW26 and MeTV.
Listen to "It's All Good: A Block Club Chicago Podcast":