CHICAGO — It feels as hot in Chicago as it's ever felt before.
Around 3 p.m. Thursday, the city clocked a "real feel" heat index of 118 degrees — tying the record set on July 13, 1995, when a historic heat wave killed over 700 people.
Temperatures peaked around the same time at 100 degrees, meteorologist Rafal Ogorek with the National Weather Service's local outpost said.
It's the first time Chicago has hit a triple-digit temperatures since July 6, 2012, according to the weather service. The city also tied the highest-ever temperature on Aug. 24, also recorded in 1947.
Across the city Thursday, street vendors stayed home and few others braved the heat as neighbors endured the second straight day of brutal conditions. City officials worked to help vulnerable residents, bringing cooling buses to migrants and canceling outdoor programs and events for children.
Demetrius Gee of the Near West Side nursed a cold Red Bull and rocked a rainbow umbrella hat as she commuted in the extreme heat.
Gee said her "ankles were on fire" as she walked in the midday sun.
"Ain't nothing out here but heat," Gee said.
"I haven't been to hell, but I say this has got to be close," Gee said. "I'm here out to go see my mom and go home. I don't want to kick it, I don't need a beer, I want to be back in my house where I can control my own AC. You don't have to wear any clothes when you're at home."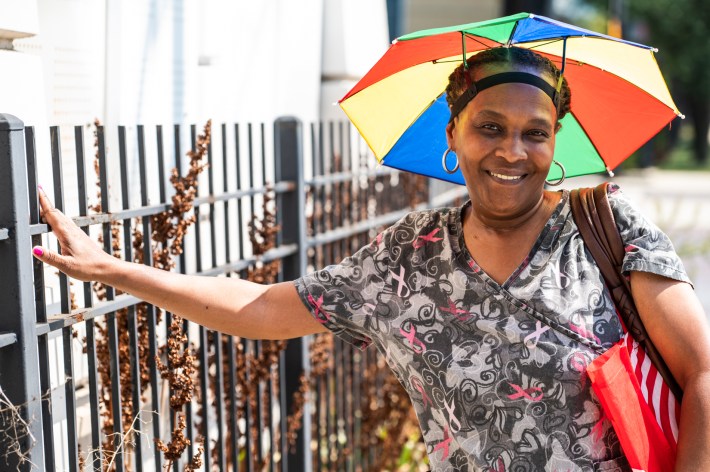 Truck driver and equipment hauler Thomas Daray worked with his team in hard-hats replacing gas lines on the Southwest Side.
Daray brought a case of water bottles, wore a shirt "that soaks up the sweat for ya" and sang Mahalia Jackson's "(There'll Be) Peace in the Valley (For Me)" while his team laid gravel.
"It's no fun, I'll tell you that much. It's a real scorcher," Daray said. "We've haven't had anyone drop yet."
A CTA cooling bus was brought outside the Gage Park field house, 2411 W. 55th St., currently being used as a migrant shelter. Some of the asylum-seekers hopped on to escape the heat.
"I come from Venezuela — a tropical country — and it is always hot, but right now this heat is too oppressive," Beyker Martínez said in Spanish while resting at the back of the bus.
Martínez said that he was sent home from work by noon because of the heat. "We were dying," he said. 
Martínez has yet to see the lake since arriving in Chicago, he said. But his friend José Miguel Barrios wore swim trunks and sunglasses, saying he was "prepared" in case someone asked him to go to the beach.
"It's the most beautiful thing there is, brother. The lake is a beauty. It's another level, bro, it's super beautiful, beautiful, beautiful, beautiful, beautiful," Barrios said in Spanish to his friend. "It's the most beautiful thing there is."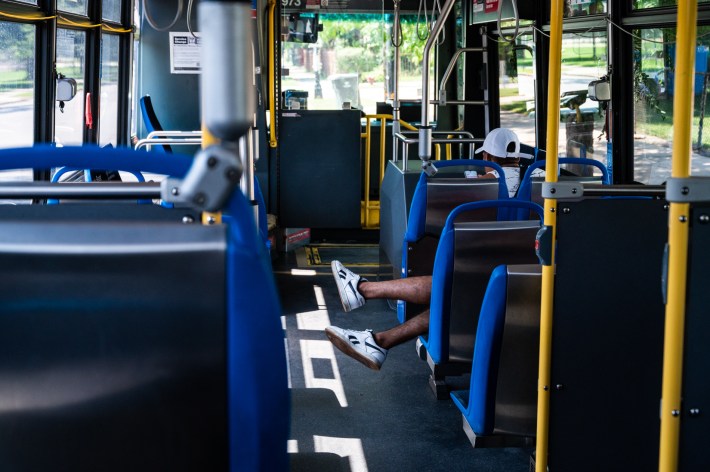 At one of the city's main 24-hour cooling centers, the Garfield Community Service Center, 10 S. Kedzie Ave., only a few came for the free reprieve by noon Thursday.
At a press conference, organizers with The People's Response Network said the cooling centers are underutilized due to an unwelcoming reputation, spotty public transportation in divested neighborhoods and a lack of outreach and communication to those who need them most.
They again called on city leaders to open all cooling centers 24 hours and bring CTA cooling buses outside police stations, where hundreds of migrants are living while they await more permanent housing.
The Mayor's office did not immediately return a request for comment.
The Chicago Park District moved outdoor kids' programs including after-school care to air-conditioned indoor facilities. Special events planned for Thursday, including Blues in the Parks at Ellis Park and Story Time with Yes Ma'am Circus at Kennicott Park, also are moving indoors.
A planned "major display" at 10:35 p.m. at the Buckingham Fountain was canceled, as were music events at Pottawattomie Park in Rogers Park and the South Shore Cultural Center, according to the Park District.
Watch our "On The Block" TV show on The U, CW26 and MeTV.
Listen to "It's All Good: A Block Club Chicago Podcast":